What to expect: Ohio State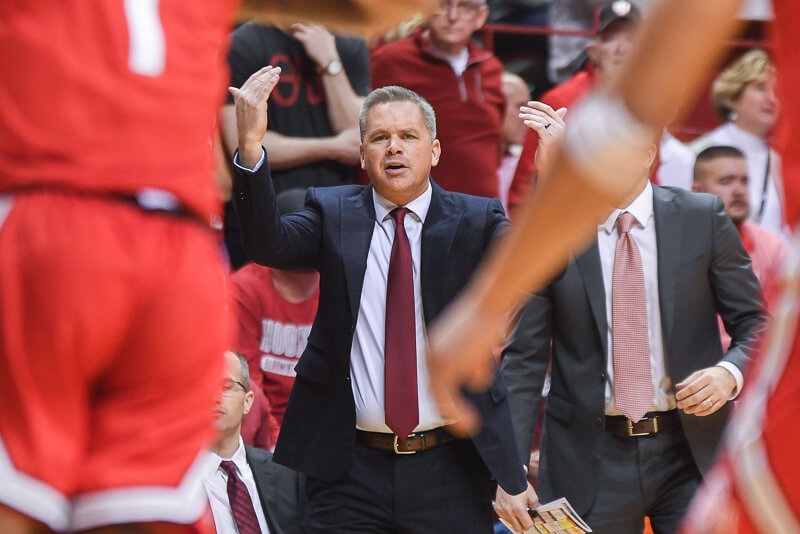 Indiana is scheduled to return to action on Thursday when it hosts Ohio State at Simon Skjodt Assembly Hall. The Buckeyes are 9-2 overall and 3-0 in conference play.
Thursday's game is scheduled for a 7 p.m. ET tip on FS1 with Aaron Goldsmith and Bill Raftery on the call:
Indiana enters Thursday's matchup against Ohio State in need of a statement victory. The Hoosiers are 10-3 overall with three defeats coming by a total of 10 points. All three losses came on the road.
So far, Indiana has been able to hold serve at home with a 9-0 record on Branch McCracken Court. The competition level, however, is about to ramp up significantly.
Ohio State is ranked No. 13 in the latest Associated Press top 25 despite a prolonged COVID-19 shutdown in December. The Buckeyes beat Wisconsin 73-55 on Dec. 11 in Columbus and then didn't play again until an 87-79 overtime win at Nebraska this past Sunday. Chris Holtmann is 6-1 against Indiana over his first four seasons at Ohio State and this year's Buckeye team is finding success despite missing one of its top players in Justice Sueing.
The importance of continuing to win at home isn't lost on Mike Woodson, who again reiterated on Wednesday that his team needs to keep finding success at Assembly Hall.
"That was the first thing when I took this team over," Woodson said. "From day one, I told them, 'guys, we've got to win at home, and we'll figure the road out when we get out there.' So you know, so far, we've done what we've said we were going to do. Ohio State's next. We've got to win at home."
MEET THE BUCKEYES
Ohio State's roster isn't particularly deep, but the Buckeyes boast one of the frontrunners for Big Ten and national player of the year along with a capable supporting cast.
EJ Liddell was the betting favorite to win the Wooden Award when updated odds were published on Monday and he currently sits at No. 1 in Ken Pomeroy's national player of the year rankings.
The 6-foot-7 native of Belleville, Illinois has always been undersized in the paint, but it hasn't deterred him from scoring at a high level at the rim. According to Hoop-Math, Liddell is shooting 73 percent this season at the rim and overall, he's making 59 percent of his 2s. Combine that with just over one made 3-pointer per game and an average of 7.4 free throws attempts each game and you arrive at a player who's averaging 19.6 points through 11 games.
In Big Ten play, Liddell has the sixth-highest usage rate of any player, is 10th in offensive rebounding percentage and fifth in free throw rate (FTA/FGA). Defensively, he's a capable shot blocker who leads the Buckeyes with 33 blocks and a block percentage that ranks 34th in the country despite his limited size.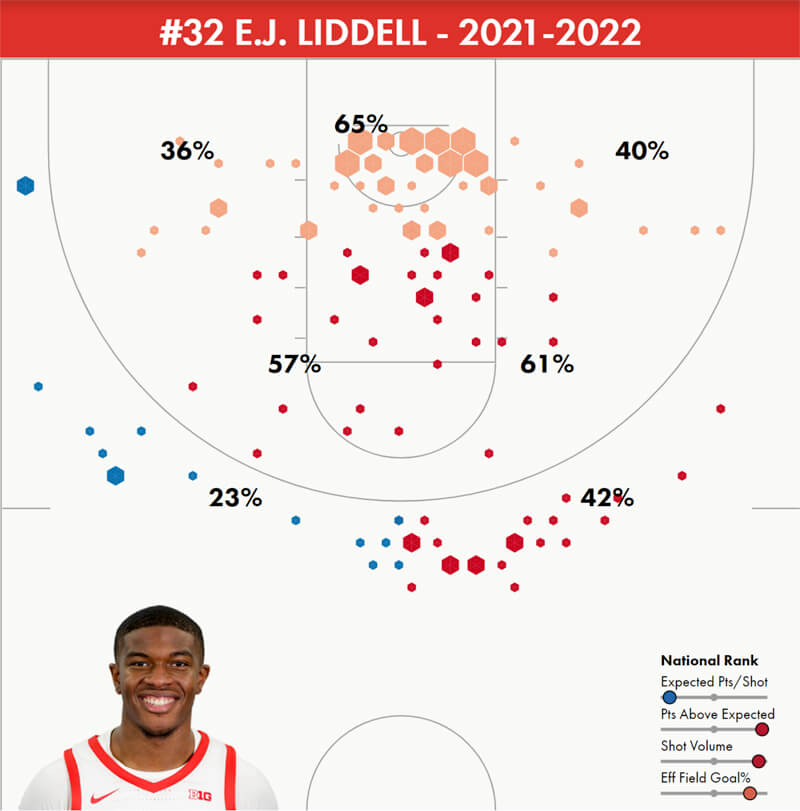 Liddell is flanked by 6-foot-8, 245-pound sophomore Zed Key in the Ohio State frontcourt. Key is the team's second-leading scorer at 10.1 points per game and is making 62.3 percent of his 2s. On post-up possessions, Key ranks in the 88th percentile nationally according to Synergy Sports at 1.12 points per possession. Liddell's ability to make midrange shots gives Key the space he needs to operate in the post and Ohio State's 3-point shooters can make defenses who try to send help pay from the perimeter.
Fifth-year senior Kyle Young missed Sunday's game at Nebraska due to a non-COVID illness and his status for Thursday is unclear. Young is a sturdy 6-foot-8 forward who is making 62.7 percent of his 2s for his career. He's been excellent on the defense glass this season as he owns the 20th best defensive rebounding percentage (27.9) in the country.
The backcourt rotation is led by the trio of Penn State transfer Jamari Wheeler, senior Justin Ahrens and freshman Malaki Branham.
Branham is coming off of a 35-point outburst at Nebraska in which he knocked in six 3-pointers and scored in double figures for just the second time this season. He's shooting 11-of-25 on 3s this season and has made 64.7 of his 2s (17 attempts) in conference play. A four-star recruit from Akron, Branham appears to be hitting his stride at the right time as league play heats up.
The 6-foot-6 Ahrens is a career 41.2 percent 3-point shooter who has made a team-high 26 triples through the team's first 11 games. All but two of his field goal attempts have been 3s this season and he's not much of a threat to get to the free throw line either (19 attempts in 11 games).
Wheeler is averaging a team-high 4.1 assists and is making 43.8 percent of his 3s. Wheeler was always known as a solid defender in State College with a limited offensive game. At Ohio State, he's surrounded by better talent and has become much more efficient offensively as a result.
Second-year guard Meechie Johnson comes off the bench and is shooting better on 3s (36.4 percent) than he is 2s (34.8 percent).
Two other names to know for Ohio State are guard Cedric Russell, who transferred from Louisiana, and sophomore forward Eugene Brown. Russell is averaging 13 minutes off the bench in conference play and is 3-of-9 on 3s. Brown missed four games this season due to concussion protocol but is playing just under 10 minutes per game off the bench over the team's last three contests. The 6-foot-6 wing is averaging 2.7 points and two rebounds.
TEMPO-FREE PREVIEW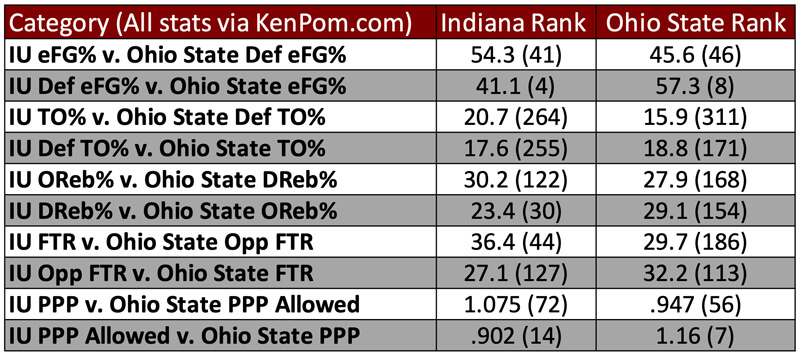 The Buckeyes boast one of the nation's best offenses and 3-point shooting is a major point of the attack. Ohio State is scoring 36.3 percent of its points from beyond the 3-point line, which is about 4.6 percent higher than the national average. Ohio State is shooting 39.7 percent on 3s, which ranks 10th in the country. The Buckeyes are also making 55.6 percent of their 2s, which is 22nd best in the country.
The question for Indiana is whether its defense will be able to hold up and if the offense will be able to awaken. Through three Big Ten games, Indiana is scoring just .95 points per possession, which is third-worst in the conference. In both of its league losses, Indiana has been held under 60 points. Both teams who have beaten Ohio State this season have scored over 70 points.
WHAT IT COMES DOWN TO
The KenPom projection is Indiana by one and the Sagarin numbers have the game as basically even.
The Hoosiers have been good enough to win defensively in each of their league contests, but the offense has underwhelmed. Indiana has become predictable to guard with players standing around and a heavy dependence on Trayce Jackson-Davis to make things happen.
At Wisconsin, Jackson-Davis only scored nine points as Indiana's offense disappeared in the second half. And at Penn State, Jackson-Davis scored 20 points (on 18 shots) but missed several point-blank shots that could have gotten Indiana over the hump.
On Tuesday, Woodson acknowledged that the half-court offense continues to be a work in progress. Whether or not Indiana can figure out a way to get its complementary pieces going looms large in determining whether it can prevail on Thursday night in Bloomington.
Filed to: Ohio State Buckeyes