What to expect: Northern Kentucky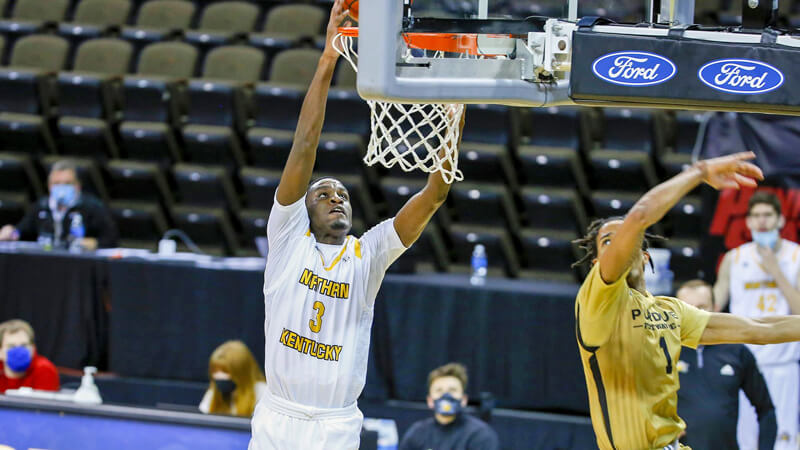 Indiana will look for its 10th win when it hosts Northern Kentucky on Wednesday night at Simon Skjodt Assembly Hall.
The Norse are 4-6 overall and just 2-6 against Division I competition. Northern Kentucky is coming off of an 81-68 overtime loss at Eastern Kentucky on Saturday.
Wednesday's game, which is the first-ever meeting between IU and Northern Kentucky, is scheduled for a 7 p.m. ET tip on BTN:
As the new year approaches, Indiana has just two non-conference games remaining on its schedule.
The Hoosiers will host Northern Kentucky on Wednesday evening followed by a meeting against UNC Asheville next Wednesday in Bloomington.
Neither contest will move the needle much as IU continues to build its resume, but a pair of wins will build momentum as the Hoosiers prepare to resume Big Ten play in early January.
MEET THE NORSE
The Norse, picked to finish third in the preseason Horizon League poll, have struggled over their first 10 games. Ranked No. 129 in the preseason KenPom ratings, Northern Kentucky has fallen to 194th in Pomeroy's ratings as of Tuesday morning. Northern Kentucky is 4-2 at home, but 0-4 in road games.
NKU is led by Darrin Horn, who is in his third season in Highland Heights. Horn was an assistant under Tom Crean at Marquette and served as head coach at Western Kentucky (2004-2008) and South Carolina (2008-2012). Before landing the Northern Kentucky job, Horn worked as an assistant under Shaka Smart at Texas for four seasons. Horn began his coaching career with stops as an assistant coach at WKU and Morehead State.
Northern Kentucky is led by the guard duo of Marques Warrick and Trevon Faulkner. Both players were named to the Horizon League preseason all-league second team and are the only players averaging in double figures on the roster.
Northern Kentucky is reliant on 3-point shooting to score as 39.7 percent of its offense is coming from the perimeter. The Division I average is 31.7 percent. Warrick, a 6-foot-2 sophomore, averages a team-high 12.8 points per game and is shooting just 31 percent on 3s and 33.6 percent from the field. He's using 27.1 percent of NKU's possession, which is easily the highest mark on the team.
Faulkner, a 6-foot-4 guard, is making 36.2 percent of his 3s and is averaging 12.1 points per game. Almost 66 percent of Faulkner's field goal attempts have been 3-pointers.
Bryson Langdon, a 5-foot-9 senior guard, is second on the team with 31 assists and averages 6.2 points in 22.6 minutes per game. Freshman guard Hubertas Pivorius has made a team-high 23 3-pointers despite averaging just 15.9 minutes per game. He's the team's fourth-leading scoring at 9.4 points per game and is shooting 50 percent overall from the field.
Sam Vinson, a 6-foot-5 freshman wing, and Adrian Nelson, a 6-foot-8 senior, start in the frontcourt for the Norse. Vinson is playing a team-high 30.4 minutes per game and averages 9.8 points and 3.6 rebounds per game.
Nelson has been an excellent rebounder for his size as he ranks 20th in the country in offensive rebounding percentage and 48th in defensive rebounding percentage. Chris Brandon, a 6-foot-8 junior, backs up Nelson and is second on the team with 6.2 rebounds in just 17 minutes per game.
Two other names who could figure into Wednesday's game are Trey Robinson, a 6-foot-6 sophomore, and David Bohm, a 6-foot-9 sophomore. Both players like to take 3s, but are shooting low percentages. Robinson is just 5-of-18 from distance and Bohm is only 10-of-32 from distance.
TEMPO-FREE PREVIEW

Northern Kentucky is relentless on the offensive boards, but struggles to keep its opponents off the glass. The Norse are grabbing 36.6 percent of their missed shots, but are allowing their opponents to grab 34.2 percent of their misses. With their lack of size, offensive rebounding figures to be a challenge for NKU against the frontline of Trayce Jackson-Davis and Race Thompson.
As bad as Indiana has been at taking care of the ball, Northern Kentucky has been even worse against a bad schedule. The Norse are turning it over on 22.8 percent of their possessions, which ranks in the bottom 40 in the country.
As mentioned earlier, Northern Kentucky is deriving much of its offense on 3s, but has been an average 3-point shooting team. The Norse are shooting just 33.5 percent on 3s, which is 161st in the country. Their 2-point shooting percentage is just 42.1, which ranks 335th nationally.
WHAT IT COMES DOWN TO
The KenPom prediction is Indiana by 16 with a 94 percent chance of a Hoosier victory. The Sagarin ratings like Indiana by 20.
Games just before the holidays can be tricky as it is easy for players to overlook an opponent with a break and a trip home looming. If Northern Kentucky plays to its potential, it is capable of making 3-pointers and making things interesting for the Hoosiers.
For Indiana, the key is getting the ball into the paint as often as possible. NKU's opponents are shooting 54.1 against them on 2s and the Norse lack a shot-blocking presence to stop Jackson-Davis at the rim. Northern Kentucky likes to gamble for steals and try to force turnovers, so it'll be important for Indiana's guards to take care of the ball and make sure the ball gets inside rather than settling for 3-pointers early in possessions.
(Photo credit: Northern Kentucky Athletics)
Filed to: Northern Kentucky Norse