Five takeaways from Indiana's win over Notre Dame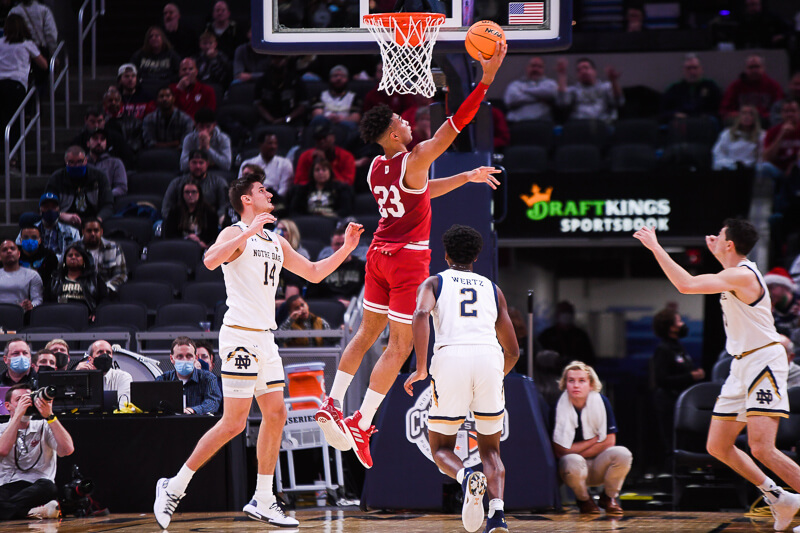 Indiana improved to 9-2 with a 64-56 win over Notre Dame on Saturday in the Crossroads Classic at Gainbridge Fieldhouse.
The victory improved the Hoosiers to 8-3 in the Crossroads Classic, which was played for the last time this season.
Here are five takeaways from the win over the Fighting Irish:
Indiana's defense locks down Notre Dame
Mike Woodson proclaimed that Indiana's defense was ahead of its offense beginning in the preseason.
Through 11 games, his proclamation has held true.
Indiana held Notre Dame to a season-low 56 points in Saturday's win. The .82 points per possession for the Fighting Irish were also a season-low.
Notre Dame, which entered the Crossroads Classic with the 24th best offense in the country according to Ken Pomeroy's adjusted offensive efficiency rankings, was bottled up against IU's defense.
The Fighting Irish shot just 47.2 percent on 2s and only 18.2 percent on 3s. Notre Dame turned it over on 20.6 percent of its possessions, its second-highest turnover percentage in a game this season.
As of Sunday morning, Indiana ranks 11th in the country in Pomeroy's adjusted defensive efficiency metric. The Hoosiers are second in the country in 2-point field goal percentage defense (39.2).
With an offense that still has prolonged scoring droughts and issues with its point guard play, Indiana's defense continues to lead it to wins with the resumption of conference play on the horizon.
Trayce Jackson-Davis dominates after a slow start
Trayce Jackson-Davis wasn't sharp early on against Notre Dame. His poor play early was a big reason Notre Dame opened a 24-15 mark by the 7:17 mark of the first half.
But Jackson-Davis, as he typically has all season, came alive to set the tone for the Hoosiers.
The Center Grove product shot only 6-of-12 from the field and 5-of-8 from the foul line, but finished with team-highs in points (17) and rebounds (12) and also logged a team-high 38 minutes.
"He is a physical specimen," Notre Dame coach Mike Brey said of Jackson-Davis. "He has a great demeanor, and then the defensive presence as far as blocking shots.
"He is a great talent. I remember him as a young player here in the state and to see who he has become. I love his demeanor. He just kind of plays, and he gets banged on a lot."
Through 11 games, Jackson-Davis is averaging team-highs in points (19.1), rebounds (8.7), blocked shots (3.3) and minutes (32.2) per game. He's shooting 60.6 percent on 2s, which is up from the 51.7 percent he shot on 2s last season as a sophomore.
Indiana's guards make life difficult for Wesley, Goodwin and Ryan
It was a rough afternoon for Notre Dame's guard trio of Blake Wesley, Dane Goodwin and Cormac Ryan.
They combined to shoot only 12-of-38 from the field and score 32 points in the IU win.
In earlier games this season, Indiana had trouble slowing down scorers like Buddy Boeheim, Joseph Girard and Johnny Davis.
On Saturday, Parker Stewart, Xavier Johnson, Rob Phinisee, Miller Kopp and Anthony Leal all contributed in what was easily IU's best defensive performance this season against a high major opponent.
In his postgame press conference, Mike Woodson said overall that "IU didn't have a whole lot of miscues" and that he was pleased "for the most" part with the defensive effort. The guards deserve a lot of the credit for their positioning on ball rotations from Notre Dame and making the Fighting Irish uncomfortable when they took shots from the perimeter.
Phinisee delivers his best performance of the season thus far
Rob Phinisee's stat line on Saturday didn't stand out as exceptional, but his performance on Saturday was easily his most effective of the season so far.
Phinisee finished with six points, five assists, five rebounds, a blocked shot and a steal in 25 minutes off of the bench.
While he was only 2-of-8 from the field, both of his makes were 3-pointers that came at key times. Phinisee's first 3-pointer came at the 9:39 mark of the first half after Notre Dame had extended its lead to seven on a jumper by Goodwin.
And the second triple came with 4:27 to play with Notre Dame trailing by just two to stretch the lead back to five. The Fighting Irish never made another run at the Hoosiers after that shot by Phinisee.
Despite the strong performance from Phinisee on Saturday, Indiana's point guard play as a whole remains inconsistent.
Xavier Johnson, the starter at the position, scored 11 points on Saturday but shot just 2-of-9 on 3s. And Phinisee is shooting just 10-of-40 from the field in eight games.
Indiana wins fifth straight in the Crossroads to finish event with 8-3 record
The Crossroads Classic, which began with an IU victory over Notre Dame in 2011, ended with another Hoosier victory over the Fighting Irish on Saturday.
Indiana wrapped up the event with its fifth straight win to finish with an 8-3 mark overall in the Crossroads Classic.
Butler finished up the event with a 6-5 mark while Purdue and Notre Dame were both 4-7 overall in the Crossroads.
Despite the fact that Indiana is moving on and will begin a home-and-home series with Kansas next season as its replacement for the Crossroads, Woodson said Thursday he hopes to schedule games in Indianapolis in the future.
"It's very important. I mean, that's home for me, man. That's where I grew up," he explained. "Give my family an opportunity, and friends, to come out and see us play. Not that they don't come down the road, 37, to see us here in Bloomington.
"For me, it's sentimental. I love Indianapolis and everything that it has to offer. It would be nice if we could get a game here in the future. I don't know how that's going to pan out. We're working on some things. So we'll just have to wait it out and see where we go."
Filed to: Notre Dame Fighting Irish, Robert Phinisee, Trayce Jackson-Davis