In an imperfect performance, Indiana shows incremental growth with winning plays down the stretch against Notre Dame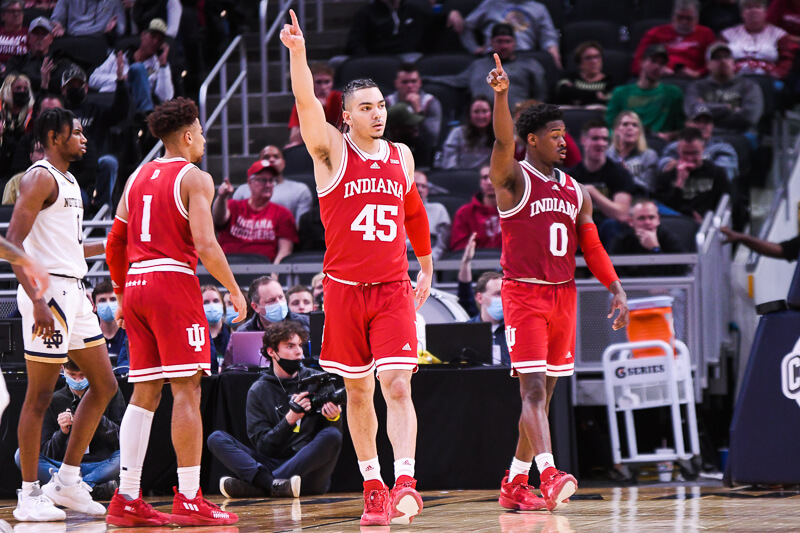 With just under seven minutes left in the game, it seemed like it was happening again. A 10-point lead in the second half had vanished. The score was tied. Notre Dame put together an 11-1 run. Indiana's defense had fallen apart for a few possessions. They committed three turnovers in just over three minutes.
Here was Indiana again, in what has become a familiar situation. Right in the middle of a tightly-contested game down the stretch.
Over the past few weeks, Indiana hadn't made enough winning plays. On the road against Syracuse in late November, Indiana did enough at the end of regulation to force more basketball, but couldn't make crucial plays in overtime and double overtime. It culminated in a two-point loss. On the road against Wisconsin in early December, a 22-point lead was given up in an utter collapse. Indiana led in that game with 2:19 to go. They ended up losing by five.
But on Saturday, after a double-technical foul seemingly signaled a momentum swing in favor of Notre Dame, Indiana was able to regroup and not let mistakes compound in the last seven minutes. The Hoosiers hit four of their last seven shots from the field. They held Notre Dame to three of its last 12 from the field.
Simply put, the Hoosiers made winning plays when necessary. It resulted in a 64-56 win, an ugly win, but a win nonetheless.
"That's the first thing I said when I closed out our meeting with the team prior to coming in here today," Indiana head coach Mike Woodson said. "You stepped up and did what you had to do coming down the stretch."
In many ways, Indiana's performance on Saturday was paradoxical. Indiana showed enough flashes of potential to provide a belief that it can be a really good team, while simultaneously making enough mistakes to question if they are actually any good at all.
This, of course, is a team still learning to play with each other. Six new players are on the court for Indiana this season. Woodson is in his first year at the helm, along with a mostly new coaching staff. Virtually all of the players on the roster don't have experience winning consistently at the college level. And as Woodson has referenced many times, this is a team that is still trying to learn how to win with each other.
This notion has become evident in the first month and a half of the season. But Saturday showed progress. Yes, it was a game against a 4-4 Notre Dame team, but the Fighting Irish were also coming off a win against Kentucky. The way that Indiana finished the game spun a mostly sour narrative into something that could be potentially built upon.
"We made plays down the stretch," Trayce Jackson-Davis said. "We got stops down the stretch that we needed to, and then we pulled that one out, so I thought it was good for us."
The end to the game, however, didn't wash away moments from earlier that left you somewhat dumbfounded as the Hoosiers continued to make the same mistakes.
One of those things is turnovers, arguably the single-biggest area that has held back Indiana's offense this season. Entering Saturday, Indiana had committed 14 or more turnovers in seven games. Against Notre Dame, it was at 14 again, some of which were simply the result of what was extremely sloppy, sluggish execution in the first half. Xavier Johnson and Parker Stewart each had four. Johnson, who was being dared to shoot, made some questionable decisions at times.
There was also the fact that Indiana showed its split personality again. Indiana looked out of sorts early in the first half offensively, allowing Notre Dame to jump out to an eight-point lead. This has continued to be a struggle for the Hoosiers. Indiana played great in the first half against Eastern Michigan, St. John's and Wisconsin. Then poorly for the other 20 minutes. Against Marshall, Syracuse, Nebraska and now Notre Dame, there were slow starts before rallying back.
At the same time, Indiana continued a lot of its promising trends on Saturday. The Hoosiers' defense was spectacular, holding Notre Dame to just 36 percent from the field and 18 percent from three. Indiana's defense has undeniably become the backbone of the team this season. Entering Saturday, they ranked 2nd in the nation in both opposing field goal percentage and opposing 2-point field goal percentage.
Indiana's perimeter shooting has been a welcome surprise this season. On Saturday, the Hoosiers shot 40 percent from deep. As a team, Indiana has now made 40 percent or better from deep in five games this season. That's in large part due to Stewart, who went 3-of-4 from the perimeter. He is now shooting 49 percent on 3s this season.
"We all love him, and we know when he is out on the floor we know exactly where he is at all times," Jackson-Davis said of Stewart. "We try to find him, and for some reason, teams keep leaving him, and we're going to feed him shots, and he is going to hit those shots."
It was an imperfect game. But Indiana made adjustments as the contest went on, getting Jackson-Davis and Race Thompson more touches inside. Then late in the game, there was a possession of beautiful ball movement around the perimeter, from one player to another, as if they were in total unison, leading to a Jackson-Davis slam.
It was a reminder of the team Indiana can be. They found a way to finish the game, avoiding a loss that would've stuck with them come Selection Sunday. Now it's about continuing to fix the next thing, and then another, and then another, until Indiana finally becomes the team it aspires to be.
Filed to: Mike Woodson, Race Thompson, Trayce Jackson-Davis