What to expect: Notre Dame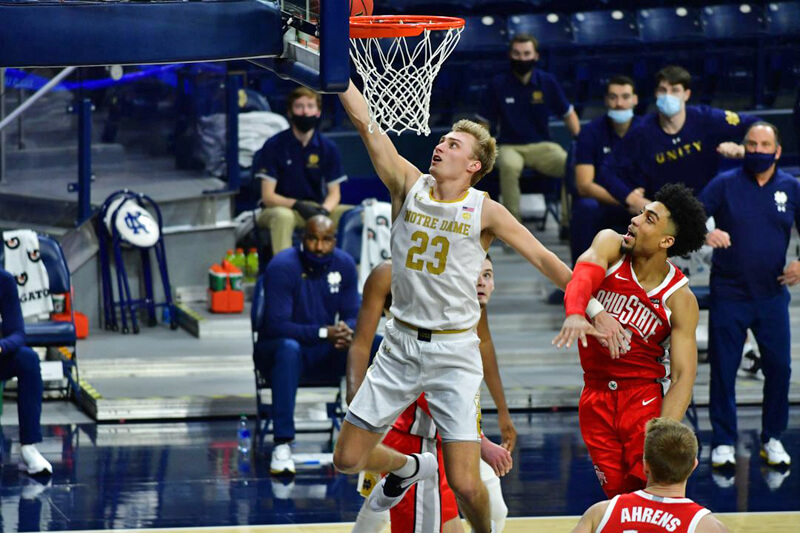 The 11th (and final) Crossroads Classic is set for Saturday at Gainbridge Fieldhouse in Indianapolis. Purdue will take on Butler in the opener followed by Indiana versus Notre Dame.
The tip time for the Hoosiers and Fighting Irish is approximately 2:30 p.m. ET on FOX:
Indiana will look for its eighth win in 11 tries on Saturday afternoon when it plays in the final Crossroads Classic in Indianapolis.
The Crossroads began in the 2011-12 season with an IU win over Notre Dame and the Hoosiers will look to put a wrap on the event by beating the Fighting Irish for the fifth time in six matchups.
Indiana's replacement for the Crossroads Classic, at least in the short term, is a home-and-home series with Kansas that will begin in December of 2022 at Phog Allen Fieldhouse. The Jayhawks will make a return trip to Bloomington in December of 2023 to Simon Skjodt Assembly Hall.
MEET THE FIGHTING IRISH
As is the case with most of Notre Dame's teams under Mike Brey, the Fighting Irish are playing a tight rotation. In its most recent game – a 66-62 win over Kentucky at the Joyce Center – only seven players entered the game for Notre Dame.
The Fighting Irish are 4-4 overall with wins over Cal St. Northridge, High Point, Chaminade (non-D1) and Kentucky. Their four losses game against Saint Mary's and Texas A&M in the Maui Invitational in Las Vegas, at Illinois in the Big Ten-ACC Challenge and at Boston College in their ACC opener.
Notre Dame has a balanced scoring attack with seven players averaging between 5.8 and 14.3 points per game. Their minutes are also pretty evenly distributed among those players with all seven playing more than 22.3 minutes per game but no player logging more than 33.5 minutes per game on average.
Junior wing Dane Goodwin is the team's leading scorer and best 3-point shooter. Goodwin averages 14.3 points per game and is shooting 42.1 percent on 3s on a team-high 38 attempts. Goodwin is an excellent spot-up shooter as he ranks in the 89th percentile with 1.27 points per possession on spot-up attempts, per Synergy Sports. He's also effective coming off of screens with 1.27 points per possession coming off of screens, which ranks in the 82nd percentile, per Synergy Sports.
Freshman guard Blake Wesley has played his way into the starting lineup and has scored in double figures in five straight games. The 6-foot-5 Wesley is a great athlete who gave Kentucky problems in their meeting on Dec. 11 in South Bend. Wesley hit the game-winner and will come to Indianapolis playing with a lot of confidence. Wesley is making 38.2 percent of his 3s and 58.1 percent of his 2s. This could be a problematic matchup for Indiana as the Hoosiers may not have an answer for Wesley's size, aggressiveness and athleticism on the wing. Wesley has the ability to drive to score or to drive and dish, which can lead to open 3s for Goodwin and others on the roster.
Point guard Prentiss Hubb has lost his starting spot and is off to a dreadful start in his fourth season. The 6-foot-3 Hubb is shooting just 7-of-37 on 3s and 10-of-25 on 2s this season. Hubb has a team-high 23 assists, but also a team-high 17 turnovers. While Hubb figures to continue to play significant minutes moving forward out of necessity, the emergence of Wesley has diminished his role in recent weeks.
Guard Cormac Ryan has also been a disappointment but has started all eight games. The 6-foot-5 Ryan is shooting just 9-of-31 on 3s but is second on the team in minutes played. Trey Wertz, another 6-foot-5 guard, has also struggled to shoot it from the perimeter. He's only 7-of-26 on 3s through eight games. In aggregate, Ryan, Hubb and Wertz have combined to shoot 23-of-94 on 3s (24.4 percent) this season.
Notre Dame's thin frontcourt is comprised of Nate Laszewski and Paul Atkinson, a transfer from Yale. At 6-foot-10, Laszewski can step out and is his offensive game is basically all jump shots. He's attempted just one free throw all season and is going to force either Trayce Jackson-Davis or Race Thompson to defend out on the 3-point line. Laszewski is Notre Dame's leading rebounder at 8.4 per game.
Atkinson didn't play at all last season because of the Ivy League's decision not to play due to the COVID-19 pandemic but is a good finisher who gives Brey a post scorer. He's making 61.4 percent of his 2s and is scoring .94 points per possession on post-up possessions, according to Synergy Sports. Atkinson isn't a shot-blocker and shouldn't provide much resistance at the rim for Jackson-Davis. Kentucky's Oscar Tshiebwe just went for 25 against Atkinson and Kofi Cockburn had 28 against him earlier in the season.
TEMPO-FREE PREVIEW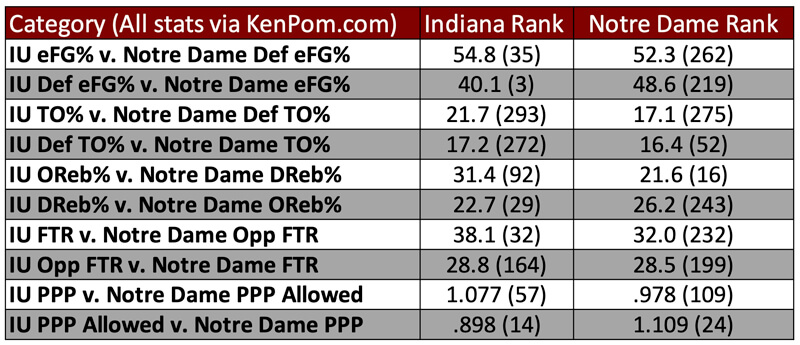 Notre Dame is going to play a deliberate pace with an emphasis on taking care of the ball and taking a lot of 3-pointers. The Fighting Irish are taking 25 3s per game, but are shooting just 32 percent from distance this season.
Notre Dame doesn't give up offensive rebounds, nor does it pursue offensive rebounds. The Fighting Irish rank just 243rd nationally in offensive rebounding percentage and are only allowing their opponents to grab 21.6 percent of their missed shots.
Indiana is unlikely to have a problem scoring against the Fighting Irish, but can the Hoosiers get stops consistently? Notre Dame is ranked 24th in the country in adjusted offensive efficiency and has the potential to be a very good offensive teams when perimeter shots are falling.
WHAT IT COMES DOWN TO
Indiana is a 3-point favorite according to Ken Pomeroy and the Sagarin numbers like the Fighting Irish by 6.5.
This is Indiana's final opportunity for a non-conference win that could be a positive on the resume at the end of the season. Notre Dame has a lot of work to do to even get into the NCAA tournament discussion at this point, but will have opportunities to do so playing in the ACC.
The Hoosiers only have one win over a top 100 team in KenPom so far this season and that came a month ago over St. John's in Bloomington. Indiana should have a decided advantage inside with Trayce Jackson-Davis, but will need to have a game plan to slow down Wesley and his playmaking ability on the perimeter in order to prevail and move to 9-2.
(Photo credit: Notre Dame Athletics)
Filed to: Notre Dame Fighting Irish