The Minute After: Merrimack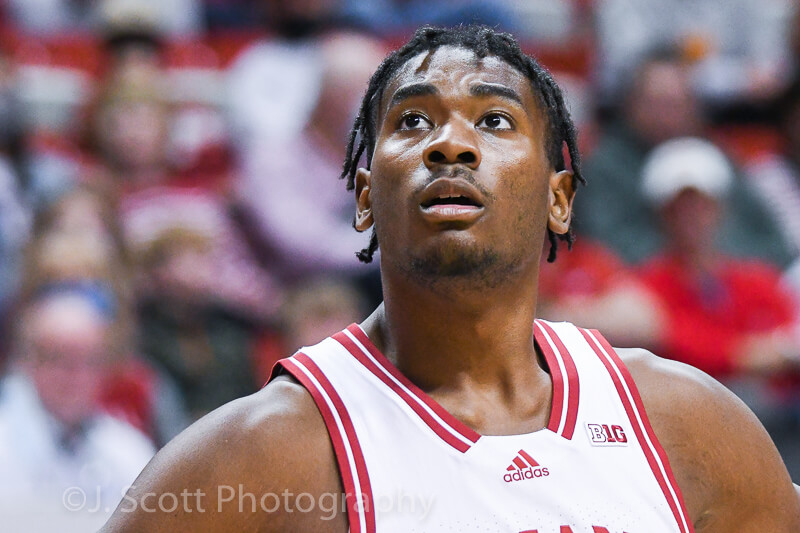 Thoughts on an 81-49 win over Merrimack:
Coming off of Wednesday's disappointing second-half collapse in Madison, Indiana wasn't sharp defensively in the first 20 minutes against Merrimack.
The Hoosiers were a step slow getting out to shooters and Merrimack made them pay early and often in the first half. The Warriors, who were coming off of an 80-55 beatdown on the road at Gonzaga, were shooting just 30.1 percent on 3s entering the game.
But they got comfortable early in Assembly Hall, splashing in three triples in the first 3:05 of the game. By the 6:39 mark of the first half, Merrimack had made six 3-pointers and was right in the game, trailing just 25-23 at that point.
Offensively, Indiana was mostly successful against Merrimack's zone in the first half. The Hoosiers derived much of their offense by getting the ball inside and the size discrepancy meant the Warriors had no way to defend without fouling at the rim. Indiana went 10-of-13 from the line in the first half and 10-of-14 on 2s and headed to the locker room with a 1.14 points per possession performance and a six-point lead.
Trayce Jackson-Davis was a big part of that, as the junior scored 12 points on 3-of-6 shooting from the field and a 6-of-6 performance from the line in the first half.
As we've seen often with this group of Hoosiers through the first month of the season, there was a different level of focus from one half to the next. It didn't take long for Indiana to open things up after intermission as a 17-6 spurt essentially put the game out of reach by the 14:16 when Merrimack coach Joe Gallo took a timeout after a Jackson-Davis layup.
Despite giving up 11 3-pointers to Merrimack on the afternoon, this was a stellar defensive performance by the Hoosiers when you examine the final ledger. Merrimack managed to shoot just 5-of-25 on 2s as it managed just .75 points per possession in the loss, its fifth straight.
Merrimack's indifference on the glass played right to Indiana's advantage. The Warriors only grabbed 16 rebounds in the entire game and Indiana turned 18 offensive rebounds into 21 second-chance points.
Race Thompson continues to prove he's invaluable to the Hoosiers in Mike Woodson's first season. The fifth-year senior was a perfect 6-of-6 from the field and finished with 14 points and seven rebounds in 20 minutes.
After a lackluster first half in which he turned it over twice and scored just two points in seven minutes, Jordan Geromino came alive in the second half. Geronimo, on the strength of his athleticism, overpowered Merrimack on the boards. In 13 second-half minutes, he grabbed 12 boards and scored 11 points to finish with career-highs in points (13) and rebounds (13).
Still, there will be plenty for Woodson to use from the film of this one to get his team's attention leading into finals week and a showdown with Notre Dame in the Crossroads Classic.
The Hoosiers continue to turn the ball over at a high rate. Indiana coughed it up 17 times on Sunday, prompting Woodson to declare in his postgame press conference that "those are things we gotta clean up and figure out."
Just three games remain before Big Ten play resumes in early January. Indiana, at 8-2, still has a long way to go by Woodson's own admission.
While there's plenty of positives to look at, the inconsistencies from half to half and the overall inability to put together a full 40-minute game thus far are at least somewhat concerning. Still, a win is a win and Woodson seems confident better days lie ahead for this group.
"We're still a work in progress … We still gotta continue to work," he said postgame. "That's all I can tell you, man."
Filed to: Merrimack Warriors