Indiana's split personality weighs it down in loss at Wisconsin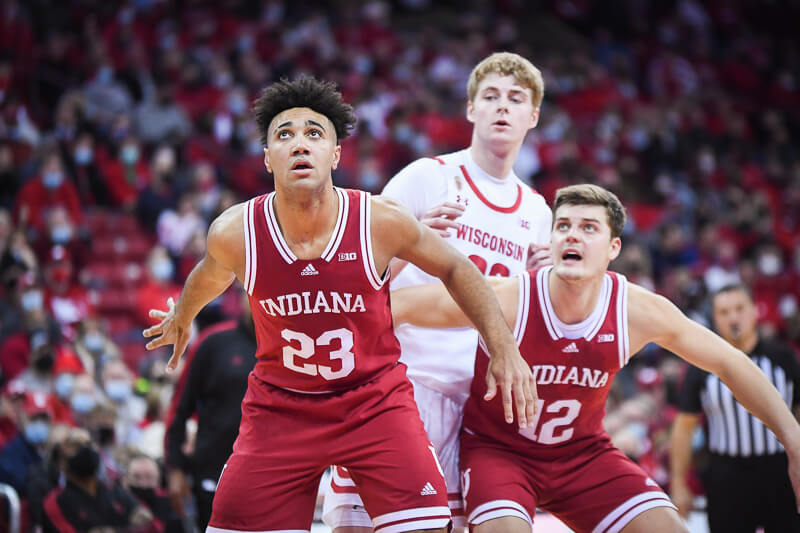 For the last 23 years, this has been happening in one fashion or another. Indiana on the road at the Kohl Center in Madison, Wisconsin, finding some way, any way to choke up the game. In 2016, they lost by three in overtime. Last season, they fell in double-overtime. The Hoosiers' last win on the road at Wisconsin was in 1998. Entering Wednesday night, they'd lost their last 18 games in Badger territory.
Wednesday night was the next chapter in what has become an appalling cycle. And this one was as disappointing as the 18 to come before it, not only because it was a loss, but because of the fashion in which it happened. A once 22-point first-half lead turned into an utter collapse. This game was a chance for Indiana to indicate that it was different than seasons before, a chance to ignite even more momentum into what it'd built up to this point. Instead, it was a 64-59 loss, one that will certainly sting as the season continues.
"It's like we were in quicksand in the second half," Indiana head coach Mike Woodson.
This isn't a loss that will end Indiana's season by any means. But it does continue to reveal a concerning trend. Two halves revealed two distinctly different Indiana teams. If Indiana wants to have success down the road, it will have to figure out its split personality.
On Wednesday, Indiana's first 20 minutes were arguably its best of the season and everything was in unison.
Offensively, the Hoosiers didn't have to rely on Trayce Jackson-Davis, but were rather a sum of multiple parts. Xavier Johnson commanded the offense with seven points, five rebounds and six assists. Miller Kopp had seven points. Race Thompson had eight. Parker Stewart had nine. In total, the Hoosiers shot 54 percent from the field and 62 percent from three. Defensively, Indiana was as impressive, holding Wisconsin to 31 percent from the field and 10 percent from three.
"We got stops, we got the ball moving," Woodson said of the first half.
But then came a disastrous second half. Johnson was putrid 1-of-10 from the field and seemingly lost his ability to command the game. It wasn't just that Kopp and Stewart went silent, combining for zero second half points, but also that they seemed timid to let it fly, only attempting four shots. And maybe most importantly, Jackson-Davis was a non-factor. In the second half, he attempted just four shots and grabbed just two rebounds. Indiana didn't look to get him touches anywhere near the frequency that was needed.
"I got to find ways to get Race and Trayce more shots down low," Woodson said. "We missed some chippy's, but he didn't get enough shots."
Defensively, Indiana got caught in multiple switches where a guard was matched up with a big man in the paint. Wisconsin wasn't spectacularly efficient at 40 percent from the field and 30 percent from three, but they pulled in five offensive rebounds, which they turned into seven points.
The outcome was still up for grabs late in the game. And here is where good teams are separated from great teams. The ability to make plays, do the little things down the stretch. On Wednesday, it was clear which team was which. In the second half, Indiana went 3-of-9 from the free-throw line. Wisconsin went 11-of-13.
"You do the same things that got you the lead," Woodson said. "You got to play the same way. That's got to register and it didn't in the second half. That's on me."
This game was reflective of a cycle that Indiana has become familiar with over the last month. There are flashes of exceptional basketball, but also stretches that are as dreadful. Indiana played great in the first half against Eastern Michigan, but wasn't able to sustain that intensity in the second half. Same with St. John's. Then it flipped. Poor first half against Marshall, Syracuse and Nebraska, but a well-oiled second frame. Each game, there was something that held them back: turnovers, bad free-throw shooting, foul trouble.
Because of the caliber of opponent, Indiana was able to get out of those games relatively unscathed. St. John's was a resume-building win, but the Hoosiers had to clutch on to the lead at the end. Syracuse was the first to really expose Indiana's inability to sustain production. As the Big Ten season barrels on, though, Indiana largely won't be afforded the ability to escape with wins by playing only 20 minutes of fundamental basketball.
It remains that this is a team still trying to learn how to win. This offseason was filled with moving parts: a new head coach, a mostly new support staff, two freshmen, four transfers. As a whole, they've only been on the court together for about seven months. But this excuse may be worn out soon. Indiana will likely get swallowed up in the challenging Big Ten schedule if it doesn't speed up its consistent cohesion as a unit.
"When you start building a team everybody's learning each other and we're doing it on the fly," Woodson said. "Yeah, we're doing it in practice and all, but when it's time to jump it up for real, everything counts."
What was maybe most concerning about the second half was the lack of inspiration. Indiana looked helpless on both ends of the floor. It brought flashbacks to recent seasons, where the Hoosiers were simply outdueled in every aspect of the game with little indication that things would change.
Again, this is not time to panic for Indiana. But a concerning thread is emerging should it not be fixed. Now is the time for Indiana to address its split personality. Now is the time for them to decide who they really are.
Filed to: