What to expect: Wisconsin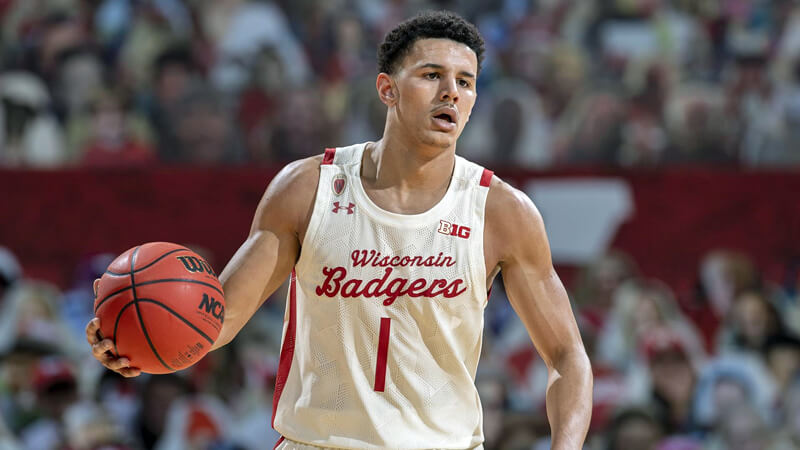 Indiana hits the road for the second time this season when it travels to Madison to battle Wisconsin on Wednesday night. The 7-1 Badgers are ranked No. 22 in the latest Associated Press top 25 poll.
Wednesday's game will tip at 7 p.m. ET on BTN:
Indiana hasn't won at the Kohl Center since the building opened in 1998. Last season's double-overtime loss to the Badgers on Jan. 7 brought the losing streak to 18 straight for the Hoosiers in Madison.
In the preseason, it looked like this could be a favorable opportunity for Indiana to break through and end the streak as Wisconsin was picked to finish 10th in the Big Ten. But after an early 63-58 loss at home to Providence in the Gavitt Tipoff Games, the Badgers have reeled off five straight wins. Each of those victories has come against high major competition.
Indiana, meanwhile, showed fight in a 112-110 double-overtime loss at Syracuse last week. The Hoosiers battled back from an 18-point deficit in the second half and had their chances to leave the Carrier Dome with a victory. Indiana rebounded from the loss with a 68-55 win over Nebraska on Saturday to open Big Ten play.
MEET THE BADGERS
It's a revamped roster for Greg Gard after Wisconsin finished just 18-13 last season and fell to Baylor in the second round of the NCAA tournament. Four of Wisconsin's starters moved on, but Brad Davison opted to return for a fifth season in Madison.
The 22-year old guard starts in the Badger backcourt alongside true freshman point guard Chucky Hepburn. Davison is Wisconsin's second-leading scorer and just one of two players on the roster averaging in double figures at 15.9 points per game. He's shooting just 40.9 percent overall from the field and 33.9 percent on 3s. Davison's 20 made 3-pointers lead the team.
Hepburn has just a 1.5-to-1 assist to turnover rate and is shooting 38.3 percent from the field over his first eight starts. His 7.4 points per game rank fifth on the team. The presence of Davison and wing Johnny Davis, who is the team's best creator, have taken the pressure off of Hepburn as he navigates his first season.
Davis made our preseason list of top 25 players in the Big Ten, but was far too low at No. 25 in hindsight. The 6-foot-5 wing is averaging a team-best 20.1 points per game and the Badgers are unbeaten with him in the lineup. He's already got four games of 20 or more points this season and currently ranks ninth in KenPom's national player of the year rankings.
Davis has the 38th highest usage rate in the country but has been efficient from everywhere on the floor. He's making 47.5 percent of his 2s, 40.7 percent of his 3s and 82.1 percent of his free throws. His assist rate of 19.4 percent leads the team and his ability to get his own shot off the dribble makes him one of the toughest covers in the Big Ten.
Up front, junior Tyler Wahl starts at the four with sophomore Steven Crowl at the five. Wahl came off the bench in last season's game at Madison and scored a crucial 12 points in 31 minutes. He has great size (6-foot-9) at the four and while he does like to step out and take some 3s, he's only 16-of-73 from distance for his career. Wahl is a solid shot-blocker who already has 12 blocks this season. He averages 8.8 points and 4.8 rebounds in 29.8 minutes per game.
Crowl barely played at all last season but is now the team's third-leading scorer. The 7-footer has hoisted up 23 triples, but has knocked down just seven attempts. Despite only shooting 42.6 percent from the field, Crowl is coming off of a 15-point, eight-rebound performance against Marquette on Saturday.
Wisconsin doesn't go very deep into its bench, but the names to know are freshman point guard Lorne Bowman, sophomore forward Ben Carlson, sophomore forward Carter Gilmore and graduate student Chris Vogt. Bowman has knocked down 8-of-15 3s and averages close to 12 minutes per game as Hepburn's backup. Carlson (8-of-22), Gilmore (3-of-11) and Vogt (1-of-8) are all off to dismal shooting starts.
TEMPO-FREE PREVIEW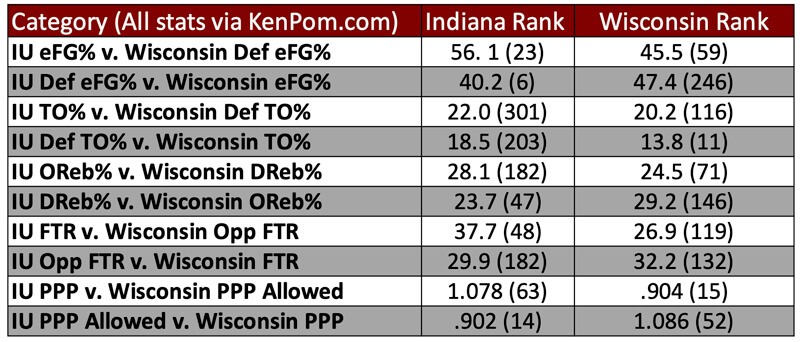 As has typically been the case with Wisconsin under Gard, a Bo Ryan disciple, the Badgers defend without fouling, limit second-chance points and don't turn the ball over.
Through eight games, Wisconsin has turned it over only 73 times for a turnover percentage of just 13.8. That ranks 11th in the country through Monday's games. By contrast, Indiana has committed 133 turnovers in eight games for a turnover percentage of 22. That ranks just 301st in the country. Turnovers have long been a storyline in Indiana's games against Wisconsin and Wednesday will be no different.
Wisconsin has struggled with its perimeter shooting through eight games as it has made just 54 of its 180 attempts from beyond the 3-point line. A lot of the Wisconsin offense is coming from the foul line where it has outscored opponents 120-77 through eight games. The Badgers are generating 21.2 percent of their points from free throws.
"I see a well-put-together basketball team," Mike Woodson said earlier this week. "They're well-coached… Their offensive motion and their action where the ball doesn't really stick, we've got to play a lot of ball movement and body movement."
WHAT IT COMES DOWN TO
Wisconsin is a 4-point favorite in KenPom and the Sagarin numbers like the Badgers by close to five points.
For Indiana to leave Madison with a win, the Hoosiers are going to need to be efficient from the perimeter while also limiting turnovers. Indiana has shot it well from the perimeter this season, but turnovers continue to be a major problem.
"We've got to improve in that area," Woodson said Monday on his weekly radio show with Don Fischer. "You've got to get shots. You can't throw it away."
Indiana will also need to be much sharper defensively than it was in Syracuse. The Hoosiers allowed a season-worst 1.19 points per possession in their loss to the Orange and another lax defensive effort will lead to a 19th straight loss in Madison.
(Photo credit: Wisconsin Athletics)
Filed to: Wisconsin Badgers