News and notes from Mike Woodson's radio show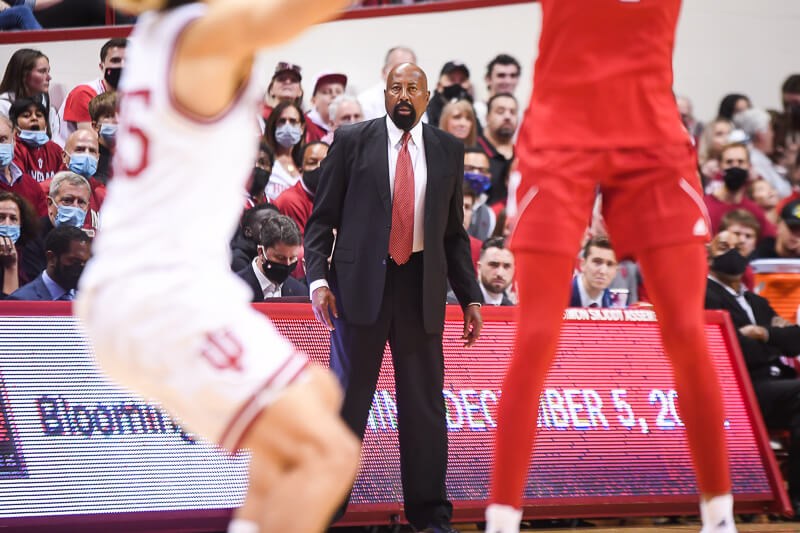 "Inside Indiana Basketball with Mike Woodson" returned Monday night after a week hiatus as Woodson spoke with play-by-play announcer Don Fischer.
Woodson discussed Indiana's loss at Syracuse and win over Nebraska and previewed upcoming contests against Wisconsin and Merrimack this week.
• Woodson said Syracuse "tricked us a little bit" by going to a 1-3-1 zone rather than the usual 2-3 zone setup in Tuesday's loss in the Big Ten-ACC Challenge.
• Woodson reiterated the goal of 12 or fewer turnovers per game, but Indiana is currently averaging about 16 per game. "We've got to improve in that area. You've got to get shots. You can't throw it away."
• On the narrow loss and how it came down to the final possession: "I didn't like the way we started, but they didn't quit… I believe a play here or there we could've walked out with a win."
• Woodson said he was "really upset" that Indiana didn't get a shot off at the end of the first overtime in the loss at Syracuse.
• Woodson on Parker Stewart and Miller Kopp's performance against Syracuse: "It's the first time we've played when they've clicked… they were able to put a solid game together, both of them."
• Woodson said Indiana's start against Nebraska was "the worst since we've come together as a ball club." He said "he didn't hesitate" to let the starters know about the slow start.
• On Anthony Leal's play against Nebraska: "He did an excellent job. I've been trying to find ways to get him on the floor. The starters forced my hand with the rotation. So I transferred them to the bench."
• Woodson on Race Thompson: "Race is playing at a much higher level since he's been here. He's doing some things that he's never been able to do. I'm letting him handle the ball a little bit more."
• Woodson said he'd like Indiana to shoot the ball from 3-point range at near 40 percent.
• On the energy Trayce Jackson-Davis brings: "He's challenging everything at the rim, he's running the floor, he's doing all of our defensive schemes."
• On Tamar Bates: "He's always licking his chops in terms of getting into the game. I just have to get him licking his chops to play defense."
• Mike Woodson said he had it wrong on the coaches running if Indiana commits too many turnovers. The coaches run if Indiana has 12 or fewer turnovers. The players run if Indiana doesn't meet the goal of 12 or fewer turnovers.
• Woodson says there's a lot to teach kids when they get to college out of high school. "I don't think they have enough time in AAU to teach." Woodson said when he was coming up as a player, it was the high school coach who dominated everything. Now with AAU, "you just roll the ball out and play."
• Woodson says the "3-ball has changed the game, man. If you don't have guys that can make it, you are kind of behind the 8-ball a little bit."
• Woodson on the evolution of the game: "I think somehow we've lost a lot of the fundamentals of being to pass, playing without the basketball and just a lot of those things are forgotten a little bit."
• Woodson on the matchup against Wisconsin on Wednesday night: "I see a well put together basketball team. They're well-coached… Their offensive motion and their action where the ball doesn't really stick, we've got to play a lot of ball movement and body movement. That's gonna be the key."
• Woodson said Tyler Wahl, Brad Davison and Johnny Davis are all "really good" and says Indiana's starting five are "going to have their hands full."
• Woodson on how to stop Wisconsin: "It's forcing them to take contested shots, when the ball goes up, blocking out five guys, have their hands on rebounding the ball."
Filed to: Mike Woodson