What to expect: Marshall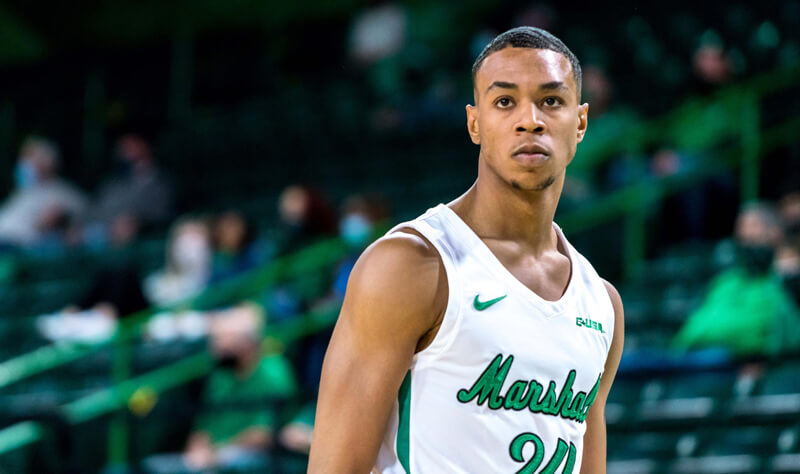 Indiana will close out its multi-team event titled the Indiana Classic on Saturday night against Marshall at Simon Skjodt Assembly Hall.
The Thundering Herd are 4-1 and are coming off of a 93-79 win over Louisiana on November 23. Saturday's game will tip at 7 p.m. ET on BTN with Wayne Randazzo and Trent Meachem on the call:
Indiana is 5-0, but the Hoosiers have been tested just once in the opening weeks of the season. The schedule is about to ramp up significantly as the next four games are against teams all currently ranked in top 115 of the KenPom ratings.
Up first is Marshall, a Conference USA opponent coached by Dan D'Antoni and led by Taevion Kinsey, who could be selected in next June's NBA draft.
The Thundering Herd had an early season slip up at home with a 67-65 loss to Campbell, but have rebounded with double-figure wins over Jackson State and Louisiana.
MEET THE THUNDERING HERD
Kinsey returned to Huntington after earning first team All-Conference USA honors last season. As a junior, he averaged 19.5 points and 6.2 rebounds per game and through five games this season, he's averaging 19.6 points per game.
He's already attempted 40 free throws over five games and while he's shooting just 42.7 percent overall from the field, the 6-foot-5 guard is one of the best perimeter scorers that Indiana will face this season. Kinsey rarely comes off the floor and is averaging 35.2 minutes per game.
Andrew Taylor, a 6-foot-3 junior guard, starts alongside Kinsey in the backcourt. He's dished out a team-high 37 assists with just 14 turnovers. Taylor also has a team-high 17 steals. He's one of four Marshall players averaging in double figures at 10.6 points per game.
Fifth-year senior Darius George starts at the three and is the team's second-leading scorer at 14.8 points per game. Last season, the 6-foot-7 George made 72.5 percent of his 2s and 42.9 percent of his 3s. In four games this season against Division I competition, George has the highest offensive rating on the team at 134.7.
Marshall starts 6-foot-10 Mikel Beyers and 7-footer Goran Miladinovic up front with Obinna Anochili-Killen, Aymeric Toussaint and Marko Sarenac all logging rotation minutes off of the bench.
Beyers can stretch the floor and is 5-of-13 from distance through five games. His 5.8 points per game ranks sixth on the team.
Miladinovic starts, but is only logging 9.8 minutes per game. The Montenegro native can also shoot the 3 and is 4-of-8 from distance from behind the arc.
Anochili-Killen, who is from Nigeria, is Marshall's third-leading scorer and is fourth on the team in minutes per game. The 6-foot-8 forward is first in the country in block percentage (21.8). He has already recorded 30 blocked shots in the team's first five games.
Toussaint is a true freshman from Saint-Denis, France who is 13-of-15 from the field and is averaging six points per game. He's 6-foot-9 and 225 pounds.
Sarenac is the team's best 3-point shooter and is 7-of-17 from distance over five games. The 6-foot-7 Serbian operates almost exclusively from the perimeter as 17 of his 19 field goal attempts have come from beyond the 3-point arc.
TEMPO-FREE PREVIEW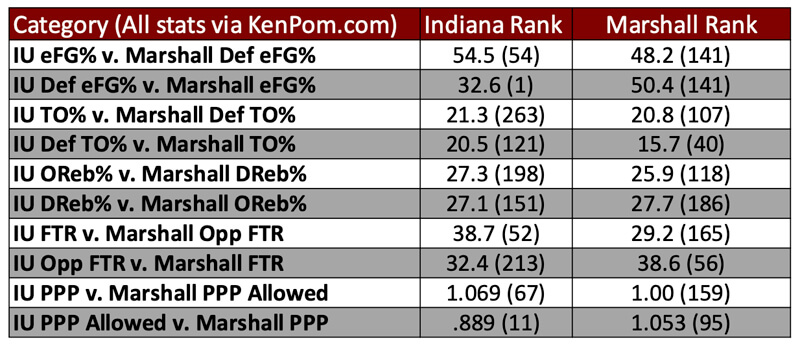 Marshall plays a frenetic, up-tempo pace while still taking care of the ball. The Thundering Herd currently rank second in the country in KenPom's adjusted tempo rankings with an average of 75.8 possessions per game.
In the season opener against Wright State, Marshall had 89 possessions and in its most recent win against Louisiana, it had 85 possessions. In Marshall's lone loss against Campbell, it was forced to play at a far more deliberate pace (67 possessions) and lost 67-65.
Indiana's clear strength through five games is its defense. The Hoosiers currently rank first in the country in effective field goal percentage, according to KenPom's ratings. Indiana is also first in 2-point field goal percentage defense at 30.2 and 12th in the country in block percentage (18.1). Marshall has been a strong shooting team on 2s thus far (57.6 percent), but is shooting a dreadful 24.1 percent on 3s against Division I opponents.
WHAT IT COMES DOWN TO
The KenPom projection is Indiana by 13 with an 88 percent chance of victory. The Sagarin ratings favor Indiana by 14 points. (Inside the Hall readers in Indiana are eligible for a deposit match of up to $1,000 from PointsBet.)
Kinsey will be a difficult matchup on the perimeter as he's scored 20 or more points in four of Marshall's five games. In their loss to Campbell, he was held to just 10 points on 5-of-14 shooting in 37 minutes. In each of Marshall's four games thus far against Division I teams, he's played 36 or more minutes.
This is a chance for Indiana to test itself against a team with legitimate talent that likes to push the pace. Of the four remaining "guarantee" games left on the schedule, Marshall is clearly the best of the group. Games following a holiday have traditionally been an easy spot for a letdown and Indiana can't afford to look past the Thundering Herd to next week's Big Ten-ACC Challenge tilt against Syracuse at the Carrier Dome.
(Photo credit: Marshall University Athletics)
Filed to: Marshall Thundering Herd