'I'm going to be ready at any time': Khristian Lander steps up at point guard against Louisiana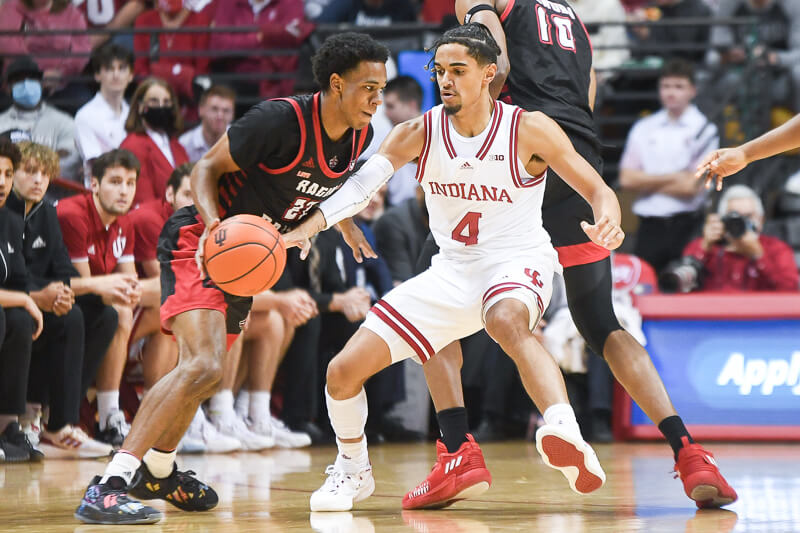 About seven minutes into Sunday's game against Louisiana, Khristian Lander came off the bench and headed over to the scorer's table to check in for Parker Stewart.
Indiana had built up a 10-point lead by that point, but Mike Woodson hadn't put Lander in that early through the first three games. In fact, Woodson didn't play Lander at all during the season opener against Eastern Michigan.
But Indiana was down one point guard in its three-point guard system Sunday night. Rob Phinisee didn't play due to a leg injury he suffered during the St. John's game. So it was up to Lander to step up.
"I feel like whenever my time is, whenever I'm called upon, I feel like I'm going to be ready at any time," Lander said following Indiana's 76-44 win over Louisiana.
In his first possession running the offense, he tried to hit Michael Durr in the post for a layup in transition but overshot him and the ball sailed out of bounds. Lander had the right idea. His head was up and he saw the play, he just didn't execute.
The key to Lander's role in this game was taking situations like those and being able to learn from them. And that's what he did. Around five minutes after his first turnover, Lander had a chance to redeem himself on a similar play.
He got a steal, looked down the floor and saw Tamar Bates running down the sideline on the fastbreak. Lander threw a pass across the court and this time, the ball found Bates' hands and his floater was good to put Indiana up by 17 points.
Lander — who reclassified to come to Indiana a year early — went from limited minutes last season to playing 24 minutes in his fourth game of his sophomore season.
He finished the game with a stat line of nine points, six rebounds, six assists and two steals.
In a two week span, Lander went from zero minutes to playing more than half the game. He commanded an offense he was third in line to lead, and Woodson said the way he handled this opportunity was perfect.
"He hasn't played a lot, but he was ready to play," Woodson said. "I thought he gave us some positive minutes, did a lot of good things on both ends of the floor."
The difference for Lander was confidence. His performance wasn't without its flaws. For every good look inside, he had a turnover. For every couple of nice shots, he'd take one he shouldn't have. But it was the way he played through his mistakes that made the way he handled this opportunity perfect in Woodson's eyes.
It wasn't just the confidence he had dribbling the ball up the court, though. He was confident in creating his own opportunities, too.
He was smooth in getting to the rim in transition. Then in the second half, he curled off a screen to spot up for a quick-release 3-pointer from the left wing. He looked confident.
"I just think it's a whole lot more positivity around me this year," Lander said. "I feel like that's just bringing me up more, and then the work that I put in is paying off."
His teammates would bring him up when he got frustrated with himself on the floor. After he missed a second shot in a row, he smacked his hands together in frustration and Jordan Geronimo came over to lift him right back up.
That sort of emotion showed just how much Lander cares about getting better and proving himself.
His performance — although not team-highs in points, rebounds or assists — earned him the postgame interview on Big Ten Network. He earned it for the way he stepped up on both ends of the floor. He said he's matured in a lot of aspects under Woodson.
"Offensively I just feel like he's given us the freedom to do what we do, so the offense is free flowing," Lander said. "I feel like I know how to play basketball, so I feel like if I play off my teammates and we play together, then everything is going to come together."
Defensively, he said he's gotten stronger and improved his footwork. After the game, he attributed his growth on defense to practicing against Phinisee and Johnson.
"I just feel like especially going against Rob and X, they're pretty fast and strong guards, so I feel like going against them every day has helped a whole lot," Lander said.
But against Louisiana, it was Lander's opportunity to lead — and he took it.
Filed to: Khristian Lander