Five takeaways from Indiana's win over Louisiana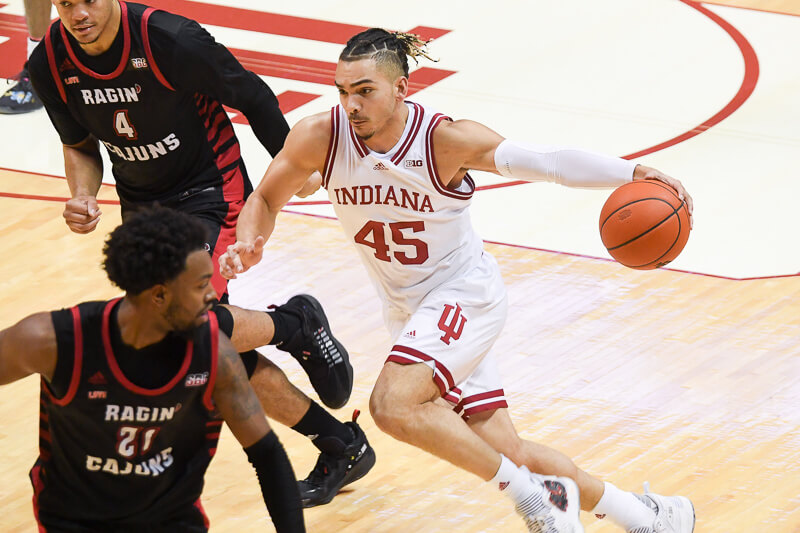 Indiana improved to 4-0 with a dominant 76-44 win over Louisiana on Sunday night at Simon Skjodt Assembly Hall.
Here are five takeaways from the win over the Ragin' Cajuns:
Parker Stewart finds his perimeter touch
Parker Stewart's first three games at Indiana produced only nine points as the UT-Martin transfer struggled with his perimeter shot.
The 6-foot-5 Stewart took 11 of his 13 field goal attempts over IU's first three games from behind the 3-point line and made just three of them.
On Sunday, Stewart showed off the stroke that made him a coveted transfer last fall. He led Indiana with a team-high 16 points, including a 4-of-5 performance from beyond the 3-point line. Stewart also made both of his 2-point field goal attempts. Through four games, he's now 7-of-16 on 3s.
Sunday's shooting display showed what Stewart, a career 36.6 percent 3-point shooter, is capable of providing to Indiana this winter.
"I saw Parker in one of our exhibition games shoot it like that," Mike Woodson said. "I know he's capable. I've seen him in practice do it as well. You know, he was ready to shoot tonight. He caught it and let it go."
Indiana's defense continues to shine
For much of the offseason, Woodson emphasized that Indiana's defense was ahead of its offense. Through four games, the numbers have backed up that assessment.
Sunday's defensive performance was Indiana's best of the young season.
The Hoosiers allowed only .58 points per possession to the Ragin' Cajuns, who went more than 13 minutes at one point in the first half without a field goal.
Louisiana coach Bob Marlin called Indiana's defense "outstanding" and through three games, the Hoosiers currently sit third nationally in effective field goal percentage defense, according to KenPom.
"We don't switch a whole lot with our bigs," Woodson said. "We let four and fives switch, but fours and fives have a responsibility from a defensive standpoint, and then our guards that are on the ball have a responsibility.
"And those responsibilities have been executed pretty well, I think, from a pick-and-roll standpoint. Our pick-and-roll defense has been pretty good because our bigs are active and able to be up, and we are demanding our guards get into the ball and take the onus on guarding the ball."
Race Thompson sparks Indiana on both ends
It was fair to wonder how Race Thompson, who averaged 9.1 points and 6.2 rebounds per game last season, might improve under Woodson.
Through four games, Thompson is showing that he had more to offer on both ends of the floor.
While Thompson was a solid rebounder in previous seasons, he's been better on the glass in his fourth season. In Sunday's win, Thompson grabbed eight rebounds in 19 minutes. He's averaging 8.3 rebounds per game and his defensive rebounding percentage of 28.1 currently leads the team.
Thompson's 3-point shooting hasn't been a strength so far – he's just 1-of-8 from distance – but he's been efficient on 2s and from the free throw line.
The Minnesota native is 13-of-16 on 2s (81.6 percent) and 11-of-14 (78.6 percent) from the free throw line.
Turnovers problematic in lopsided win
There was a lot to like about Indiana's offensive performance in Sunday's win.
The Hoosiers shot it well from the free throw line and from behind the 3-point arc. The bench was once again productive with 32 points. All 11 players who entered the game, including walk-on Nathan Childress, scored.
But the blemish in the win – and it was a major one – was Indiana's inability to take care of the ball. The Hoosiers turned it over 27 times. Khristian Lander called the performance "unacceptable."
Woodson, who has stated a goal of 12 or fewer turnovers for his team per game, didn't mince words on what the consequence would be.
"It's a lot of running that's got to take place tomorrow," he explained. "But at the end of the day, this is something we haven't been accustomed to doing and I'm a little disappointed about that."
As of Sunday night, Indiana ranked just 274th nationally in turnover percentage, per KenPom. That's a figure that needs to show improvement in the coming weeks as Indiana's first Big Ten game is less than two weeks away.
Indiana defense stifles Louisiana frontcourt
The key defensively entering Sunday's game for Indiana was handling the frontcourt of Jordan Brown and Theo Akwuba.
Brown, a former McDonald's All-American, scored a team-high 10 points but needed 15 field goal attempts and seven trips to the line to get there.
And Akwuba, a first team All-Sun Belt selection in the preseason, finished with just nine points on 4-of-10 shooting from the field.
The duo combined to shoot just 7-of-25 from the field and it set the tone for an awful shooting performance for the Ragin' Cajuns. Louisiana shot just 12-of-52 on 2s, good for only 22.6 percent.
Louisiana's field goal percentage of 19.2 is the lowest shooting percentage by an Indiana opponent since at least the 1996-97 season, according to an IU spokesperson.
"I got to give the players all the credit," Woodson said. "They were paying attention to details, especially when we're game prepping for our opponents and they're going out and executing, so it's kind of nice to see from a coaching standpoint."
Filed to: Louisiana Ragin' Cajuns, Parker Stewart, Race Thompson