Five takeaways from Indiana's win over St. John's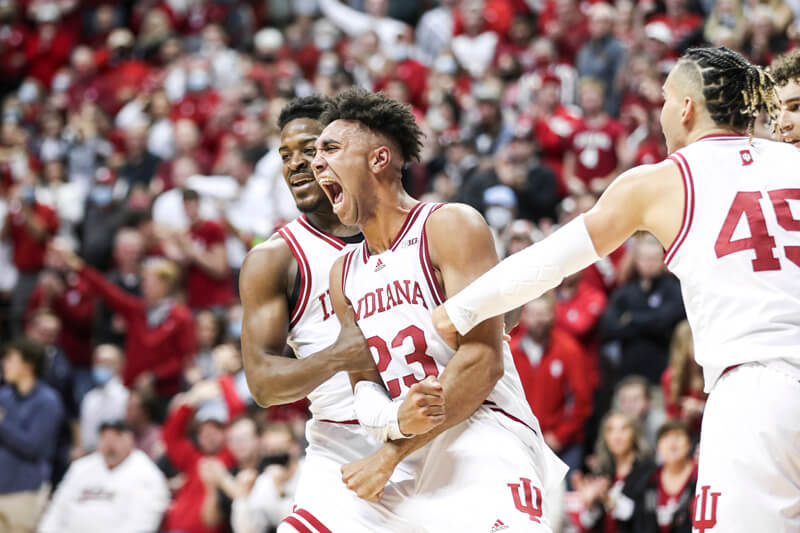 Indiana improved to 3-0 on the season Wednesday night by narrowly defeating St. John's 76-74 in the Gavitt Tipoff Games. The Hoosiers led by as many as 14 points in the first half, but foul trouble and turnovers coupled with St. John's Julian Champagnie's 22-point second-half brought this game down to the wire.
Despite key missed free throws during the final minutes of the game, Indiana held it together on defense and walked away with the win.
Here are five takeaways from their win over the Red Storm:
Missed free throws and turnovers costly in second half
When St. John's fought its way back into the game, there were two key areas to point to when it came to Indiana's struggles — missed free throws and excessive turnovers.
The Hoosiers shot just 52.6 percent from the free throw line, missing nine of their 19 attempts. Two of the key misses were from Xavier Johnson in the last two minutes of the game.
With 1:14 to go, Johnson made a driving layup and got the foul call to put Indiana up by three points. But when he got to the line, he couldn't convert on the and-one to put the Hoosiers up by two scores.
Then a little over a minute later, he was sent back to the line. This time it was with eight seconds left for two shots. The Hoosiers were only up a point and Johnson extended their lead by just one point, splitting the free throws.
"We have to get better at making free throws," Mike Woodson said after the game. "We shoot them every day but guys just got to be comfortable and knocking them down because that could be the difference in winning and losing."
While not as glaring as the missed free throws, the turnovers piled up. Eight different Hoosiers contributed to the 16 turnovers and nine came in the second half.
Underclassmen step up
When Johnson got into foul trouble, Woodson had to call on Khristian Lander to step up. Rob Phinisee wasn't his first option as he recorded two turnovers and zero points during his first-half performance, so it was up to Lander.
Lander's performance during those crucial minutes in the second half didn't come without its errors, though. He picked up three fouls in three minutes — and two within his first 30 seconds in the game.
It was what he did after those fouls that mattered and it was in conjunction with fellow sophomore Jordan Geronimo.
With the game tied at 56, Lander found Geronimo and he drained the 3-pointer to put Indiana back out in front. Then on the other end, Geronimo rebounded a Trayce Jackson-Davis block and passed it to Lander in transition who hit a tough layup to give Indiana the 61-56 lead. St. John's called a timeout immediately to try to stop IU's momentum.
Geronimo went on to make big plays down the stretch both on offense and defense. He dove on the floor for loose balls to give and also knocked down shots. He put up his seven points in just eight minutes.
"So Coach Woodson says when your name is called, you've got to be ready to play and those guys stepped up and we needed them for this win," Jackson-Davis said.
Fast start fueled by transition
Indiana got out ahead in the first half by pushing the ball in transition and keeping the tempo up. The Hoosiers scored 18 points on fast break opportunities and 11 of those came during the first 20 minutes.
It wasn't just getting the ball down the floor in transition, though. When St. John's got into their man-to-man press, Indiana moved the ball quickly with passes and limited mistakes early on. The Hoosiers weren't afraid to take a shot early into the shot clock after breaking the press.
The quick decisions and execution not only got the team going, but the crowd going as well. It built a momentum that was hard to stop, especially in the first half.
"Having that crowd coming into Assembly Hall rocking like that, we are going to need that in the future because the games are just going to get tougher," Jackson-Davis said.
Assembly Hall comes alive
The energy in Assembly Hall was palpable. While fans showed up in solid numbers to Indiana's first two games last week, the game against St. John's was Woodson's first test as head coach and the fans showed out for it.
From pregame to the final buzzer, it was a raucous environment. The crowd stood and cheered for every made basket, forced turnover and everything in between. It was nonstop noise.
Not only did it add to Indiana's momentum, but it also worked against St. John's
"We'd all be talking and we couldn't hear each other. I couldn't even hear myself," Champagnie said. "It was a fun experience, though. I wouldn't take that away from it."
The fans propelled the Hoosiers during their runs in the first half, but didn't quiet down even when the Red Storm found their way back into the game. To Jackson-Davis, the fans played a big role especially after having to go a season without them in the building.
"Last year, we lost a lot of games like that and we didn't have that crowd," Jackson-Davis said.
In a game that came down to the final possessions, the Assembly Hall atmosphere proved to be huge.
Indiana shows off its depth
Woodson has mentioned that he wants to have 10 guys that can play in his rotation. Against St. John's, he used 11 different players. Eight of them scored, and Phinisee wasn't one of them.
Having an All-American in Jackson-Davis always helps and the junior scored his 1,00th career point Wednesday night. But as good as Jackson-Davis has been, he can't do it all.
Indiana's bench scored 20 points, while they held St. John's bench to just seven points.
"We always talk about our bench being the strength of our team," St. John's head coach Mike Anderson said. "Their bench actually outscored our bench tonight and that's kind of a big difference in the game."
The ability of Indiana's bench to step up and play in crucial minutes down the stretch when starters got fatigued or in foul trouble proved to be a difference in the game.
(Photo credit: IU Athletics)
Filed to: Mike Woodson, St. John's Red Storm, Trayce Jackson-Davis