News and notes from Mike Woodson's radio show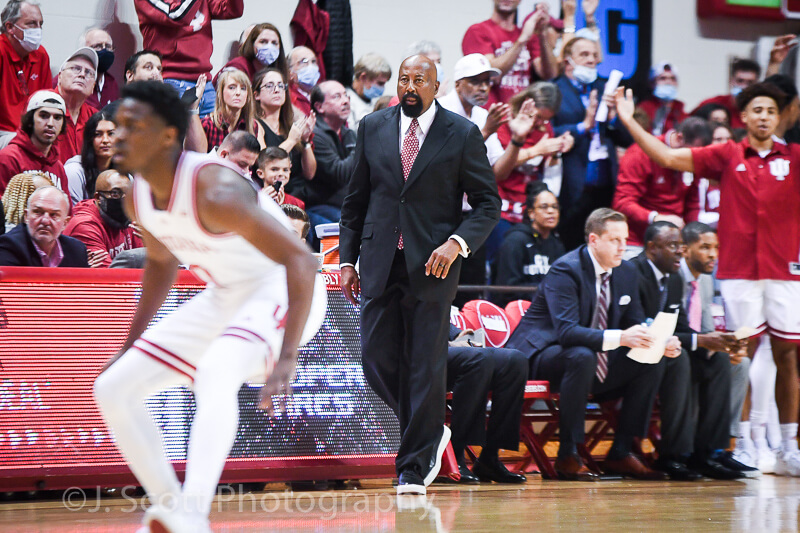 "Inside Indiana Basketball with Mike Woodson" aired Monday night as Woodson spoke with play-by-play announcer Don Fischer.
Woodson discussed Indiana's two wins last week and previewed its upcoming matchup with St. John's.
• On Indiana's season-opening win against Eastern Michigan, Woodson said he thought his team "got comfortable after the first 28 minutes." But he said he told them he was "happy they made all the winning play down the stretch to secure the win."
• On Trayce Jackson-Davis, who was named Big Ten Player of the Week, Woodson said "He's just leading the charge. I think the guys around are following his lead as a captain and that's how it should be."
• Woodson said he's challenged Jackson-Davis to be more of a defensive presence. Last season, Woodson noticed when there was a baseline drive, Jackson-Davis would simply watch. "That's a no-no when you talk about trying to build your defense around the backside," Woodson said. This season, though, Jackson-Davis is sliding over to help on drives.
• On Jackson-Davis playing with more energy, Woodson said: "He caught a lot of hell from me. I told him he had to hurry up his giddy-up." Woodson said he has pressed upon Jackson-Davis to play harder.
• On the early shooting struggles of Parker Stewart and Miller Kopp, Woodson said "We won by a big margin the second game and neither one of them really scratched the surface in terms of being able to make shots." Woodson noted, though, Stewart did a great job defensively against NIU. "We need those two guys to step up and feel comfortable making shots and I got to help them."
• After scoring 37 bench points against NIU, Woodson said "that gives me confidence knowing that if I got the play the bench, I feel good about that." Woodson said he'd like to play a 10-man rotation but is still searching for exactly who that consists of.
• Woodson said he didn't want to "box" Race Thompson into one role. "Our fours got to be able to make that (3-point) shot," Woodson said. "…He's (Thompson) doing a lot of things at that position for us."
• Woodson said he's been trying to instill confidence in everyone on the roster. "You can't play this game without confidence," Woodson said. "…I want them to relax and feel comfortable about their play individually."
• Woodson said the player that was most eager to be coached by him in the NBA was Carmelo Anthony. "We had a great player/coach relationship. I can push him and he responded in a big way."
• On his philosophy regarding switching on defense, Woodson said the scheme first became evident to him when coaching the Atlanta Hawks and they drafted athletic prospects as a result. At that time, though, it wasn't widely used in the NBA. "I caught a lot of hell for it in my early days," Woodson said. Now, as it's a regular part of the game, Woodson employs different switching schemes depending on matchups and personnel.
• On St. John's, Woodson said "they're well-coached. They have great personnel. They play very up-tempo style basketball." Woodson said a key to the game will be if IU can break the press.
• Woodson said Michael Durr is still trying to get into playing shape after dealing with injuries. Ideally, Woodson said, Durr could play 15 to 20 minutes per game. "We're going to need him more when we get to the Big Ten," Woodson said.
• Woodson said he doesn't want to redshirt freshman forward Logan Duncomb. Woodson wants him to get stronger, but "he knows how to play. He's a pretty smart player." Woodson, however, said Duncomb likely won't play a lot if Durr is available.
Filed to: Mike Woodson