What to expect: Northern Illinois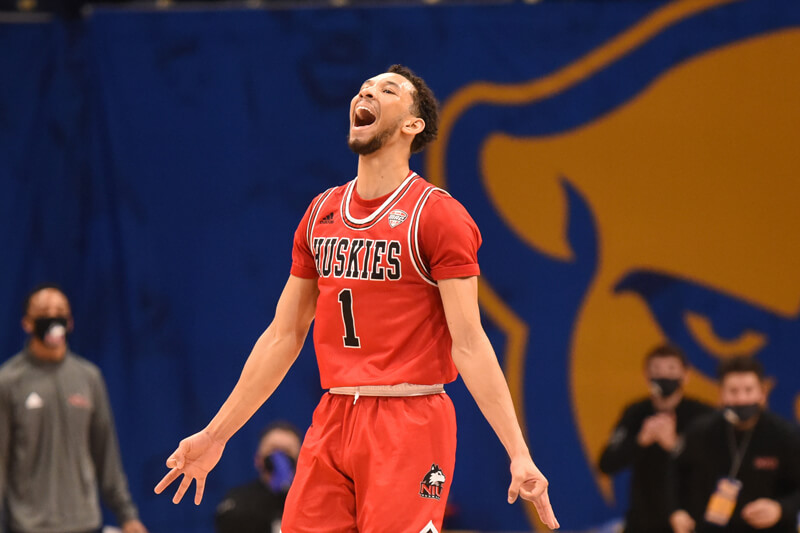 Indiana will look to improve to 2-0 when it hosts Northern Illinois tonight at Simon Skjodt Assembly Hall. The Huskies are coming off of a 71-64 win at Washington on Tuesday.
Friday's game will tip at 7 p.m. on BTN+ (separate subscription required).
If nearly blowing a 21-point second half lead in the season opener wasn't enough for Mike Woodson to get his team's attention, Tuesday's result in Seattle should do the trick.
Northern Illinois, ranked No. 326 to start the season in KenPom's ratings, made 12 3-pointers and won at Washington to open its season. While Washington was only picked to finish 11th in the Pac-12, it was still an eye-opening result to tip off the season.
Indiana will be looking to put together a more complete effort in its second game. The Hoosiers played well at times on Tuesday, but shot selection and waning energy in the second half are clear areas for improvement.
MEET THE HUSKIES
Led by first-year coach Rashon Burno, Northern Illinois finished just 3-16 a season ago.
The Huskies won on Tuesday thanks in large part to an outstanding shooting display from the perimeter. Nearly half of its field goal attempts at Washington came from the perimeter and it knocked in 12-of-23 3-pointers, including 6-of-10 in the second half. Northern Illinois committed 20 turnovers in the upset win and shot 17-of-25 from the free throw line.
Guard Trendon Hankerson, who went for 28 points on Tuesday, averaged 13.9 points per game last season and is a career 39.3 percent 3-point shooter. No player in the Mid-American Conference played a higher percentage of his team's minutes than Hankerson last season and he logged a team-high 36 minutes on Tuesday.
Anthony Crump, a 6-foot-8 wing, finished with 11 points, 11 rebounds, six assists, two blocked shots and a steal in 36 minutes in Tuesday's win. He's struggled with efficiency for the majority of his career, which began at Middle Tennessee before transferring to Northern Illinois before last season. Crump is shooting just 35.6 percent for his career on 2s.
Two transfers, Keshawn Williams and Darweshi Hunter, joined Hankerson and Crump in the starting lineup on Tuesday.
Williams, a 6-foot-3 guard who previously played for Tulsa, is a Chicago native who struggled mightily in his first college season. Williams shot just 7-of-37 on 2s and 1-of-10 on 3s in 17 games for the Golden Hurricane last season.
Hunter, a Cincinnati native, transferred in from Weber State where he played in just six games last season. Hunter started Tuesday's game at Washington and had three points and four rebounds in 21 minutes.
Adong Makuoi, a 6-foot-9 center, started Tuesday at the five but played just 10 minutes before fouling out. Chinedu Kingsley Okanu, a 6-foot-7 forward and Kaleb Thornton, a 6-foot guard, were the only reserves to log double figure minutes in the opener.
Okanu was the fourth-best offensive rebounder in the MAC last season from a percentage standpoint. Thornton, a junior from Bolingbrook, Illinois, scored eight points but committed five turnovers in 24 minutes in the opener.
THOUGHTS ON THE MATCHUP
While this matchup might look scary on paper given that Northern Illinois won at Washington on Tuesday, there are some key caveats from that game.
Washington shot a ridiculously bad 20-of-75 from the field and only 21-of-36 from the free throw line. Northern Illinois certainly deserves credit for winning its first game under a new coach away from home, but Washington had a dreadful performance.
It's also important to remember that Northern Illinois was shooting against a 2-3 zone against Washington and Indiana will be playing man-to-man on Friday. The Huskies don't have much size, so they'll be looking to spread the floor in order to put pressure on Indiana off the dribble.
For Indiana, this game is about building on Tuesday's inconsistencies. The Hoosiers shot it well from the perimeter early, but finished just 4-of-24 from the perimeter. Mike Woodson said postgame that he liked the aggressiveness, but also wants to see better shot selection.
Northern Illinois committed 30 fouls on Tuesday and Indiana should be able to get to the line regularly if it attacks rather than settling for early shot clock jump shots.
WHAT IT COMES DOWN TO
Indiana is a 22.5-point favorite and the KenPom numbers like the Hoosiers by 24 over the Huskies. The Sagarin numbers like Indiana by 21.5. (Inside the Hall readers in Indiana are eligible for a deposit match of up to $1,000 from PointsBet.)
Friday's game is Indiana's only regular-season game airing on BTN+, which requires a $9.99 monthly subscription to view the game.
Indiana has a significant talent advantage and should be hungry to erase a poor second half on Tuesday against Eastern Michigan. This is the second of six straight home games to begin the season for the Hoosiers, who don't go on the road until November 30 at Syracuse.
Given that the two teams directly in front of the Hoosiers in the preseason top 25 AP poll lost this week (Virginia and Michigan State), a win could land IU in the rankings for the first time since the 2018-19 season.
Filed to: Northern Illinois Huskies