What to expect: Eastern Michigan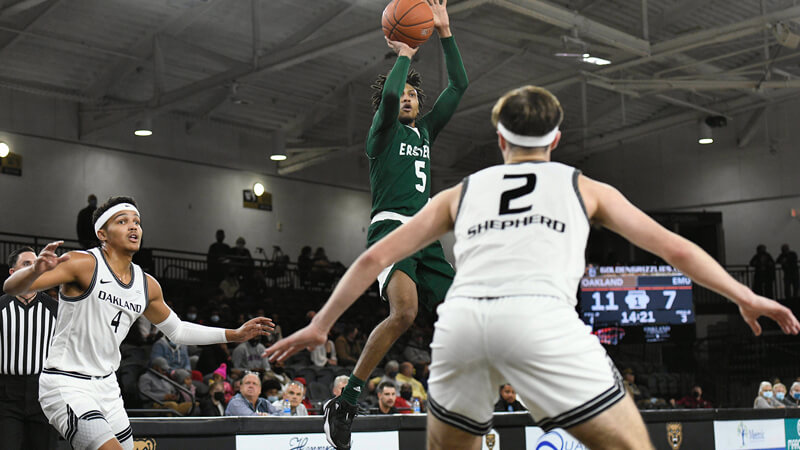 Indiana opens the Mike Woodson era tonight in Bloomington against Eastern Michigan. The season opener will tip at 6 p.m. ET on BTN with Brandon Gaudin and Shon Morris on the call.
The 122nd season of Indiana basketball begins tonight at Simon Skjodt Assembly Hall.
After four seasons of struggles under Archie Miller, the program now turns to a former player to lead a new era. Mike Woodson, who has spent the entirety of his coaching career in the NBA, will make his college coaching debut tonight.
Woodson has built a substantial amount of momentum since accepting the Indiana job last spring. He's hired a coaching staff that includes former IU player and former MSU assistant Dane Fife. He retained assistant coach Kenya Hunter and also brought in Yasir Rosemond, a capable recruiter with deep ties to the south. Woodson was able to retain a good portion of the roster, including All-American Trayce Jackson-Davis. And recruiting is off to a strong start.
The focus now, however, turns to the 2021-22 season.
The Hoosiers haven't been to the NCAA tournament since 2016, but there's optimism this group could be in the bracket that is announced in March. Picked to finish seventh in the Big Ten, Indiana has assembled a roster that, on paper, looks capable of finishing in the top half of the league and ending the March Madness drought.
The journey to attain that goal begins tonight. Indiana's non-conference schedule is packed with winnable home games that should set a foundation of wins to build a tournament resume. Up first is Eastern Michigan, which was picked to finish 11th in the Mid-American Conference and is ranked 297th in the KenPom ratings.
MEET THE EAGLES
Eastern Michigan also had a coaching change in the offseason as Stan Heath took over for Rob Murphy. Heath, who led Kent State to an Elite Eight appearance where it lost to Indiana in 2002, is an Eastern Michigan graduate.
The Eagles won a pair of exhibitions this preseason. One of the victories was over Division I opponent Oakland, 74-69, on October 28 on the road. Most recently, Eastern Michigan crushed NAIA Goshen College, 94-66, on Nov. 5.
The key name to know on the roster is guard Noah Farrakhan. Once a coveted recruit out of The Patrick School in New Jersey, Farrakhan signed with East Carolina and played 12 games for the Pirates last season before transferring.
The 6-foot-2 guard went for 27 points in the win over Oakland on 13-of-19 shooting from the floor. He also had seven rebounds, six assists, two steals and committed just one turnover in 30 minutes. Keeping Farrakhan under control will be a challenge for Indiana's backcourt.
Guard Monty Scott arrives at EMU from Portland State, where he led the team in scoring last season at 13.7 points per game. Scott, who is 6-foot-5, played at St. Benedict's Prep in New Jersey and originally signed with Kennesaw State out of high school. Scott transferred from Kennesaw State to Temple for the 2019-20 season, where he averaged 7.2 points in 20 minutes per game. Eastern Michigan is Scott's fourth school and he's averaged 11.7 points over 103 games.
Guard Bryce McBride is Eastern Michigan's only returning starter. He averaged 31.9 minutes per game last season for the Eagles and averaged 13.7 points on 39.1 percent shooting from the field. Darion Spottsville also returns for EMU, but the 6-foot-5 guard doesn't offer much offensively. Over 49 career games for the Eagles, he's averaged just 4.5 points in 23.1 minutes per game.
Forwards Colin Golson and Nate Scott will also figure heavily into the rotation in Heath's first season. Golson transferred from Siena, where he averaged 5.2 points and 3.1 rebounds per game last season. Golson shot 50 percent from the field and made 37.5 percent of his 3-point attempts. The 6-foot-8 Scott transferred from Northern Illinois, where he started 10 of the team's 14 games last season. Scott averaged 5.4 points and 3.9 rebounds in 17.6 minutes per game.
France native Axel Okongo is 7-foot and 240 pounds and began his career at Missouri before transferring to EMU. He played in just 10 games last season for the Eagles, but offers Heath some legitimate size in the post to throw at opposing big men.
A FEW THOUGHTS ON THE MATCHUP
Eastern Michigan formerly played a 2-3 zone under Murphy, who came to EMU from Syracuse. Heath will have the Eagles in straight man-to-man defense, which should give us our first extensive look at how Woodson wants to attack offensively.
Woodson already confirmed a starting lineup of Xavier Johnson, Parker Stewart, Miller Kopp, Trayce Jackson-Davis and Race Thompson for the opener. That's the same lineup Indiana used for its two exhibition games in the Bahamas in August.
While Indiana is integrating a new system and a lot of new pieces, the same can also be said for Eastern Michigan. The Eagles have a lot of transfers being integrated into their rotation and are also completely changing defenses under Heath.
WHAT IT COMES DOWN TO
This is a game Indiana should win handily, but that's the same thing we wrote back in 2017 before Miller opened his career in Bloomington with a 90-69 blowout loss to Indiana State.
The Hoosiers are favored by 24 in Vegas and the KenPom prediction is Indiana by 23 with a 98 percent chance of an IU victory.
Tonight's game should afford Woodson the opportunity to mix and match some different combinations as its one of two games against a lesser opponent before St. John's comes to Bloomington next week for the Gavitt Tipoff Games.
Photo credit: Eastern Michigan Athletics
Filed to: Eastern Michigan Eagles