News and notes from Mike Woodson's radio show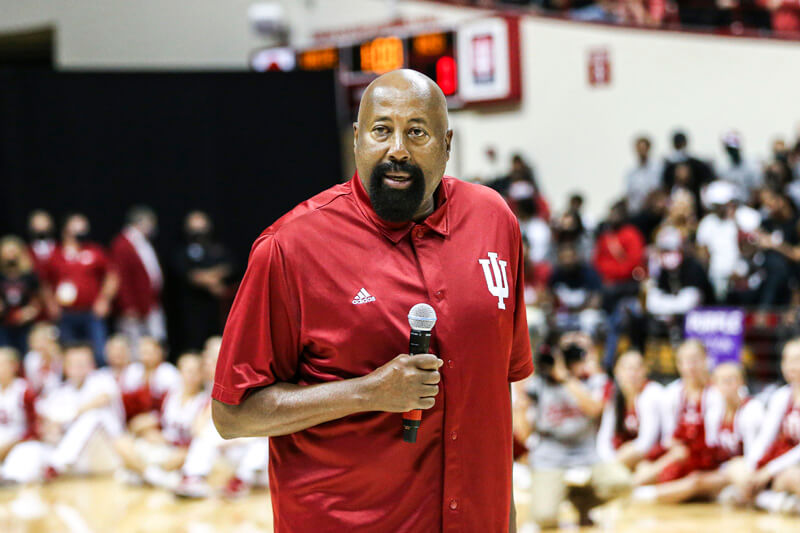 "Inside Indiana Basketball with Mike Woodson" aired Monday night as Woodson spoke with play-by-play announcer Don Fischer.
Woodson previewed Indiana's upcoming matchups with Eastern Michigan and Northern Illinois to open the 2021-22 season.
– Woodson on returning to Indiana: "I fulfilled the dream of the NBA. The timing was perfect when this job opened up… I'm happy as hell."
– Woodson on the transition from professional to college: "I came in right on the fly in terms of trying to keep our players intact with this new (transfer) portal."
– Woodson said it's been a process getting used to being on the recruiting trail and competing against other coaches for recruits. "They (opposing coaches) smile in your face but they're trying to do the same thing that you're doing: getting the top-notch players."
– Woodson said defense has been the main focus this offseason: "Defense was my approach, along with my staff, right from the start. I believe that if you can have a strong defensive foundation, it puts you in a position to win basketball games."
– Woodson compares putting together a college team in the transfer portal era to how he put together teams in the NBA with trades and free agency.
– Woodson on his coaching philosophy: "When I'm coaching, I just want them (players) to understand that I love them and I want nothing but the best for them."
– Woodson said he had nothing but respect for the previous staff, but he inherited a team that was "mentally down" after last season. He said some players "couldn't look me in the face because they didn't have the confidence." Instilling that confidence back has been a point of emphasis for Woodson.
– Woodson on Trayce Jackson-Davis: "He's improved from the time we started five months ago to where we are today." Woodson also mentioned Race Thompson and Rob Phinisee as standing out in their development.
– Regarding outside shooting, Woodson said Xavier Johnson, Tamar Bates, Parker Stewart and Miller Kopp will add a boost. He also mentioned Trey Galloway and Anthony Leal. "We even have Race making threes now," Woodson said.
– Woodson says Indiana's current starting lineup is Xavier Johnson, Parker Stewart, Miller Kopp, Trayce Jackson-Davis and Race Thompson.
– After dealing with injuries, Woodson said Michael Durr and Tamar Bates are "back on the floor." He didn't, however, specify their availability against Eastern Michigan.
Filed to: Mike Woodson