Q & A: Class of 2023 guard Jakai Newton recaps his official visit to Indiana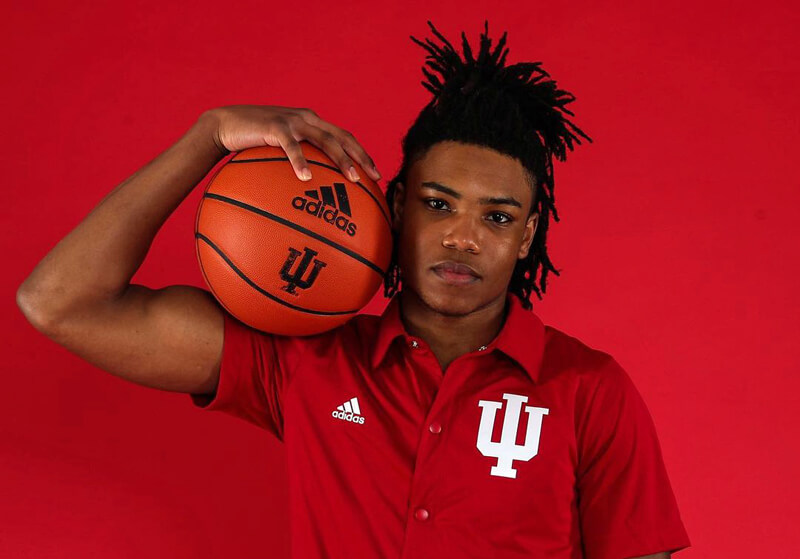 The No. 67 player nationally in the class of 2023 wrapped up his junior year official visit to Indiana this weekend.
Jakai Newton, a 6-foot-3 guard from Newton High School in Covington, Georgia, added a scholarship offer from the Hoosiers back in June.
Following his visit, Newton spoke to Inside the Hall about the trip, his thoughts on Mike Woodson and more. Our full Q & A is available below:
Overall, what did you think of the visit?
"I loved it. The atmosphere, the basketball stuff. It was amazing."
What got you interested in Indiana initially?
"Ever since I got the offer (in June) and coach Ya (Yasir Rosemond) is the one who offered me. I'm real cool with Coach Ya. But Indiana is Indiana. It's a great basketball school."
You mentioned Coach Ya. How long have you known him and what is your relationship with him?
"The first time I heard of Coach Ya was before the high school season last year. He did a podcast with me when I had no interest, no offers or nothing. He helped me get my name out there. And the fact that he got the job at Indiana and he offered me, we had a connection. And also, he's at Georgia, too."
Why do you think things have changed so much for you the last year recruiting-wise?
"I'm younger than most people in my class. I was really just getting started. I just got older and got better with the time that passed."
In terms of your game right now, what are your strengths? And what are you trying to work on?
"I'd say my strengths are my body, play hard, playing aggressive, being able to get to the basket, being able to explode (past defenders). I can get to my spots and get my shot off. As far as weaknesses, I want to be the best shooter. That's one of my goals. I just have to keep working on that."
What are you doing to improve your shot?
"Getting up as many shots as possible each day."
What did you think of coach (Mike) Woodson?
"Man, I love coach Woodson. I didn't know what to really expect from him. He's so humble. He's so down to Earth. He's just a humble dude. You can tell he's got a great relationship with his players. He loves them, but he will also get on them."
How valuable do you think his experience in the NBA can be to IU's players and also potential recruits?
"I think it's a huge opportunity. With his knowledge and his experience with the game, he knows pretty much everything. He's connected to everybody. And they have a really good situation there (at Indiana)."
What are your thoughts on the team they might have this year after getting a chance to watch them? What did you think of the players?
"It was good seeing a practice and how everybody is talking, moving. Everybody was practicing real hard. They had a couple of guys banged up. They had a lot of guys moving and talking. It looked high level."
What other visits have you taken this fall in terms of officials? Where else are you still planning to go?
"I had an official at Auburn the week before this. And Georgia was the week before that. I'm going to try to see Cincinnati and I guess maybe Alabama for an official."
Are you thinking about a decision right now or just more gathering information with these visits?
"I'm still kind of gathering information (at this point)."
Big picture from the IU visit, what did you learn that you didn't know going in?
"Just learning about coach Woodson and how cool he is as a person. The campus, I had no idea what to expect. I hadn't been there before. Just seeing the campus, it was just crazy. The gym, the arena and the football stadium. It's all real connected. The fans over there, the students, it seems like everybody is a family."
Did you get a feel for how big of a deal basketball is at IU?
"Definitely. Everywhere I went, it was about basketball."
Thank you @IndianaMBB coaching staff for an AMAZING, PROFESSIONAL & THOUGHTFUL weekend! To all the Hoosier fans who supported my guy on TW & IG and greeted us in the streets-I see why they call yall the best fans in the nation! Thank you! @MikeWoodsonNBA @Coach_Ya @jakai_newton pic.twitter.com/z1rXF5Rin0

— Bettina Newton (@Simplydivine_17) October 17, 2021
Filed to: Jakai Newton