Indiana ranked No. 31 in initial KenPom ratings, eighth-best in the Big Ten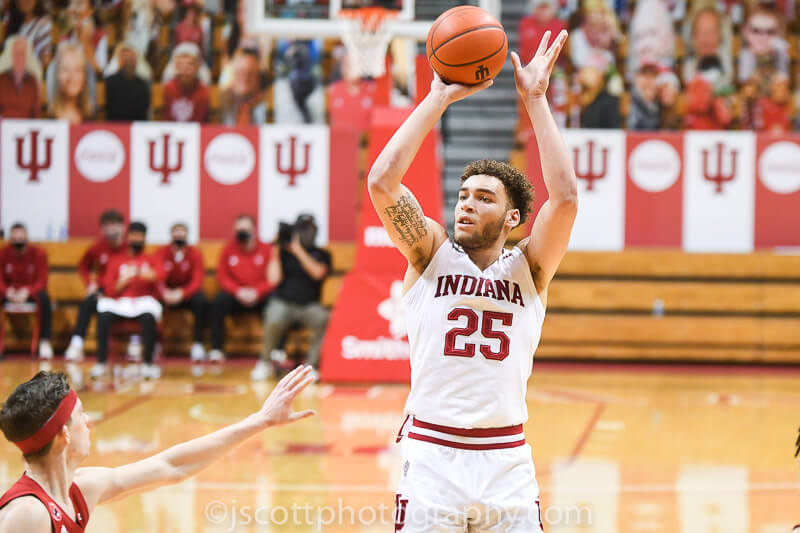 The new KenPom.com ratings are out for the 2021-2022 season and Indiana will begin ranked in the top 35 nationally.
IU is No. 31 in Pomeroy's ratings, which is the eighth-highest rating for a Big Ten team. Last season, Indiana was No. 26 to start the season and finished No. 50.
The rest of the Big Ten is ranked as follows: Michigan (No. 2), Illinois (No. 5), Purdue (No. 6), Ohio State (No. 8), Maryland (No. 18), Michigan State (No. 22), Iowa (No. 23), Wisconsin (No. 44), Northwestern (No. 48), Rutgers (No. 67), Penn State (No. 70), Nebraska (No. 81) and Minnesota (No. 120).
The Hoosiers sit at No. 42 nationally in offensive efficiency in the preseason, according to Pomeroy, and at No. 23 in defensive efficiency. Indiana finished last season ranked 70th nationally in offensive efficiency and 43rd in defensive efficiency.
Indiana is projected to finish the regular season 20-11 overall and 10-10 in the Big Ten.
The top ranked non-conference opponents on Indiana's schedule are Notre Dame (No. 27), Syracuse (No. 41) and St. John's (No. 51).
Filed to: Ken Pomeroy