'We love you Woody': Excitement builds at Mike Woodson's first Hoosier Hysteria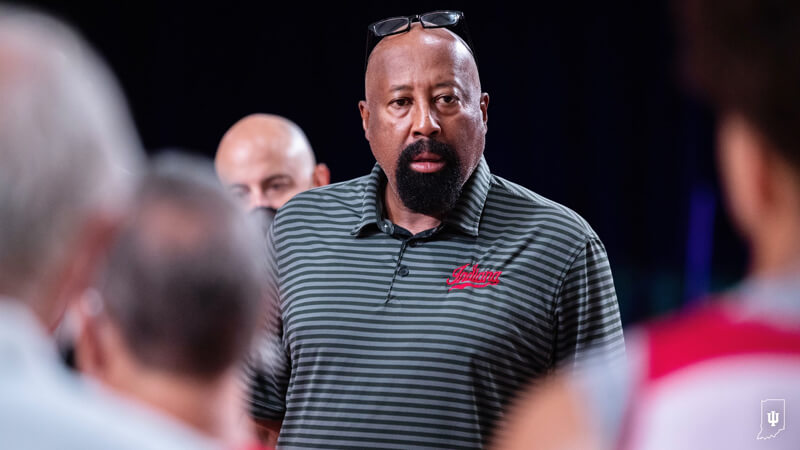 In his first act at Hoosier Hysteria as Indiana's head coach, Mike Woodson, wearing candy stripe pants and a crimson top, strutted out to "Big Poppa" by The Notorious B.I.G.
In the middle of a spotlight, he made his way between a pair of flames shooting up on either side of the court and waved his hand into the air as the crowd erupted. His team was feeling the bouncy rhythm. Some lifted their arms and waved them back and forth. Eventually, Woodson turned to his team and smiled, swaying his hips side to side to the beat.
It was a fitting entrance at Hoosier Hysteria on Saturday. The song conveyed a swagger and confidence, the same qualities that Woodson has displayed to ignite to the program since taking over in late March.
"Thank you, thank you," Woodson said as the crowd began to quiet. "Wow."
Then he was interrupted by "We love you Woody."
The crowd exploded.
It went quiet again, and Woodson paused.
"It feels good to be home," he said.
Woodson, who has come to be known as much humble as he is charismatic, thanked everybody around him: his assistant coaches, support staff, his family that came down from Indianapolis. Most importantly, he said, his wife Terri.
Woodson talked about his vision to get Indiana "back on top." He spoke highly of the players in the program, saying each one is willing to be coached by the staff. He praised the fans saying, "I came back for you guys and nothing else." He talked about pushing his players to be their best on and off the court because there was "a guy by the name of Bob Knight that did that for me."
Much of Woodson's coaching philosophy, especially given he's spent decades in the NBA, revolves around player development. Later, after his remarks and during Indiana's warmups, Woodson's emphasis on fundamentals was evident.
During two, three and four-man weaves, he shouted: "I don't hear any talking. Let's go, pick it up." He was focused on the small details, like passing, saying: "lead him" and "snap" the ball. He even went as far as to have players call out the name of the person they were passing to.
During a shell drill, Woodson was unhappy with how Xavier Johnson executed the play. "Too soon Xavier," the head coach said. "Wait, wait, wait."
Much of the momentum Woodson has built is a result of the culture he has established so quickly. He wants to connect generations and make IU basketball one big family. On Saturday, Woodson's actions backed up his goals.
He stayed on the court after the event to sign autographs.
Isiah Thomas shares a special story
Hoosier legend Isiah Thomas met with the IU basketball team this morning and told a story about Indiana's 1980 team.
More than four decades later, there's still a moment that is seared into Thomas' memory. It was Woodson pulling off his jersey after IU lost to Purdue in the 1980 Sweet Sixteen. Thomas had to watch his friends, Woodson and Butch Carter, end their IU careers without hanging a banner.
"Coach Woodson," Xavier Johnson said, "looked like he was about to cry."
Thomas retold this later at Hoosier Hysteria and paused at this moment in the story.
"I was so hurt that day because I felt that I hadn't given enough to bring this man a championship that he so deserved," Thomas said.
From that moment on, Thomas vowed to never let his teammates or fans down at IU. The following year, he accomplished that goal, winning a national championship. It was a message that resonated with freshman guard Tamar Bates.
"Just about what it takes to win," Bates said. "We have to be together. Everything we do out there on the floor translates to off the floor. How we're treating each other, the time that we spend together. Just the sharing and caring of one another."
Thomas showed belief in Woodson, saying that he will "lay a foundation." Another important part, Thomas said, was ensuring that all of the current IU players graduate, regardless of if they leave school early because that's what Knight did.
At the end of his speech, Thomas and Woodson, still friends years after playing together, gave each other a high five and a hug.
"Coach Woodson," Thomas said. "I love you."
Trayce Jackson-Davis, Parker Stewart standout in skills competitions
The highlight of the 3-point contest came in the final round, when Parker Stewart knocked down 17-of-25 shots from deep. Stewart, who teamed up with Grace Berger, defeated Xavier Johnson and Ali Patberg in the final. Stewart knocked down nine of his last 10 shots to lead his duo to victory.
"I knew when he got hot, it was going to be game over," Johnson said of Stewart. "He was brought here to shoot the ball."
Later, for the second consecutive Hoosier Hysteria, Trayce Jackson-Davis was crowned dunk contest champion. In his second dunk of the night, he brought out 6-foot-10 center Logan Duncomb under the basket and proceeded to slam it home over him. Combined with his first dunk, a windmill, it was enough to advance to the final with Nathan Childress.
In the final round, Jackson-Davis, who started running from halfcourt, threw in a tomahawk dunk after taking off from near the free-throw line. It earned him a 28 out of a possible 30 points from the judges and another dunk contest win.
"I was expecting him to take the W on that," Bates said.
In the skills competition, players had to weave through cutout defenders, pass through a target, make a layup and then hit a 3-pointer. In the final round, Rob Phinisee and Mackenzie Holmes, who had a combined time of 82.8 seconds, defeated Xavier Johnson and Kiera Brown.
Other notes
– Khristian Lander had a boot on his left foot. He was scheduled to participate in the dunk contest, but did not.
– Khristian Lander, Miller Kopp, Trey Galloway and Michael Durr have not been participating in basketball activities during Hoosier Hysteria. We are told that scholarship players not taking part in drills or competitions today are being "held out for precautionary reasons."
– Indiana didn't scrimmage because Woodson said they were "shorthanded."
Filed to: Hoosier Hysteria, Mike Woodson, Tamar Bates, Trayce Jackson-Davis, Xavier Johnson