Amid a rainy morning, families arrive early at Hoosier Hysteria in anticipation of a new era of IU basketball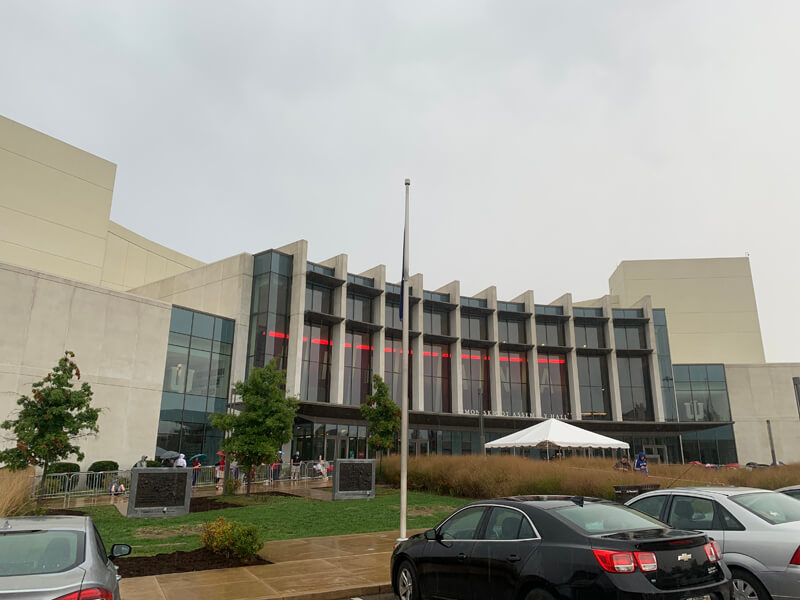 James Stepp, huddled under a canopy of umbrellas, is smiling. He's wearing an Indiana Hoosiers hat. Also, an Indiana script T-shirt. Plus, a crimson gaiter wrapped around his neck.
It's just after 10 a.m. on Saturday morning. Rain is splashing down. The doors to Hoosier Hysteria don't open until 2:30 pm. Stepp, 9, and his mother Katy have been here since 9:30 am.
James has been planning this trip since last year. On Friday, Katy pulled James out of school early to make the more than three-hour drive from Ft. Wayne. Upon their arrival, they stopped at the classics: pizza and breadsticks from Mother Bears and chicken nuggets and hot wings from BuffaLouie's.
And now, even in the rain, there are few places James (pictured in the center below) would rather be.
Why?
"To see them play," James says in a soft voice, a few simple words, but ones that have a more significant meaning nonetheless.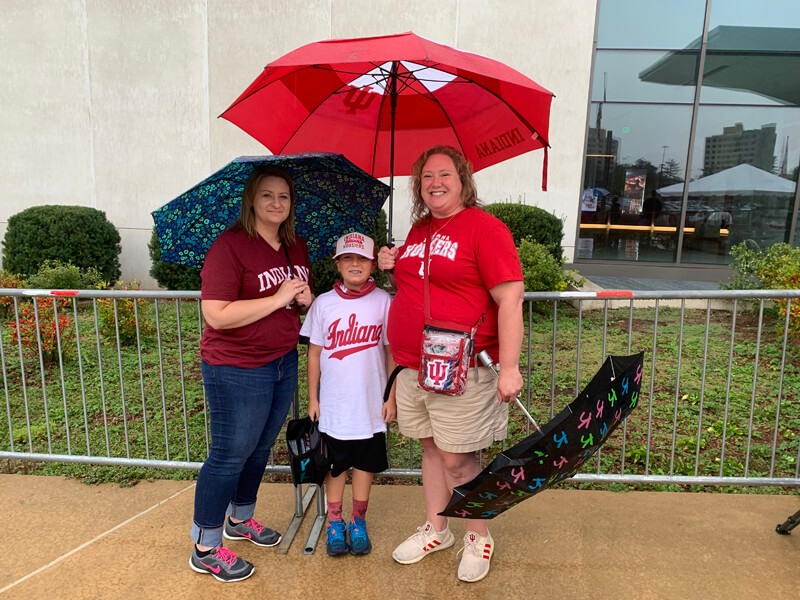 These are the types of experiences that have been missing since the beginning of the pandemic. Last year, no fans outside of family were allowed at Simon Skjodt Assembly Hall. Part of what makes Indiana basketball so special is the community, the atmosphere, the bond shared between fans. Being able to go to a game and feel like you're a part of something bigger than yourself.
For a variety of reasons last season, at least to a certain extent, some of that was culture was lost.
As a line started to form outside of Assembly Hall early on a rainy Saturday morning, there was a different energy than in recent years, a metaphorical sign of culture starting to return.
It's in large part due to new head coach Mike Woodson. Since taking over this spring, he has quickly ignited energy back into a program and fan base with his charisma and familiarity in Indiana. In his introductory press conference earlier this year, Woodson seemingly put emphasis on a specific word. On Saturday, it became all the more evident what Indiana basketball is really about: "Family."
"It's going to be my job to bridge the gap between young people who don't know who coach Woodson is," Woodson said in March. "And I'm going to bring all the old-timers back, like the old days, the gap between old and new."
Indiana basketball is generational. Katy passed on her IU fandom to James because "it was passed to me." Her "papa" saved 7-up bottles from the 1976 championship team that, one day, she'll give to James. Katy's first memories at games are of Damon Bailey and Alan Henderson. Eventually, she was one of the first in her family to go to college. She attended IU, went to "midnight madness" as a student and had to be quiet while watching Bob Knight's team practice. When James turned four, she'd let him stay up past his bedtime to watch games.
"I'm super excited about Coach Woodson," Katy said. "I like that we have someone that knows IU and knows our system and knows our fandom."
Not far away from Katy and James, is Katlyn Lynch and her grandmother, who asked to just be referred to as "grandma."
Grandma (pictured on the left below) grew up in Williams, Indiana, where she was the youngest of 15 children. Despite the fact that her parents weren't IU fans, Grandma and many of her siblings became IU fans. After some time, they got a TV and were able to watch games.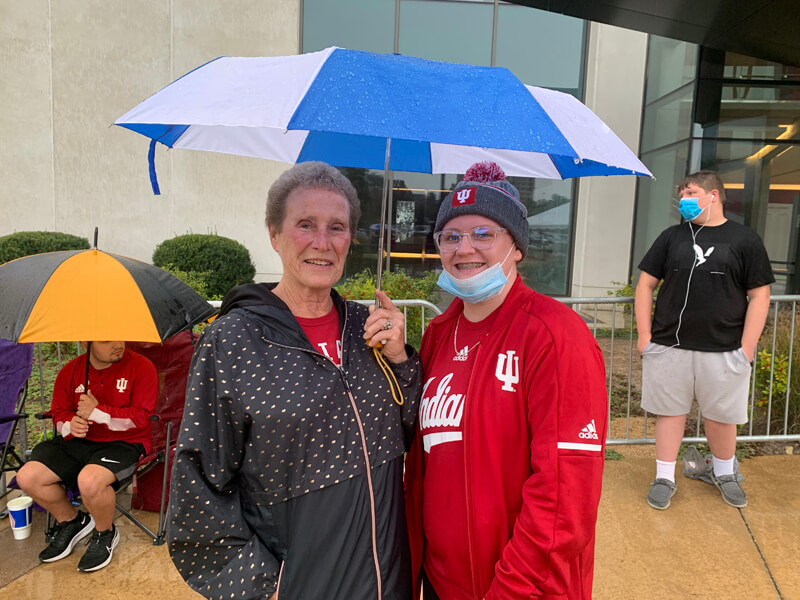 Grandma became more invested in the Hoosiers as she got older. Her niece worked at IU. Her sister helped seat the handicapped in Assembly Hall, a job that Grandma said she "loved." Grandma's husband, who has since passed away, loved watching IU. They'd sit and watch Bob Knight coach together. One time, when Grandma's daughter was cheerleading in the community school, Knight spoke at a banquet. She got a picture with him.
That passion continued on to her granddaughter Katlyn, who has been surrounded by IU her whole life. Currently, her favorite player is Trayce Jackson-Davis. The family watches games together. And Grandma usually can't contain her energy, frequently yelling "go" and "do it" at the TV.
"They tell me to be quiet," Grandma says with a laugh.
It led them here on Saturday morning, where the rain has started to pick up. They woke up at 4:30 am this morning to make the drive from Williams. They arrived outside Assembly Hall around 7:00 am.
"It's kind of in my blood to watch it," Katlyn said.
On Saturday, there will be the first Hoosier Hysteria in two years. There will be player introductions. There will be a 3-point contest and dunk contest. There will be a scrimmage.
But more importantly, fans will be back. Memories will back. The smell of buttery popcorn will be back.
When the doors to Assembly Hall will be open again, family will be back.
Filed to: Hoosier Hysteria, Mike Woodson