'Is somebody going to guard me?': In his own unique way, Miller Kopp is bringing a swagger to Indiana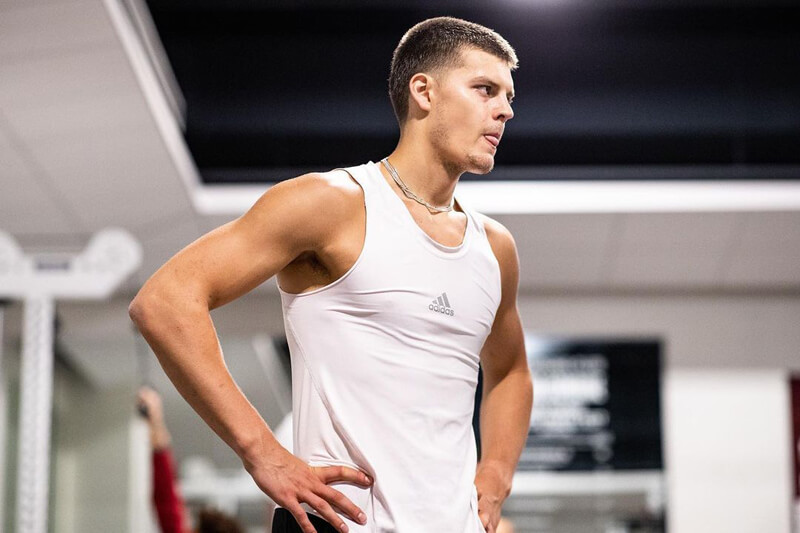 From the far corner of Indiana's bench in the Bahamas last month, you could hear his voice.
There was Miller Kopp, socks off, ankle wrapped in ice, foot stretched out on a chair, knowing that he wouldn't play the rest of the game, but refusing to sit quietly. He yelled encouragement. He screamed advice, his deep voice sounding across the court.
Two days prior, Kopp was leading with both his voice and his play. In the second half of Indiana's first win over BC Mega, Kopp made a quick crossover to his right hand and then, while falling away from the basket, knocked down a 3-pointer. A few minutes later, he drilled another 3-pointer, this time in transition. He finished the game tied for second on the team with 14 points. Kopp shot 3-of-4 from deep and grabbed five rebounds.
It was a small sample size, but Kopp looked exactly like the player Indiana hoped it'd be getting from Northwestern this offseason.
"The one thing about Miller," Indiana head coach Mike Woodson said, "is he can make shots."
But early in the first half of Indiana's second matchup with Mega, Kopp went crashing in for an offensive rebound and turned his ankle. He walked gingerly off the court, disappearing from view with the medical staff.
A few minutes later, despite knowing his day was over, Kopp returned to the bench. That's when his voice, the only real way he could still impact the game, emerged.
In the second half, Kopp called out a phrase of subtle cockiness, a few words that many wouldn't think twice about. But even early in his career at Indiana, it seemed to signify something larger about Kopp, a person with a unique bravado and intriguing personality, and one who has the potential to help the Hoosiers in more than one way this season.
The confident words that Kopp yelled to one of his teammates?
"He can't guard you."
***
There was a part of Houston Christian High School basketball coach Ron Crandall's morning routine that became inevitable. And it usually happened when he arrived at school around 8 a.m.
That's when he'd find Kopp in the gym, most likely already an hour into his training, putting up a few hundred shots before class started. If Kopp wasn't on the court, he was in the weight room getting in a lift. Later, after practice, especially in the offseason, Kopp would get in another session off-campus.
"He was just addicted to getting better," Crandall said.
Although he was already around 6-foot-2 in middle school, Kopp knew he wanted to be a wing player. At Houston Christian, he invested himself in defending, rebounding and learning basketball from a schematic standpoint, like studying the most effective way to come off screens. He could absorb concepts one day and quickly implement them in his game.
It culminated in the summer leading into Kopp's senior season, when he broke out onto the national recruiting scene. After Kopp scored 37 points in a game on the Under Armour circuit, Crandall's phone wouldn't stop ringing. Northwestern coach Chris Collins attended that game, and Kopp later committed to the Wildcats.
His coaches, meanwhile, felt his national ranking of 115th in the 2018 class was too low given he'd eventually set a school record for career points with 1,800 and points in a single season with 810. "I felt he was an ESPN top-50 player," Crandall said.
It was partly due to the perception that Kopp wasn't athletic enough. But there was a play during Kopp's senior season, among other instances, where he proved those slights wrong. Houston Christian was playing Yates High School in a matchup featuring multiple Division I prospects. In one play, Kopp, who was running in transition, jumped off of one foot, went flying to the rim and jammed in a one-handed putback dunk. The crowd went into a frenzy.
"In my opinion, he's plenty athletic enough to impact games at that level," Crandall said.
Perhaps being somewhat overlooked contributed to how Kopp carried himself on the court. At a game in Waco, Texas, Kopp drilled 3-pointers from nearly everywhere on the court. After knocking down each shot, he called out the total number he'd made. "That's five threes," Crandall remembers Kopp yelling. "Is somebody going to guard me?" He had 44 points that game, despite sitting out the fourth quarter because his team was up by so much.
Other times, though, Kopp would talk trash to the other team, but direct it at his own teammates, which Crandall said energized his group even more. "They can't stop me," Kopp would say. "No one can guard me."
"I remember him cursing out the other team," said Teddy Wheeler, an assistant coach at Houston Christian. "Miller can talk with the best of them… It wasn't demeaning but we certainly showed a level of bravado."
There was also a juxtaposition to how he was off the court. "He was not the most outgoing kid, the most outspoken kid in high school," Crandall said, noting that Kopp had a core group of friends he trusted and went about his business in the classroom, where he was twice named Academic All-State. That slight timidness, however, may have changed since college, where Kopp's off-court personality has become evident.
But at Houston Christian, Kopp's on-court leadership manifested in other ways. During a game that season, a freshman teammate, who was trying to get the ball to Kopp, made a costly turnover late in a big matchup against future Kentucky star Tyrese Maxey. Houston Christian lost the game as a result.
In the locker room after the game, Kopp gave the freshman a hug and said: "Look, that's just one mistake, that didn't lose us the game. I believe in you, I trust you, I got your back." Houston Christian went on to win the state championship that season. That freshman, Noah Kon, ended up breaking Kopp's school record for points.
"There's got to be love behind your words," Crandall said. "He was at the forefront of that."
Kopp's compassion was same off of the court. When Hurricane Harvey hit Houston, Kopp offered his teammate, Sahvir Wheeler, now a guard at Kentucky, a place to stay at his house while Wheeler's family was in a transition period. He'd also pick up Wheeler and take him out for lunch.
"Him (Kopp) just not thinking of himself, but about how he can make someone else's life easier," Teddy Wheeler, Sahvir's father, said. "I think it helped us rally quicker because we had so many people like that."
***
Inside Indiana's locker room this summer, Kopp shuffled a deck of cards for a magic trick. His teammate, Parker Stewart, grabbed a jack of clubs and showed it around the room to everyone besides Kopp, who looked away, before placing it back in the deck.
After shuffling again, Kopp pulled out three cards, each time asking if they were Stewart's.
None of them were.
His teammates chuckled.
Then, as Stewart pinched the three cards, which were all faced downward, Kopp snapped his fingers and knocked them to the floor.
One card was left. Stewart turned his wrist.
It was a jack of clubs.
"Oh hell nah," somebody yelled in the background.
His teammates erupted in laughter.
This is who Kopp has become for Indiana in less than four months with the program. After there was a disconnect between the program and the community during the previous coaching staff, Kopp has helped reignite that relationship. He posts videos with an inside look at his life on Youtube, engages with fans on social media and does card tricks, giving himself the nickname "Magic Miller." He's also a fan of retired Navy Seal David Goggins, now a fitness and mindset influencer who runs ultramarathons.
"That's a funny dude," guard Xavier Johnson said of Kopp. "He says the most random things sometimes."
Kopp's impact should also come on the court. In three seasons at Northwestern, he shot 36 percent from deep, including one season where he shot 39 percent. He's also over 85 percent from the free-throw line, which Indiana has lacked the last few seasons. At 6-foot-7, he can play the two through four. But Kopp didn't influence the game in multiple ways to the extent that he showed at Houston Christian, averaging just 2.9 rebounds and 0.6 steals per game in three seasons at Northwestern. Part of the reason Kopp chose Indiana was because he wants to become more versatile.
"I have a lot of untapped potential to my game in terms of defense and rebounding," Kopp said. "I think Coach Woody got across his vision to me."
The contributions that Kopp has already made, and will continue to make in the future, may not be able to be quantified. On a team that lacked an alpha dog last season, Kopp, who seems to be comfortable with who he is, can fill that void in his own unique way.
"Talking to teammates, encouraging them. At the end of the day, that's the biggest thing. I just try to do that every day," Kopp said.
"I don't say I work on it, but it's just something that I do. It's a part of who I am."
Filed to: Miller Kopp