2021-22 Non-conference opponent preview: Eastern Michigan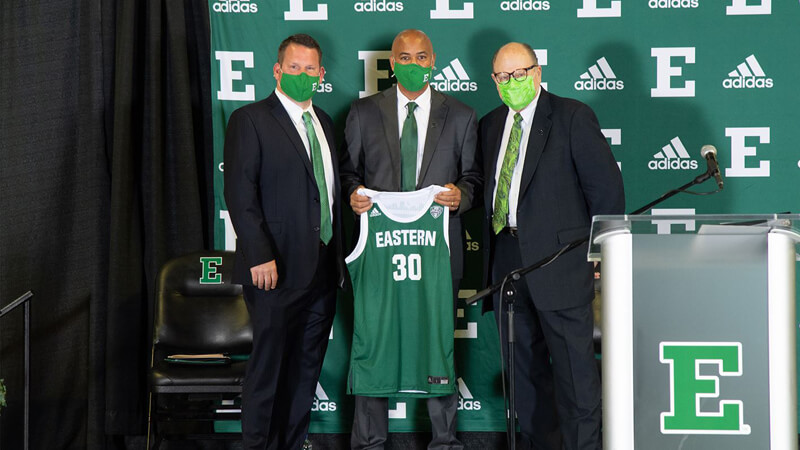 Indiana's regular season – and the Mike Woodson era – tips off with a Nov. 9 game against Eastern Michigan at Simon Skjodt Assembly Hall.
The Hoosiers have never lost to the Eagles, sporting a 3-0 all-time record over them. The two programs last met on Nov. 24, 2017 as Indiana prevailed 87-67 in Simon Skjodt Assembly Hall behind 18 points from Robert Johnson.
Eastern Michigan is coming off a 6-12 season, where it finished 10th in the Mid-American Conference with a 3-11 record. The COVID-19 pandemic seriously affected the program, interrupting its season for more than three weeks and causing the cancelation, postponement and/or rescheduling of 13 games.
It was then-head coach Rob Murphy's first season in his decade with the school where his team finished with a win count in the single digits. And it would be his last season with the Eagles, too.
EMU announced Murphy was out as head coach March 17 after 10 seasons where he accumulated a 166-155 record. But he wasn't out of a job for long. In the release announcing his firing, Murphy also announced his new job as president and general manager of the Pistons' new G-League affiliate, the Motor City Cruise.
A little less than a month later, Stan Heath was named the program's 30th head basketball coach. The hire marked a homecoming for him as he played for EMU from 1984-87.
Heath has spent the last 13 years coaching for Kent State, Arkansas and South Florida and will bring an up-tempo offense and man-to-man defense to EMU.
The Eagles, however, won't return its leading scorer and rebounder Ty Groce. The 6-foot-8 starting forward left the program for Butler as a graduate transfer after averaging 15.2 points and 6.9 rebounds per game during his senior campaign.
But starting point guard Bryce McBride will be back for the Eagles after being among one of the four players to enter the transfer portal. The senior averaged 13.7 points and 2.6 assists during the program's tumultuous last season, scoring in double figures in 14 of 18 games.
In Heath's inaugural recruiting class, he adds five transfers and two true freshmen to the team. Among the transfers is guard James Scott, who formerly played at Portland State, Temple and Kennesaw State. Last season, he scored 13.7 points per game and surpassed the 1,000-career point benchmark, netting 1,209 thus far.
With a new coach and new additions, the Eagles will look to get back to a normal season and back into the MAC tournament. That will likely prove to be a major challenge for Heath in his first season as the Eagles are ranked 295th in the country in Bart Torvik's preseason rankings.
Filed to: 2021-22 schedule, Eastern Michigan Eagles