Indiana to host UNC Asheville on December 29 as part of non-conference schedule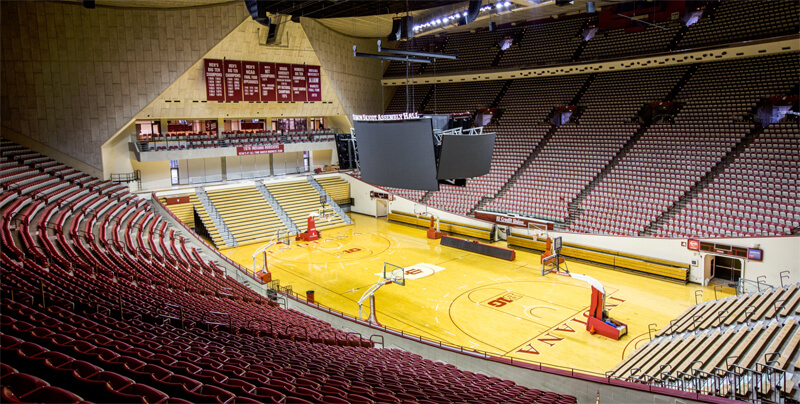 An eighth non-conference game for Indiana next season has been revealed.
The Hoosiers will host UNC Asheville of the Big South Conference at Simon Skjodt Assembly Hall on December 29, according to Rocco Miller.
The Bulldogs, coached by Mike Morrell, finished last season 10-10 and No. 244 in the KenPom ratings.
UNC Asheville is ranked No. 233 nationally in Bart Torvik's ratings for next season.
Here's a full rundown of Indiana's schedule for the 2021-22 season so far:
· BC Mega of Serbia in two exhibitions on Aug. 13 and 15 in the Bahamas
· Merrimack at Simon Skjodt Assembly Hall per Jon Rothstein
· Louisiana Lafayette at Simon Skjodt Assembly Hall per Jon Rothstein
· Marshall at Simon Skjodt Assembly Hall per Chuck Landon
· Gavitt Tipoff Games: St. John's at Simon Skjodt Assembly Hall on Nov. 17, 2021
· Big Ten/ACC Challenge: At Syracuse on Nov. 30, 2021
· Crossroads Classic: vs. Notre Dame at Bankers Life Fieldhouse on Dec. 18, 2021
· Northern Kentucky at Simon Skjodt Assembly Hall per D1 Docket on Dec. 22, 2021
· UNC Asheville at Simon Skjodt Assembly Hall per Rocco Miller on Dec. 29, 2021
· Big Ten opponents:
Home and Away: Purdue, Maryland, Minnesota, Nebraska, Ohio State, Penn State, Wisconsin
Home Only: Illinois, Michigan, Rutgers
Away Only: Iowa, Michigan State, Northwestern
Filed to: UNC Asheville Bulldogs