Q & A: Crispus Attucks coach Chris Hawkins talks Jalen Hooks and his unofficial visit to Indiana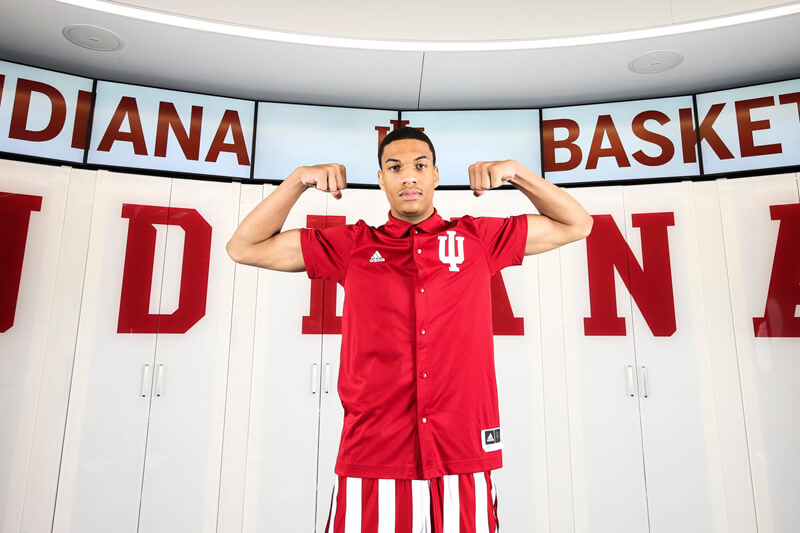 Indiana hosted class of 2023 Crispus Attucks forward Jalen Hooks for an unofficial visit on Tuesday afternoon in Bloomington.
Hooks, who is rated the No. 55 player nationally in his class according to 247Sports, is considered one of the top in-state players in the 2023 class.
Inside the Hall spoke with Crispus Attucks coach Chris Hawkins about the visit to Indiana, other visits Hooks has taken this month and more. Our full Q & A with Hawkins is available below:
How did Jalen's visit to Indiana go?
"It was good. They showed him around everywhere, including the locker room. He was able to watch a workout. He went on campus and saw everything. Came back and had an individual meeting and just talked about how they saw him (as a player). Overall it was good for him to meet the new staff and get a feel for them and for them to get a feel for him. It was good, overall it was a great day."
Where else has he taken visits this month?
"Illinois, Butler, Marquette, Cincinnati, Missouri. I think that's it."
How valuable has this month been after not being able to visit schools for such a long time?
"He's been able to get a feel for the schools and what the coaches are like. Some of these visits, I think the last three – Missouri, IU and Cincinnati – we were able to watch workouts and just see how the players and coaches interact and how they do their skill development. For the most part, it's really just trying to get out there.
"Kids haven't seen campuses in a while and for him, probably his freshman year was the last time he went somewhere. A lot of these campuses are building new facilities, so you are getting a first-hand look at what it would be like to be at that specific school. It's valuable information and if it's possible you try to get back for a game or some of the schools are asking to come back for football games. The biggest thing for him is just putting the information down and he has two more years to play and then he'll make a decision at some point. It's just fact-finding right now.
What's Indiana's message been so far and what have they been telling him in terms of what they like about his game and how he might fit in?
"I think with Mike Woodson – everyone likes to say four-out, one-in offense – but they like Jalen's versatility and athleticism. He's able to get up and down the court and play in transition. They really like all of that. They can see him fitting into their style of play. I think the biggest thing was we got a chance to see offensively what he's going to do. And he was able to break it down with film from the NBA. I think one of the biggest things is to get back on the campus when they are playing and just see it that way. It's early, day seven or eight, of them (IU) working out. So they're just now putting things in.
"Jalen is very versatile. He rebounds and is athletic. They can see him fitting into that style of play. They just want to continue to watch him. I'm pretty sure they'll be there this weekend at Charlie Hughes (in Indianapolis)."
They haven't offered a scholarship to this point, right?
"That's correct."
You've been coaching basketball for a long time in this state going back to when you coached Ron Patterson and Jeremy Hollowell when they were recruited by Indiana. Now you've been at Crispus Attucks for a while and it's one of the more visible programs in the state. One of the things we've heard over the years going back to (Tom) Crean and Archie (Miller) is the disconnect between the IU program and high school coaches throughout the state. Woodson has talked about trying to do a better job with that. Have you talked to him (Woodson) at all personally and what do you think of his comments that he wants to get out around the state and connect?
"We've talked. We talked today on the visit. He's an IPS kid and he wants to recruit that area. He grew up there and he talked about playing at the parks and everything when he grew up. I think that it is something that he is sincere and genuine about. With him having us come down there (to visit), he said that Jalen is a priority recruit for them.
"At the end of the day, he's putting his foot forward with that right now. All I can say is that he's doing his job right now. And the thing he's working on right now is the IU team first. As they figure out what they have and what they don't have and what's the best fit going forward for them …after they figure that out this year because I think they have some really good talent to kind of make a run this year. It'll be good to be able to see them play. I think the Atlantis trip will be good for them to see some things and see how the offense works.
"I think he wants to recruit Indianapolis and recruit the state. He had to recruit his own kids that were there. I thought he did a great job with that. He's doing what he said he would do."
Jalen as a player right now, you've seen him as much as anybody. Where is he right now as a player and what do you think needs to happen over these next two years to get ready to play immediately when he gets to college?
"He wants to get better at everything. You want to get better at ball-handling, shooting, just get better in everything. If you want to be able to come in and step on the court at any campus or any school, those are going to be some things that you just have to do.
"He's doing well with it. You look at his numbers from his freshman year to his sophomore year, everything increased. Field goal percentage, points per game, rebounds per game, blocks, assists. So just being a versatile player and stepping up into that vocal leadership role and just the takeover ability …he did it for us this last season and he'll step up into a bigger role these next two years.
"He has all of the tools. It's just about getting into the gym. He's a gym rat all of the time right now. As soon as he left the visit (to IU), he went to the gym and got shots up and was working. That's Jalen in a nutshell. These next two years are going to be big for him. It's just about figuring out where he wants to go after that. "
Filed to: Jalen Hooks