Class of 2023 Cathedral center Xavier Booker lands scholarship offer from Indiana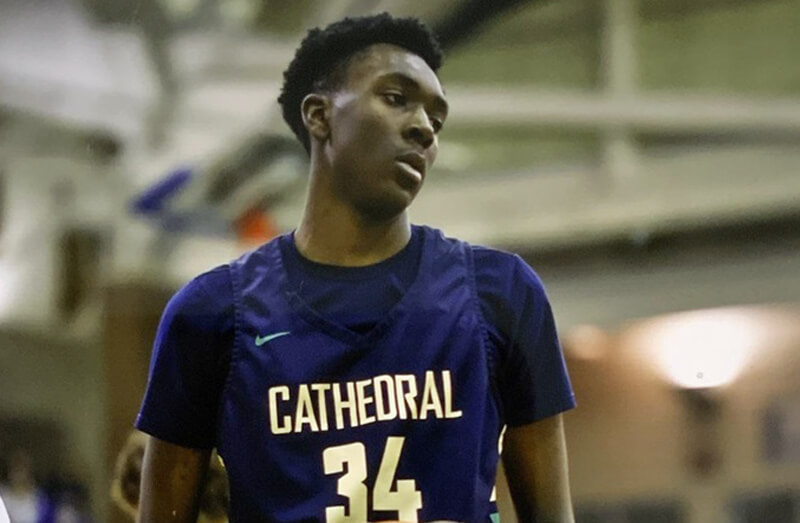 Xavier Booker is the kind of kid that doesn't talk much, but smiles a lot.
The 6-foot 11-inch center is a rising junior at Cathedral High School in Indianapolis and before Wednesday, had already received offers from about nine different schools, such as Purdue, Iowa, Kansas State and LSU.
But Booker doesn't talk about it. He doesn't act any different from the other kids. He goes to work on his game every day like everyone else.
"You go from nothing to all of a sudden, being a name that everybody's talking about," Cathedral head coach Jason Delaney said. "But him and his family have handled it extremely well, I mean very humble kid."
Booker took his visit to IU on Wednesday and landed a scholarship offer from the Hoosier coaching staff. Delaney couldn't join him because he was running a youth basketball camp at Cathedral, but he said Booker is a pro at these visits by now.
I am blessed to receive a D1 offer from Indiana. Thanks to coach Woodson and his staff for this huge opportunity!!!??@IndianaMBB pic.twitter.com/CAPGZr4RmH

— Xavier Booker (@RealXman23) June 23, 2021
Even though he's visited many schools by now, Delaney said he's still excited. Booker is very close with his family, so in-state schools have been important for him.
"I think it's excitement to go down and hear what Coach Woodson and the staff have in mind and how they could use him and how they could develop him, not just as a player, but also as a person," Delaney said.
His game on the floor is just as impressive as his character off the floor. Delaney said when Booker came in, he was used to sitting back and blocking shots in the paint like he did in middle school. So, he challenged him.
Delaney asked him to leave the lane, where he was comfortable, and come out to defend the perimeter and handle the ball.
"It's a challenge especially when you haven't done that most of your life, but he's done a great job of meeting that challenge," Delaney said.
The biggest area of improvement Delaney said he saw in Booker over the last two years has been his on-ball defense. Booker isn't a big guy — at 210 lbs — so he has to be able to work on the perimeter as well.
"The more you can do, the more valuable you're being, the better chance you have of getting on the floor when you get to the college level," Delaney said.
But even before he gets to the college level, Delaney said it's Booker's versatility that sets him apart from other prospects.
He can knock down 3-pointers at a high rate, he can put the ball on the floor and find open players, he can carve out the perimeter and he can block shots — just like he did in middle school.
"He's going to be able to set himself apart from other guys," Delaney said.
Now as Booker reaches the halftime of his high school career, he's got a lot to look forward to, but a lot to think about as well.
"In every game at halftime, you're making adjustments and I think he's doing a great job of making adjustments," Delaney said. "I honestly think his next two years are going to be really, really good for him, and he's gonna be able to accomplish some major things."
Filed to: Xavier Booker