How might next season's Big Ten race shape up? Here's what Bart Torvik's "T-Rank" currently projects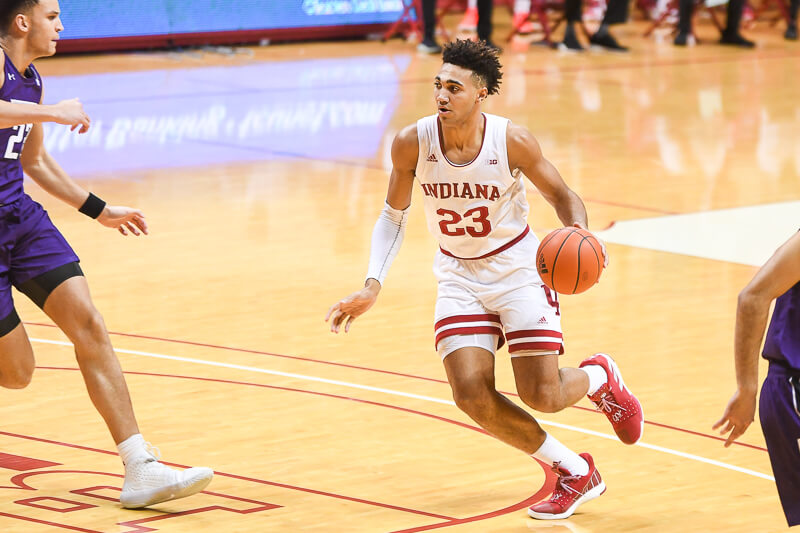 We're roughly five months from the start of the 2021-22 college basketball season.
The COVID-19 pandemic had a significant impact on the 2020-21 campaign, but next winter things are expected to be much closer to normal in college hoops.
It's never too early to start looking ahead and one of our favorite analytics sites, BartTorvik.com, continues to update his projections for next season based on current roster data.
As of Friday morning, here's where each Big Ten team stands nationally in the "T-Rank" projections for the 2021-22 season (for your reference, we've also included roster data we've maintained for each team below):
3. Ohio State
Projected to return: Justice Sueing, Zed Key, Seth Towns, Kyle Young, Justin Ahrens, Eugene Brown, Meechie Johnson, Jimmy Sotos, Abel Porter
NBA draft/professional route: EJ Liddell (testing), CJ Walker (agent), Duane Washington (testing)
In the portal: Ibrahima Diallo
Transferring out: Musa Jallow (to Charlotte)
Arriving: Jamari Wheeler (from Penn State), Malaki Branham (247Composite top 50), Kalen Etzler, Joey Brunk (from Indiana)
4. Michigan
Projected to return: Eli Brooks, Austin Nunez, Zeb Jackson, Brandon Johns Jr., Terrance Williams, Jace Howard
Graduated: Austin Davis
NBA draft/professional route: Mike Smith (agent), Chaundee Brown (agent), Isaiah Livers (agent), Franz Wagner (agent), Hunter Dickinson (testing)
Arriving: Caleb Houstan (247Composite 5-star), Moussa Diabate (247Composite 5-star), Kobe Bufkin (247Composite top 50), Frankie Collins (247Composite top 100), Isaiah Barnes, Will Tschetter, DeVante' Jones (from Coastal Carolina, also testing NBA draft)
6. Purdue
Projected to return: Zach Edey, Jaden Ivey, Eric Hunter, Brandon Newman, Sasha Stefanovic, Mason Gillis, Isaiah Thompson, Ethan Morton
NBA draft/professional route: Trevion Williams (testing)
Transferring out: Aaron Wheeler (to St. John's), Emmanuel Douwouna (to Tennessee State)
Arriving: Trey Kaufman (247Composite top 50), Caleb Furst (247Composite top 100), Brian Waddell
11. Maryland
Projected to return: Marcus Dockery, James Graham III, Hakim Hart, Donta Scott
Undecided: Galin Smith
NBA draft/professional route: Eric Ayala (testing), Aaron Wiggins (testing)
In the portal: Connor Odom, Darryl Morsell
Transferring out: Chol Marial (to Oregon State), Aquan Smart (to Florida International), Jairus Hamilton (to Western Kentucky)
Arriving: Fatts Russell (from Rhode Island), Qudus Wahab (from Georgetown), Julian Reese (247Composite top 100), Ike Cornish, Ian Martinez (from Utah), Simon Wright (from Elon)
18. Michigan State
Projected to return: A.J. Hoggard, Mady Sissoko, Gabe Brown, Joey Hauser, Julius Marble, Marcus Bingham Jr., Malik Hall
Graduated: Joshua Langford
NBA draft/professional route: Aaron Henry (agent)
Transferring out: Jack Hoiberg (to UT-Arlington), Thomas Kithier (to Valparaiso), Foster Loyer (to Davidson), Rocket Watts (to Mississippi State)
Arriving: Tyson Walker (from Northeastern), Max Christie (247Composite 5-star), Jaden Akins (247Composite top 100), Pierre Brooks (247Composite top 100)
22. Illinois
Projected to return: Jacob Grandison, Andre Curbelo, Brandon Lieb, Benjamin Bosmans-Verdonk, Austin Hutcherson, Coleman Hawkins, Trent Frazier, Da'Monte Williams
NBA draft/professional route: Ayo Dosunmu (agent), Giorgi Bezhanishvili (agent), Kofi Cockburn (agent)
Transferring out: Adam Miller (to LSU), Jermaine Hamlin (to Eastern Illinois)
Arriving: Omar Payne (from Florida), Luke Goode (247Composite top 100), Ramses Melendez (247Composite top 100), Brandin Podziemski, Alfonso Plummer (from Utah)
29. Indiana
Projected to return: Trayce Jackson-Davis, Race Thompson, Rob Phinisee, Jordan Geronimo, Trey Galloway, Anthony Leal, Khristian Lander, Parker Stewart
Transferring out: Al Durham (to Providence), Armaan Franklin (to Virginia), Joey Brunk (to Ohio State), Jerome Hunter (to Xavier)
Arriving: Xavier Johnson (from Pittsburgh), Logan Duncomb (247Composite top 100), Tamar Bates (247Composite top 50), Miller Kopp (from Northwestern, also testing NBA draft), Michael Durr (from South Florida)
38. Northwestern
Projected to return: Boo Buie, Chase Audige, Ryan Greer, Ty Berry, Ryan Young, Pete Nance, Robbie Beran, Matt Nicholson
Transferring out: Anthony Gaines (to Siena), Miller Kopp (to Indiana)
Arriving: Brooks Barnhizer, Casey Simmons, Julian Roper, Elyjah Williams (from Farleigh Dickinson)
53. Wisconsin
Projected to return: Brad Davison, Jonathan Davis, Tyler Wahl, Ben Carlson, Steven Crowl, Jordan Davis, Lorne Bowman
Graduated: D'Mitrik Trice, Aleem Ford, Micah Potter, Nate Reuvers
Transferring out: Walt McGrory (to South Dakota), Trevor Anderson (to Valparaiso), Joseph Hedstrom (to Valparaiso)
Arriving: Isaac Lindsey (from UNLV), Chucky Hepburn, Matthew Mors, Chris Hodges, Markus Ilver, Jahcobi Neath (from Wake Forest), Chris Vogt (from Cincinnati)
56. Nebraska
Projected to return: Trey McGowens, Kobe Webster, Lat Mayen, Derrick Walker, Trevor Lakes, Dalano Banton
NBA draft/professional route: Thorir Thorbjarnarson, Shamiel Stevenson, Dalano Banton (testing)
Transferring out: Yvan Ouedraogo (to Grand Canyon), Teddy Allen (to New Mexico State), Bret Porter (to Central Community College), Akol Arop (to Omaha), Elijah Wood (to Eastern Illinois)
Arriving: C.J. Wilcher (from Xavier), Bryce McGowens (247Composite 5-star), Wilhelm Breidenbach (247Composite top 100), Keisei Tominaga, Oleg Kojenets, Keon Edwards (from DePaul), Quaran McPherson
58. Iowa
Projected to return: Joe Toussaint, Keegan Murray, Patrick McCaffery, Connor McCaffery, Tony Perkins, Ahron Ulis, Kris Murray, Josh Ogundele, Jordan Bohannon, Austin Ash
NBA draft/professional route: Luka Garza (agent), Joe Wieskamp (testing)
Transferring out: Jack Nunge (to Xavier), Michael Baer (to Siena), CJ Fredrick (to Kentucky)
Arriving: Payton Sandfort, Riley Mulvey, Filip Rebraca (from North Dakota)
74. Penn State
Projected to return: Sam Sessoms, Myles Dread, Seth Lundy, John Harrar, Caleb Dorsey, Dallion Johnson, Kyle McCloskey
In the portal: Abdou Tsimbila
Transferring out: Jamari Wheeler (to Ohio State), Myreon Jones (to Florida), Trent Buttrick (to UMass), Patrick Kelly (to Fordham), Izaiah Brockington (to Iowa State), DJ Gordon (to Fordham)
Arriving: Jalen Pickett (from Siena), Jaheam Cornwall (from Gardner-Webb), Jevonnie Scott, Greg Lee (from Western Michigan)
90. Rutgers
Projected to return: Ron Harper Jr., Caleb McConnell, Paul Mulcahy, Cliff Omoruyi, Jaden Jones, Dean Reiber, Mawot Mag, Oskar Palmquist
NBA draft/professional route: Geo Baker (testing)
In the portal: Daniel Lobach
Transferring out: Mamadou Doucouré (to LaSalle), Montez Mathis (to St. John's), Myles Johnson (to UCLA), Jacob Young (to Oregon)
Arriving: Jalen Miller, Aundre Hyatt (from LSU)
132. Minnesota
Projected to return: Isaiah Ihnen
Graduated: Eric Curry
NBA draft/professional route: David Mutaf (agent), Marcus Carr (agent)
Transferring out: Gabe Kalscheur (to Iowa State), Liam Robbins (to Vanderbilt), Jamal Mashburn Jr. (to New Mexico), Jarvis Omersa (to St. Thomas), Martice Mitchell (to Northern Illinois), Tre' Williams (to Oregon State), Sam Freeman (to Pacific), Brandon Johnson (to DePaul), Both Gach (to Utah)
Arriving: Jamison Battle (from George Washington), Luke Loewe (from William & Mary), E.J. Stephens (from Lafayette), Sean Sutherlin (from New Hampshire), Treyton Thompson, Payton Willis (from College of Charleston), Parker Fox (from Northern State), Abdoulaye Thiam, Charlie Daniels (from Stephen F. Austin)
Filed to: 2021-2022 Big Ten preview