Jalen Hood-Schifino becomes fourth class of 2022 prospect to set June official visit to Indiana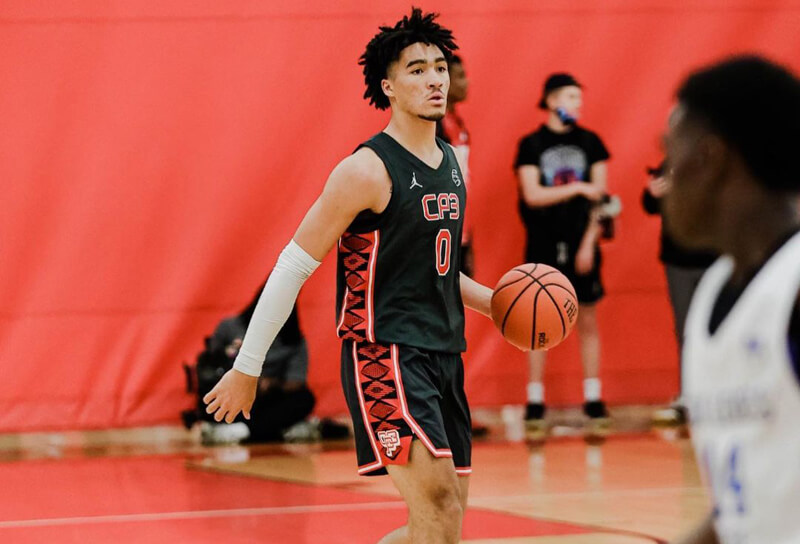 June was already shaping up to be a busy month for official visits for the Indiana coaching staff, but it just got even busier.
On Wednesday, Jamie Shaw reported that Jalen Hood-Schifino will be on Indiana's campus at the end of the month. According to Shaw, Hood-Schifino has set up the following official visits:
• Georgetown – June 9
• Tennessee – June 13-15
• Pittsburgh – June 16
• Indiana – June 28
Hood-Schifino, who plays for Montverde Academy (Fla.), originally committed to Pittsburgh but opted to reopen his recruitment. The 6-foot-5 combo guard is the No. 26 player nationally in the class of 2022 according to the 247Composite.
Other scheduled official visits for the class of 2022 this month include Kaleb Banks (June 10), Kyle Filipowski (June 15-16) and Justin Taylor (June 15-16).
Currently, Indiana has just one player committed in the rising senior class in Lawrence North guard CJ Gunn. Last week, Mike Woodson said he and his coaching staff will be looking to fill a variety of spots in his first recruiting cycle and doesn't necessarily see one particular position as the most critical.
I think you try to go get the best players that fit what you are trying to do, and with the portal, you don't know from year to year who is going to stay and who is going to leave.

So I think you got to touch every position when you're talking about building your basketball team. I'm going to talk to some of the top point guards in the country, some of the top 2s and 3 wing guys, and some of the top 4s and 5s in the country. I think that's important when you're trying to build your program based on the portal. I don't know how long that's going to be around.

And I'll still recruit, but I know a lot of these players, they think, Well, are you going to recruit over me or on top of me. And I can't tell a kid that I'm not going to recruit on top of him. I'm going to try to recruit the best talent available that fits what I'm trying to do.

I think competition, and if you're any kind of competitor, that's how you get better as a ball club and as an individual player.

So, I mean, I've never ran away from competition. I just wanted to go play and try to make myself known. Those are the kinds of kids I'm trying to recruit here, but I'm trying to sit at the table with some of the top players.
You can keep up with the latest developments in the class of 2022 recruiting cycle over on our 2022 Indiana Basketball Recruiting Board.
Filed to: Jalen Hood-Schifino