Hoosiers in the NBA: Thomas Bryant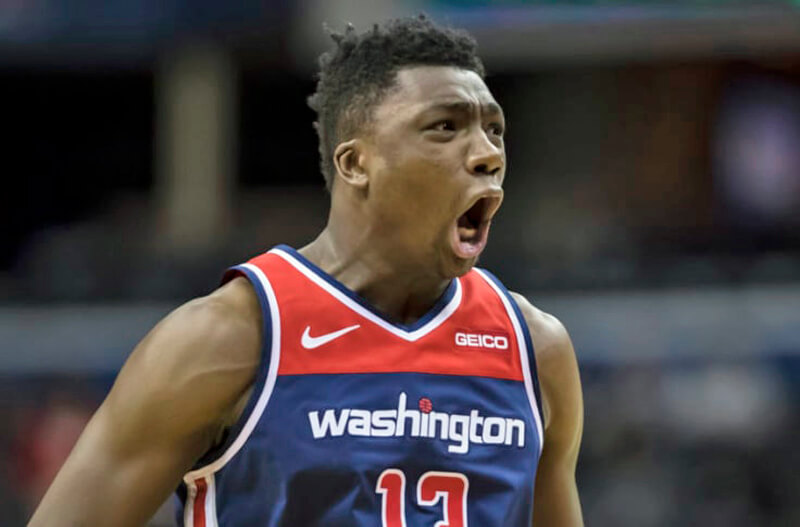 Welcome to "Hoosiers in the NBA," a player-by-player look at how IU basketball alums fared during the 2020-21 NBA regular season. Today, the series continues with Thomas Bryant.
Bryant (10 games): 14.3 points, 6.1 rebounds. .8 blocks, 64.8 FG%, 42.9 3PFG%, 66.7 FT% in 27.1 minutes per game
After being waived by the Los Angeles Lakers following his rookie season, former Indiana big man Thomas Bryant has found a home and a significant role with the Washington Wizards.
Bryant, who was selected No. 42 overall in the 2017 NBA draft by the Utah Jazz, was traded to the Lakers in 2017 and spent his rookie season in Los Angeles. He split time between the Lakers and their G-League affiliate, the South Bay Lakers. In the summer of 2018, the Lakers waived Bryant in a move to clear cap space for their pursuit of LeBron James.
The 6-foot-10 center was quickly claimed off of waivers by Washington and in his second NBA season, Bryant started 53 of the 72 games he appeared in for the Wizards. During that season, Bryant poured in a career-high 31 points in a triple-overtime win over Phoenix. The performance was notable because he became just the seventh player in NBA history to make 14 field goals in a game without a miss.
In the summer of 2019, Bryant agreed to a three-year, $25 million contract extension with Washington after averaging 10.5 points and 6.3 rebounds per game in his second professional season. Because Bryant wasn't on a rookie scale contract after coming into the league, being waived by Los Angeles and finding success in Washington actually led him on a more lucrative path earlier in his career. Had Bryant been a first-round pick or agreed to a guaranteed rookie contract, he would have earned significantly less in his third and fourth seasons in the league.
By his third season in the NBA, Bryant established himself as a stalwart in the Washington rotation. He started 36 of the 46 games he played in for the Wizards during the 2019-20 season and averaged 13.2 points, 7.2 rebounds and 1.8 assists in 24.9 minutes per game. He also made two 3-pointers per game in that season and shot better than 40 percent from distance. Bryant's ability to stretch the floor coupled with his energy suits him well in the modern NBA style of play.
Bryant's fourth NBA season began with even more promise. After battling a hip injury in the preseason, he was playing arguably his best basketball as a professional through the season's first nine games. He scored in double figures in eight of those contests, including a 28-point outburst against Chicago on December 31.
But unfortunately for Bryant, he went down with a left knee injury less than two minutes into Washington's game against Miami on Jan. 9. The next day, the team announced that Bryant had suffered a partially torn ACL in his left knee.
In early February, Washington Wizards coach Scott Brooks confirmed that Bryant had undergone surgery and would miss the remainder of the 2020-21 season. Given the recovery timeline for ACL injuries, it's possible that Bryant could be ready to play in the early stages of the 2021-22 season, which will be the third and final year of his deal with the Wizards.
Bottom Line: Bryant is set to earn $8.6 million next season in Washington and he should return his role as a regular in the Wizards rotation after he recovers from his injury. The Lakers move to give up on Bryant so quickly is head-scratching in retrospect, but it's worked out well for him and he'll only be 24 years old next summer when he becomes a free agent.
Quotable: "[I told him] you're going to have the best year of your career. You're going to have a level of expectation that's going to be a lot higher than what I could do, what any coach could do. … I think Russell (Westbrook) and Brad (Beal) are going to help him get to another level that he probably didn't even expect to get to as quick as he has. He's shooting the ball and playing with confidence — the rebounding and blocking shots is not by happenstance. It's not because I'm all of a sudden coming up with a better plan." – Wizards coach Scott Brooks on Bryant back in early January.
Filed to: Thomas Bryant