Hoosiers in the NBA: Cody Zeller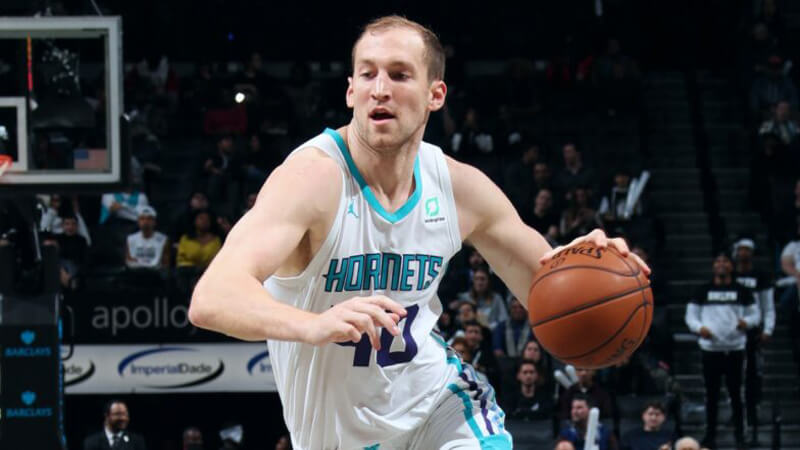 Welcome to "Hoosiers in the NBA," a player-by-player look at how IU basketball alums fared during the 2020-21 NBA regular season. Today, the series continues with Cody Zeller.
Zeller (48 games): 9.4 points, 6.8 rebounds, 1.8 assists, 55.9 FG%, 71.4 FT% in 20.9 minutes per game
With eight professional seasons now in the books, Cody Zeller has proven himself to be a productive and consistent contributor in the Charlotte frontcourt.
The No. 4 pick in the 2013 NBA draft, Zeller has dealt with his fair share of injuries over 467 career games for the Hornets. This season was no different for Zeller, who started 21 of the 48 games he appeared in, but missed time with a broken hand early in the season and then had setbacks with both a hip and shoulder injury. But when Zeller was on the floor, he once again provided value as a rim-running big who always plays with a lot of energy.
Zeller's mobility has always been one of his strong suits as a seven-footer. In a league that has gone away from centers that park themselves in the post, the Indiana product is at his best playing out of pick-and-rolls or when he can get a full head of steam towards the rim. There was no better example of this than his posterization of Giannis Antetokounmpo back in late January.
After attempting to stretch his game out beyond the 3-point line last season with mixed results, Zeller didn't hoist nearly as many triples in his eighth season. Last season, he attempted a career-high 75 attempts from distance and connected on just 24 percent of those attempts. This season, he took only 28 3-pointers, making just four.
Zeller was very efficient, however, from inside the arc. He shot a career-best 59.2 percent on 2s and he also posted career bests in both offensive rebounding (12.6) and defensive rebounding (22.9) percentage. His player efficiency rating, also known as PER, was 18.2, the second-best mark of his career.
Despite Zeller having one of his best seasons as a professional, Charlotte remained a team that is still recovering from the loss of Kemba Walker and some bad contracts that hurt their ability to acquire talent in free agency in years past. The Hornets made the NBA play-in round, losing to the Indiana Pacers in embarrassing fashion earlier this week.
This offseason could be one of change for Zeller, who just completed the last season of a four-year contract extension that paid him a total of $56 million. Zeller's salary of $15.4 million will come off the books for the Hornets, who should have some cap space to try and build around their core of players that includes Gordon Hayward, LaMelo Ball, Terry Rozier and PJ Washington. Zeller will be one of the best centers on the market this summer in what is shaping up to be an underwhelming crop of free agents.
Bottom Line: After posting two of his best seasons as a pro, Zeller will enter unrestricted free agency for the first time this summer. He's already earned more than $72 million in his career, providing proof that you don't have to be a star to earn life-changing money in the NBA. Zeller should still have many productive years ahead of him in the NBA, but it'll be interesting to see if he will seek a change of scenery and head to a destination that may be more conducive to winning. Zeller has played in just 11 playoff games over his eight seasons with the Hornets.
Quotable: "It's tough not to only remember the last game, I don't know what we lost, eight of nine or nine of 10 or whatever is… I think that's what I'm going to remember. We had a good start to the season. Obviously, a lot of injuries. Losing Gordon (Hayward) was huge. We lost LaMelo (Ball) for a stretch. I was out a little bit to start the season. But I thought we had enough talent. So it's disappointing to see our season end early. I think we had enough talent to at least be in that playoff mix — six (seed), seven at least, playing in the first round." – Zeller after Charlotte's season ending loss to the Pacers in the NBA play-in round.
Filed to: Cody Zeller