Hoosiers in the NBA: Juwan Morgan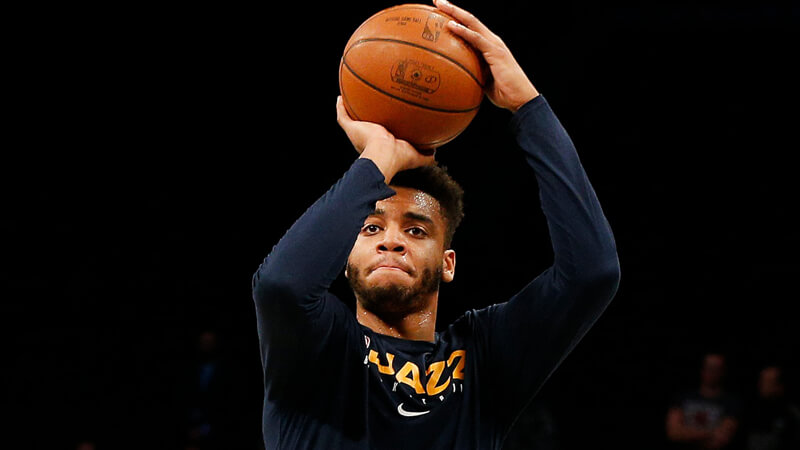 Welcome to "Hoosiers in the NBA," a player-by-player look at how IU basketball alums fared during the 2020-21 NBA regular season. Today, the series continues with Juwan Morgan.
Morgan (29 games): 1.2 points, one rebound, .3 assists, 46.7 FG%, 30.8 3PFG% in 5.1 minutes per game
Undrafted in 2019, former Indiana forward Juwan Morgan has carved out a role with the Utah Jazz.
As a rookie, Morgan began his career with the Salt Lake City Stars in the NBA's G-League. Over 15 games with the Stars in the 2019-20 season, the 6-foot-7 forward averaged a stellar 14.3 points and 7.7 rebounds in 27.4 minutes per game.
Morgan's play early on with the Stars caught the eye of their parent club, the Utah Jazz, and after just five G-League games, he was inked to a contract in November of 2019.
He spent time in both the NBA and the G-League from that point on as a rookie until late in the season when he took on a more prominent role in the bubble at Disney World in Atlanta.
On August 17, he became the first undrafted rookie to start an NBA playoff against the Denver Nuggets. The Jazz ultimately fell to the Nuggets over seven games, but Morgan earned $746,054 in his first professional season according to Spotrac.
Morgan began this NBA season with a guaranteed deal with the Jazz that will earn him upwards of $1.5 million. He appeared in 29 regular season games for the Jazz as a fringe rotation player who has also dealt with some injuries.
He first missed time in February due to an undisclosed illness and in late March, he missed time to soreness in his calf. Most recently, Morgan missed time with a heel injury, but he did return for Utah's final two regular season games against Oklahoma City and Sacramento.
Morgan's role in the playoffs for Utah is likely to be minimal, but injuries could always pop up and thrust him into an opportunity like we saw in the bubble last fall. His contract for the Jazz is non-guaranteed for the 2021-22 campaign, but he is eligible for a qualifying offer that could pay him up to $1.8 million if tendered by the team.
The fact that Morgan has figured out a way to latch onto a roster spot for two seasons as an undrafted player who is undersized for his position speaks to his work ethic and versatility. Morgan has always taken pride in his defense, can guard multiple positions and can also stretch the floor effectively at times as a 3-point shooter from the corner.
Bottom Line: There are only 450-500 NBA jobs per year and it's a testament to Morgan's perseverance that he bet on himself in the G-League last season rather than going overseas for a more lucrative situation. He was rewarded by the Jazz for his play in the G-League and subsequently was able to latch onto a guaranteed deal and has now earned over $2 million in his first two seasons.
Quotable: "It was crazy, just everything that led up to it. Coach telling everybody at practice and then the things leading up to it. I think everybody just reached out saying it's just basketball, we do this every day, it's nothing different. Just go out there, know the plays and give it your all, and that's what I did." – Morgan after making a start against the Nuggets in last season's playoffs at Walt Disney World.
Filed to: Juwan Morgan