Hoosiers in the NBA: Eric Gordon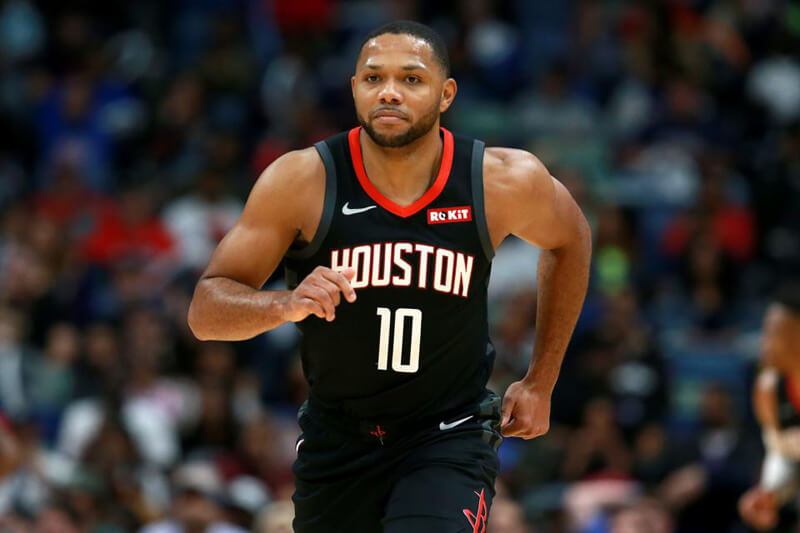 Welcome to "Hoosiers in the NBA," a player-by-player look at how IU basketball alums fared during the 2020-21 NBA regular season. Today, the series begins with Eric Gordon.
Gordon (27 games): 17.8 points, 2.6 assists, 2.1 rebounds, 43.3% FG, 32.9% 3PFG in 29.2 minutes per game
The abbreviated 2020-21 NBA season wasn't kind to former Indiana star Eric Gordon.
Injuries had a lot to do with Gordon's struggles in a season where the Rockets went from preseason contender to the worst team in the NBA. The North Central product had a variety of injuries in his 13th season, including a groin injury in March that kept him out the final two months of the season.
Statistically speaking, Gordon's production was on par with what he's produced over a professional career in which he's earned well over $100 million. His 17.8 points per game were above his career average as was his 43.3 percent shooting from the field. With the roster changes that Houston went through, Gordon was able to have the ball in his hands more often this season. He scored 20 or more points on 14 occasions and his season-high was 33 points in a 133-108 blowout win over Dallas on January 23.
For much of his career with the Rockets, Gordon was a complimentary piece to superstars like James Harden, Chris Paul and Russell Westbrook and functioned as a second option that could shoot it from the perimeter or attack the rim.
When Gordon agreed to a contract extension with the Rockets in September of 2019, he made that commitment with the goal of continuing to compete for championships. Houston made the playoffs in each of Gordon's first four seasons with the franchise, reaching the conference semifinals in 2017, 2019 and 2020. In 2018, the Rockets reached the conference finals.
This season, however, was much different.
Prior to the season, Houston traded Westbrook to Washington in exchange for John Wall. And when the season tipped off, it was clear that Harden wanted out. He eventually forced his way out via a trade to Brooklyn, which morphed the Rockets from contender to laughing stock in the Western Conference.
It was understandable that the Rockets would be worse with Westbrook and Harden departing, but rather than a step back, Houston fell to the very bottom of the league. From February 6 through March 21, the Rockets lost 20 straight games. That surely didn't sit well with Gordon, who is at the point of his career where being a part of a rebuild has to be of minimal interest.
With the franchise clearly in rebuild mode and Gordon nearing the end of the prime of his career, it's fair to wonder what his long-term fit is in Houston. He will turn 33 later this year and has one year of guaranteed money on his deal that will pay him $19.5 million next season. The final year of Gordon's deal only becomes guaranteed if he makes the All-Star team or the franchise wins a championship.
If Houston follows the script that it has with its other notable players with major money left on their deals, Gordon could find himself in a new situation next season. If that happens, hopefully it will be a spot where he can contribute to a contending team.
Bottom Line: While Gordon has never hit that superstar level that many projected when he arrived as a freshman at Indiana, he's had a highly productive and lucrative NBA career. Shooters are of high value in the league and Gordon brings that plus the ability to create offense on his own. He's also a low-maintenance guy who is well-liked by his teammates and is a leader in the locker room. It wouldn't be the worst idea for Houston to keep Gordon around next season to act as a mentor to its young players, but for his sake, finding him a landing spot with a contending team would be a much better way to end his prime.
Quotable: "Well, I mean personally, I caught an injury at a tough point in the season, but I was having a pretty good efficient year. But I know as a team, as a whole, you can tell the team is going young. That's just what it seems like and what it's looking like. The team's going younger, new coach. We're trying to still figure out ways how guys can get better as a team. So it's almost like a full, complete building stage." – Gordon to The Athletic on how he viewed his 13th season in the NBA.
Filed to: Eric Gordon