A first look at who is coming and going in the Big Ten via the transfer portal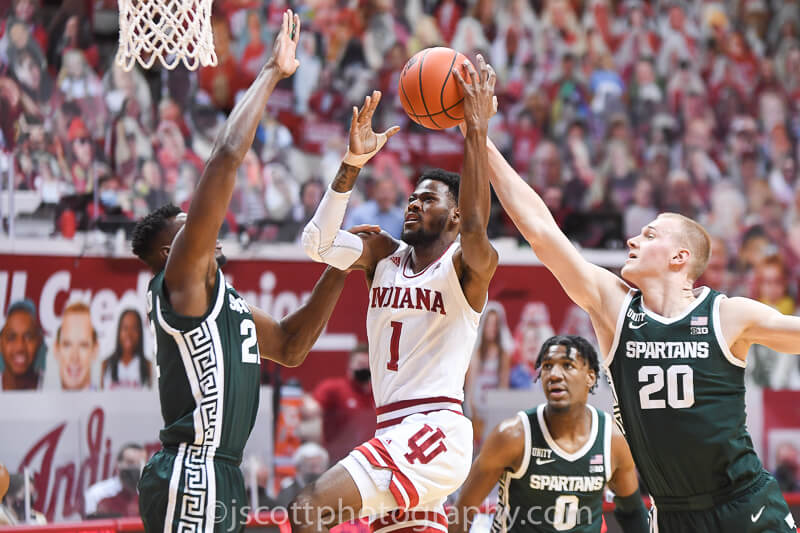 The NCAA transfer portal for men's basketball has over 1,150 entrants thus far and the number is growing significantly each day.
It may now slow down, either, as the NCAA is expected to adopt a new rule that would allow student-athletes to transfer without penalty.
According to Ross Dellenger of SI:
Under current transfer rules, athletes in five sports, including football and men's and women's basketball, are ineligible in the first year they transfer unless they receive a waiver. The new rule would allow all athletes to move freely at least once, though it includes some stipulations. Athletes must submit notification of transfer by certain dates to be eligible at their next location. Fall and winter sport athletes would have to notify their schools by May 1, with an exception extending the date to July 1 for a end-of-the-year head coaching change or the non-renewal of scholarships. Spring sport athletes would have until July 1.

However, Thursday's discussion among D-I Council members centered around making the notification dates flexible this year, sources told SI. Because of the timing of the decision and COVID-19, the fall and winter sports' notification date may be pushed deeper into the summer.
Given that the transfer portal could significantly alter rosters in the Big Ten for the 2021-22 season and beyond, Inside the Hall has compiled a list of all of the transfer movement in the league that we'll update throughout the offseason.
Here is version one, with all of the Big Ten players who are currently in the portal, those who have withdrawn from the portal and transfers in and out to date for each school.
Illinois (24-7 last season)
In the portal: Adam Miller
Notes: Miller is a notable loss for the Illini as he started all 31 games last season and averaged 8.3 points per game.
Indiana (12-15 last season)
In the portal: Armaan Franklin, Jordan Geronimo, Khristian Lander, Race Thompson
Withdrawn from portal: Parker Stewart
Transferring out: Al Durham (to Providence)
Notes: Indiana had six players in the portal, but Stewart opted to return and Durham is headed to Providence. Four players remain in the portal as Mike Woodson attempts to build his first roster in Bloomington.
Iowa (22-9 last season)
In the portal: Austin Ash, Michael Baer, Jack Nunge
Notes: Nunge is the name to know here as the Indiana native was a rotation player for the Hawkeyes, but has struggled with injuries throughout his career.
Maryland (17-14 last season)
In the portal: Chol Marial, Connor Odom
Notes: Neither player in the portal for the Terps played a significant role last season in College Park.
Michigan State (15-13 last season)
In the portal: Rocket Watts
Transferring out: Jack Hoiberg (to UT-Arlington)
Transferring in: Tyson Walker (from Northeastern)
Notes: Walker averaged 18.8 points last season for Northwestern and could be a major addition for Tom Izzo. The loss of Watts wasn't totally unexpected, but he was one of the more talented guards in the league last season.
Minnesota (14-15 last season)
In the portal: Marcus Carr, Gabe Kalscheur, Jamal Mashburn Jr., Martice Mitchell, Jarvis Omersa, Tre' Williams
Transferring in: Jamison Battle (from George Washington)
Notes: New coach Ben Johnson has some work to do to build Minnesota's roster. There are likely a few portal guys he'd like to keep, but Johnson already dipped into the portal to add Battle, a Minnesota native who averaged 17.3 points at GW last season.
Nebraska (7-20 last season)
In the portal: Teddy Allen, Akol Arop, Yvan Ouedraogo, Bret Porter, Elijah Wood
Transferring in: C.J. Wilcher (from Xavier)
Notes: The Huskers will again have significant offseason attrition as Fred Hoiberg has struggled to get the rebuild in Lincoln off of the ground.
Northwestern (9-15 last season)
In the portal: Miller Kopp
Notes: Kopp averaged 11.3 points per game last season and is a significant loss for Chris Collins because of his shooting ability.
Ohio State (21-10 last season)
In the portal: Musa Jallow
Transferring in: Jamari Wheeler (from Penn State)
Notes: Chris Holtmann landed a rare intraconference transfer with Wheeler, who is known as one of the Big Ten's best defenders on the perimeter.
Penn State (11-14 last season)
In the portal: Trent Buttrick, John Harrar, Myreon Jones, Patrick Kelly, Seth Lundy, Kyle McCloskey
Withdrawn from portal: Izaiah Brockington
Transferring out: Jamari Wheeler (to Ohio State)
Notes: Micah Shrewsberry has work to do as he takes over in State College as several Nittany Lions remain in the portal. Getting Brockington to return was a good first step for Shrewsberry.
Purdue (18-10 last season)
In the portal: Emmanuel Dowouna
Transferring out: Aaron Wheeler (to St. John's)
Notes: Wheeler showed great promise as a freshman, but his development stalled the last two seasons and he'll look to get a fresh start at St. John's.
Rutgers (16-12 last season)
In the portal: Myles Johnson, Mamadou Doucouré, Jacob Young
Notes: Johnson and Young were starters on an NCAA tournament round of 32 team and should have high major options to continue their careers.
Wisconsin (18-13 last season)
In the portal: Trevor Anderson, Joseph Hedstrom, Nate Reuvers
Transferring out: Walt McGrory (to South Dakota)
Transferring in: Isaac Lindsey (from UNLV)
Notes: Lindsey comes to Madison as a preferred walk-on. Reuvers struggled last season, but overall had a very solid career for the Badgers.
Filed to: Transfer portal