News and notes from Mike Woodson's interview with Don Fischer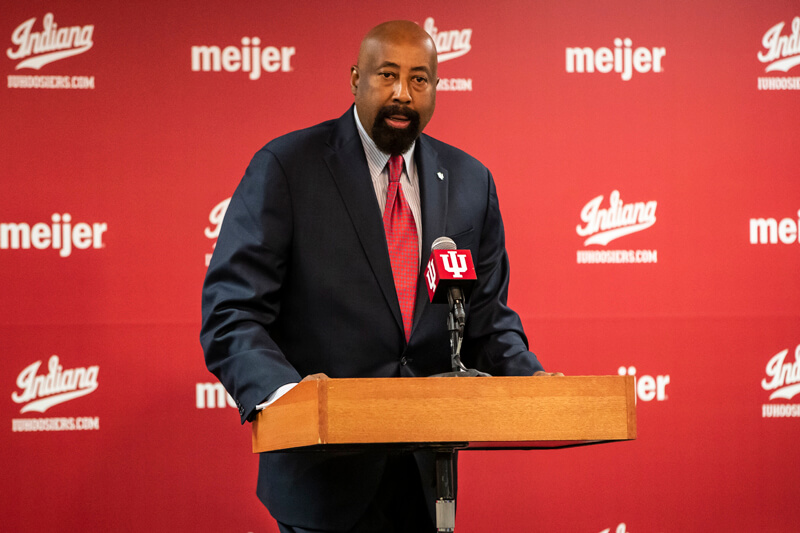 Indiana's new head coach Mike Woodson sat down in an exclusive interview with play-by-play voice Don Fischer that aired Tuesday night on IU basketball's Facebook page.
Here are some notes from their conversation:
– Woodson opened by saying that returning to Indiana was the final goal of his coaching career. "I think I've accomplished everything I've ever wanted to accomplish in basketball and this is the final straw for me," he said.
– Woodson joked about his drive to be successful, saying: "My wife and daughters think I'm crazy. They say I need to go sit down somewhere and just relax."
– In his introductory press conference Monday, Woodson spoke about playing a modern game with a spaced floor and players that can play multiple positions. Initially, when he coached the Atlanta Hawks, Woodson said, he didn't believe in the three-point shot. It was then when he went to coach Carmelo Anthony and the New York Knicks that he changed his coaching philosophy to be more oriented to taking a high-volume of 3-pointers.
– Woodson also stressed the ability to switch on defense, again citing his time in Atlanta where that philosophy was ahead of its time.
– Currently, Woodson's biggest concern is convincing the Indiana players in the transfer portal to stay in Bloomington. He said he tried to set up meetings with players as well as their parents.
– Speaking about Trayce Jackson-Davis, Woodson said: "He's had a tremendous Big Ten career… But he's got to be able to use his other hand and I'm going to beg for him to stay with me because I think I help him develop and get to the next level."
– Woodson said he plans to watch film of Big Ten teams to carry out his "due diligence" in preparation for next season.
– Woodson on recent hire Thad Matta: "Matta's got a great basketball background and track record in terms of what he's done, so I can't think but it would help. Moving up the road in terms of building this team, I think it's excellent what Scott (Dolson) did."
– Woodson's final thought about returning to Indiana: "For me it's a dream come true."
The full interview is available below:
Filed to: Mike Woodson