Five takeaways from Mike Woodson's introductory press conference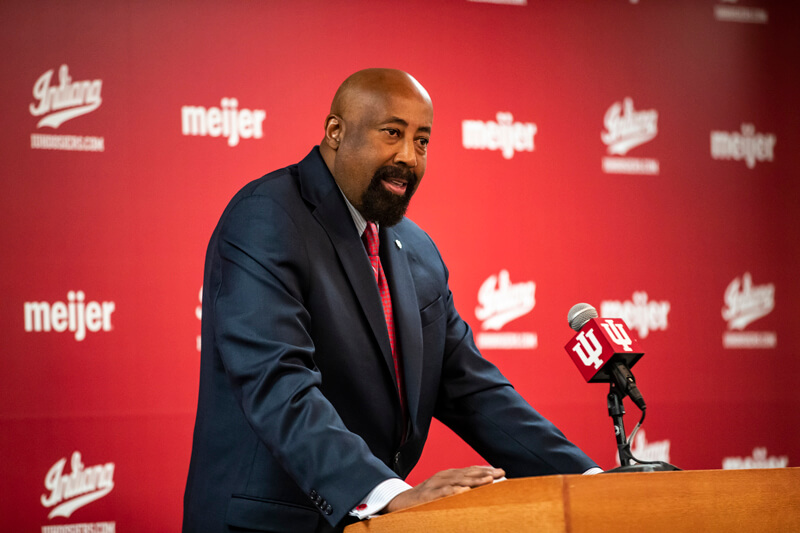 Mike Woodson was introduced Monday morning as the 30th head men's basketball coach at Indiana University.
In a lengthy news conference, both Woodson and athletics director Scott Dolson took questions from the media and also discussed the future of the program.
Here are five takeaways from Monday's introductory press conference:
The Indiana coaching job has been a goal for Woodson
Woodson has spent the duration of his lengthy coaching career in the NBA, but says he never lost his passion for the IU basketball program.
Woodson, who starred for Bob Knight from 1977-1980 and amassed 2,061 career points for the Hoosiers, said Monday that's he's been "glued" to IU basketball over the 30-plus years he spent in the NBA.
The opportunity for him to pursue the coaching job in the past, however, only lined up one time and Woodson wasn't successful in his pursuit of the job on that occasion. This time, however, things were different.
Woodson was able to meet in person with Dolson on March 20 and the pair discussed their vision for the future of the program. The goals aligned and it all culminated a little bit over a week later with an offer for Woodson to become the 30th coach in program history.
"We had our ups and downs over the years. I get that," Woodson said of the IU program. "But I've always been true to Indiana Basketball. So to be able to circle back and give it another shot and trying to come back as the head coach, this time I was able to get it done."
Woodson already has a staff in mind
One of the biggest and most important tasks at hand for Woodson, as he begins his tenure in Bloomington, will be assembling a coaching staff.
He's already got a solid start with the appointment of Thad Matta as assistant athletic director of men's basketball administration, but Woodson will now shift his focus to filling out the three assistant coaching positions.
The 63-year old said Monday that he's already receiving calls about the vacancies and realizes the importance of surrounding himself with a strong coaching staff.
"Coaching is important. I think you've got to put people around you that you trust," Woodson said. "People around you that's willing to work hard. That's what I've done in my two stops as an NBA head coach. I try to put people that's going to work, be loyal and help me to develop young players that are going to be good basketball players and good people off the floor."
Woodson has already started the process of re-recruiting Indiana's players in the transfer portal
Indiana currently has six players in the NCAA transfer portal – Khristian Lander, Armaan Franklin, Jordan Geromino, Race Thompson, Al Durham Jr. and Parker Stewart.
None of them have ruled out a return to Indiana next season publicly, which means Woodson will have a chance to recruit them all back into the fold for next season.
Indiana's best player last season, Trayce Jackson-Davis, could have a decision to make on whether he'll return to campus or pursue a professional career.
Woodson said Monday he met with the players as a group on Sunday night and individual meetings will begin today with a focus on figuring out what is in the heart and mind of each of the players.
"My first job is to sit down with each one of them and talk about staying in Hoosier Nation," he said. "You know, that's what's important. And if I got to plead and beg a little bit to keep them here, I'm going to do that.
"But again they have got to make the final decision on what they want to do, but there's no better place in the country to play basketball I think. That's what I'm going to relay to them and let them know that I'm in their corner, that we're family. I'm always going to have an open-door policy where they can come in and talk to coach Woodson. I've never strayed from that over the years. There's a lot that I have to do once I leave this press conference in terms of sitting down with each individual player and having a pow-wow with them and see where their heart is."
Woodson provides clues on Indiana's style of play
Many of the concepts being run in college basketball today have roots in the NBA.
And given that Woodson's roots as a coach are in the NBA, he won't lack familiarity with many of them. On Monday, Woodson emphasized that Indiana has to do a better job recruiting and developing shooters given how important 3-point shooting is in today's game.
"I think I can create an offense that everybody touches the basketball and if you can shoot the basketball, then you are expected to shoot it and make shots," Woodson explained. "If you can't shoot it, then you have to do other things to help us win basketball games. It's my job to go out and put the best team possible on the floor that can do those things."
Defensively, Woodson explained that he would ideally like to have players that can guard multiple positions and switch defensively. Under Archie Miller, Indiana ran a packline defense and mostly didn't switch.
"I think when you build a defensive system, if everybody is connected together and works hard to defend not only the ball but when there is a breakdown, and rebound the basketball as a unit, you put yourselves in position to win basketball games," he said.
Woodson excited about the opportunity to work with Matta
Thad Matta's hiring as Indiana's associate athletic director of basketball administration came as a surprise, but it also showed Woodson's willingness to surround himself with someone who has been successful as a head coach in the Big Ten.
At Ohio State, Matta won multiple Big Ten regular season and tournament championships and also led the Buckeyes to an appearance in the national championship game.
While Woodson said Monday that he didn't know Matta well before this partnership began, he's already hard at work building a relationship with his colleague.
"Thad has had major success in the Big Ten as a head coach, the 13 years he coached Ohio State, and I had my battles with Herb Williams who was a great Ohio State player and who worked for me in New York so we always go around about with one another during the Big Ten season. So yeah, I've watched Thad from afar. This is the first time I've had an opportunity to sit and talk with Thad.
"Again, great basketball mind. My ego has always been intact in terms of being able to accept great basketball minds and what they are thinking. I think that's healthy from a coaching standpoint and I think it can't do nothing but help me as I move up the road and try to build this basketball team. I'm grateful that Thad is on board."
(Photo credit: Indiana Athletics)
Filed to: Mike Woodson