Another Selection Sunday gone and an IU basketball community clinging onto hope for brighter days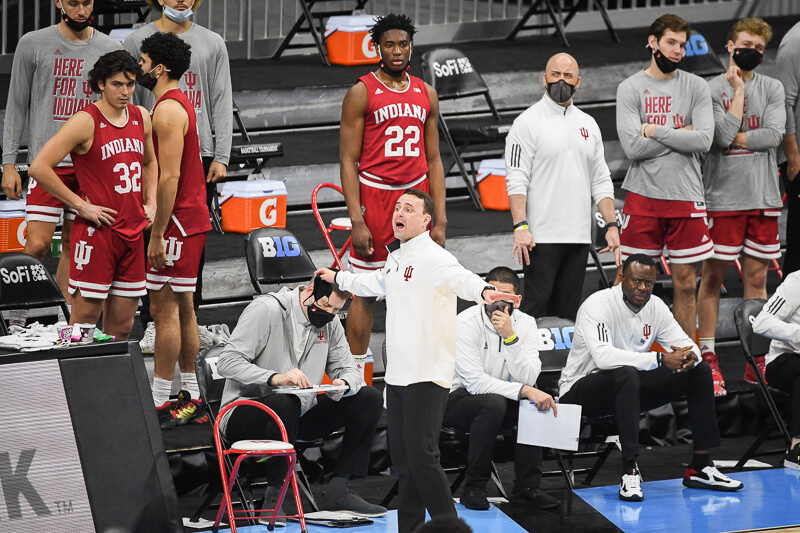 It began with a murmur, a few muffled voices calling out a familiar song. Then it quickly crescendoed into a chorus, the sound echoing across Nick's English Hut, from the blue and red neon Leinenkugel's sign to the IU poster plastered on the window.
"Hoo-hoo-hoo-Hoosiers," they said.
It was March of 2016 and a continuous hum swept inside the dimly lit restaurant. Nick's was packed full, people squeezed at the corner of the bar to find a place to set their alcohol-filled mason jars. Pitchers of beer, baskets of fries and crumpled napkins covered the tables.
The Indiana men's basketball team had still yet to polish off a win over Chattanooga in the first round of the 2016 NCAA tournament, but the jubilation had already started at Nick's.
"Hoo-hoo-hoo-Hoosiers."
Fast forward five years.
It is now March 2021.
It is now half a decade since that 2016 tournament run.
Indiana still hasn't returned to the Big Dance.
Selection Sunday has come and gone and the Hoosiers were absent from the bracket once again. It is Indiana's longest NCAA tournament drought since a stretch from 1967-72.
A program with five national championship banners now has more questions than answers and is slipping further and further out of the national spotlight.
"Like every program at this point in time, you've got to take inventory," head coach Archie Miller said Thursday after Indiana's season-ending loss to Rutgers in the first round of the Big Ten Tournament. "Performance matters. Our performance here this season was inconsistent."
Frustration from the last four seasons has seemingly reached its tipping point, much of it directed toward Miller.
Chants of "Fire Archie" rained down from the stands in the game against Rutgers. Coaches Bar and Grill has created "The Fire Archie: Indiana" shot, a concoction of 50/50 fireball cinnamon, Whisky/Rumple mintz and permanent liquor.
"I'm not entering any offseason wondering if I'm gonna be back," Miller said Thursday. "Those decisions are made higher up than me."
What makes this COVID-19-ridden season hurt even more for Hoosier fans is that the entirety of the NCAA tournament will be played in Indiana's backyard: Indianapolis, West Lafayette and Bloomington, among other venues.
There's a gargantuan bracket spread across a JW Marriott hotel in Indianapolis. There are "March Madness" signs next to the highway. On Friday, a large poster reading "The Big Dance" was installed on the glass panels of Cook Hall, Indiana's practice facility. The Assembly Hall court is decked in March Madness hardwood.
To an Indiana fan, this is like listening to fingernails screeching on a chalkboard. Or being forced to watch your favorite meal cooked in front of you while your rival happily savors it.
In the next few weeks, Indiana will be in the college basketball spotlight.
The Hoosiers, though, will be sitting idly by.
***
BuffaLouie's co-owner Ed Schwartzman always picks Indiana to advance to the Final Four in his NCAA tournament bracket even if he knows the Hoosiers don't have a chance.
But for the fifth year in a row, it won't be an option.
The wing joint adjacent to Kirkwood Avenue, which Schwartzman and his wife have been running since 2006, has become ingrained in Bloomington's culture as a place where fans gather to root on the Hoosiers.
For people like Schwartzman, Indiana basketball's success is directly tied to their financial stability. It's the same for local businesses, restaurants, hospitality and media. Prosperity for the Hoosiers means prosperity for Bloomington.
"I know that we're all hungry and impatient for a winner," Schwartzman said. "I know that it's going to happen."
In a normal season, the Indiana basketball schedule determines how many workers are on shift at BuffaLouie's or how much chicken needs to be ordered. But due to COVID-19 this year, Schwartzman hasn't even bothered.
BuffaLouie's revenue, Schwartzman said, has declined from quarter to quarter as people have become wearier to go out. They're still staying afloat, though, he said.
Even if Indiana was playing poorly in a non-COVID year, BuffaLouie's would've seen an increase in business. But, Schwartzman points out, if Indiana had made a run in the tournament this season, it would've been a huge boost for profits.
"There are known studies that show when your team is winning, psychologically, you feel better about yourself and you spend more money," Schwartzman said. "That's a proven fact. When your team's winning you're on top of the world."
Indiana senior guard Al Durham has been dining there his entire career. "A nicer kid never walked God's earth," Schwartzman said of Durham. "Your heart bleeds. Please let this kid win a game and let him get to the tournament… We care about them."
The Bloomington community has been a part of some of his fondest memories at BuffaLouie's. Schwartzman's favorite came in 2011 when Christian Watford's 3-pointer snapped through the net to lift the Hoosiers over Kentucky in Assembly Hall.
Just a few minutes down the road, in a standing-room-only crowd, BuffaLouie's exploded in excitement. People hugged each other and jumped on their seats. The entire staff left the kitchen to watch. "Rule number one is you don't abandon cooking food," Schwartzman said with a laugh. "It didn't matter. The outright joy."
Through the pandemonium, a college aged-kid led Schwartzman to one of BuffaLouie's wooden benches, showing that it had been splintered during the celebration.
"There was energy around the team and hope and optimism," Schwartzman said.
Later, Schwartzman had Watford sign the broken seat. It became known as "the Watford Bench." Schwartzman made a critical mistake, though, having Watford sign it in sharpie, which wore off over time.
Recently, much like the sharpie, the optimism around the IU program has faded.
Over the last four years, there have been less opportunities for historic moments, as Indiana has failed to reach a level of sustained success. A BuffaLouie's environment, filled to the brim for an NCAA tournament game hasn't been a possibility in the Miller-era. There have been times this season where Schwartzman has had to stop watching games.
"We're going to get it back again," Schwartzman said. "That I'm confident of. Just like everyone else, we're impatient. The sooner the better."
***
IU senior Kevin Chrisco has to imagine what a March Madness atmosphere would be like in Bloomington if Indiana made the NCAA tournament.
In his mind, he envisioned people walking around Kirkwood Avenue decked out in IU gear with lively chatter about the game. He would've likely met up with friends at Nick's, downed some beers, ordered Biz fries and a burger and played "Sink the Biz."
But Chrisco, like the rest of the senior class, will graduate this spring without having watched Indiana play in a single NCAA tournament game during their time on campus.
"There's something so fun about March Madness and being able to take part of it," Chrisco said. "Just the idea that IU could win. Any team could win. I think even being in it would be so exciting for so many fans. It stinks because growing up that's all I wanted to see."
Chrisco's parents met at IU in the late 1980's and his sister graduated from IU a couple of years ago. When Indiana won the 1987 national championship, Chrisco's father Paul swam in Showalter Fountain and dragged out the metal fish. In his time at IU, Chrisco hasn't had a reason to dive into the fountain.
Growing up in Sellersburg, Indiana, Chrisco's parents passed on the Hoosier passion. Paul told Chrisco stories about rushing the court after big wins and the thrill of celebrating with friends.
"It just seemed like this really fun atmosphere where everyone was really, really excited about basketball," Chrisco said. "It was a reason for everyone to be social and having fun."
Chrisco had Indiana basketball jerseys, a poster in his room reading "Indiana Hoosiers" and a variety of hats. The night before Chrisco's first game in Assembly Hall, he couldn't sleep.
"IU to me, as a kid, was the basketball team," Chrisco said. "Even if it didn't say 'IU basketball' and it was just the IU logo, to me it was reflective of the IU basketball brand. IU was basketball to me when I was younger."
When Chrisco decided to attend IU as a student, there was always a hope that the Hoosiers would return to their elite form.
Instead, the last four years have been far from it.
When Romeo Langford signed with Indiana in 2018, Chrisco thought the Hoosiers would surely make the NCAA tournament. Paul told Chrisco that Indiana would be in the top 10. Indiana only made the NIT that season.
There was excitement for the next two seasons. But both ended in the same place: without an NCAA tournament bid.
"It just reached a point where you could follow game scripts exactly and predict how things were going to be," Chrisco said. "Like in crunchtime something was going to get drawn up, it wasn't going to work and we were going to lose."
Chrisco watched a couple of games with his father this season. Sometimes, Paul would yell at the TV and Chrisco would calm him down. Other times, Chrisco would be the one screaming and Paul would be the tranquil presence.
When Chrisco met up with friends to watch games this season, there were a few times, like against Michigan and Ohio State, where they tuned out the TV and went outside or played a drinking game.
Recently, Chrisco had a friend tell him: "I have to go watch games next year."
Chrisco responded: "Don't say it like it's an obligation. It's a privilege to go to Assembly Hall."
"It does become a chore at certain points," Chrisco said. "And I don't think IU basketball should feel like that."
The next time Indiana makes the NCAA tournament, Chrisco will watch the game and cheer for the Hoosiers.
But it'll likely be from wherever his career takes him, not in Bloomington. It won't be the same.
***
An endless gray sheet of clouds hung over Bloomington thirty minutes before the Selection Show on Sunday evening. Kirkwood Avenue was nearly silent besides the steady hum of traffic and a few people strolling on the sidewalk. A cardboard sign with "Fire Archie" penned in block lettering dangled above the Five Guys restaurant.
At 5:45 pm, BuffaLouie's wasn't even half full, only a few customers leaned back in the wooden seats, taking in the aroma of greasy fries, barbeque wings and a team photo of the 1987 championship squad hung on the siding.
Just after 6:00 pm, the Selection Show flickered on a couple of the TV's inside BuffaLouie's, but the iconic March Madness jingle and Greg Gumbel's baritone timbre was muted. The captions were turned on.
As the seedings were announced, a few people waiting in line peered up the screen. A majority of others were too focused on dunking their wings in ranch dressing. A group of three, wearing IU gear, stared down at their phones. They left less than ten minutes into the program.
Purdue was announced. Then, a minute later, Justin Smith was shown on screen as Arkansas made the field. "Get Down On It" by Kool & The Gang blared over the speaker as the next region was announced. A woman in a corner booth swung her arms side to side.
As the final region was released, another woman, wearing a black mask with "March Madness" printed across the front, walked in. As she stood in line, her gaze never turned to the TV's.
Then, the the screen flashed to a commercial, ending the show, and everyone carried on, almost as if it never happened.
Filed to: