News and notes from Archie Miller's radio show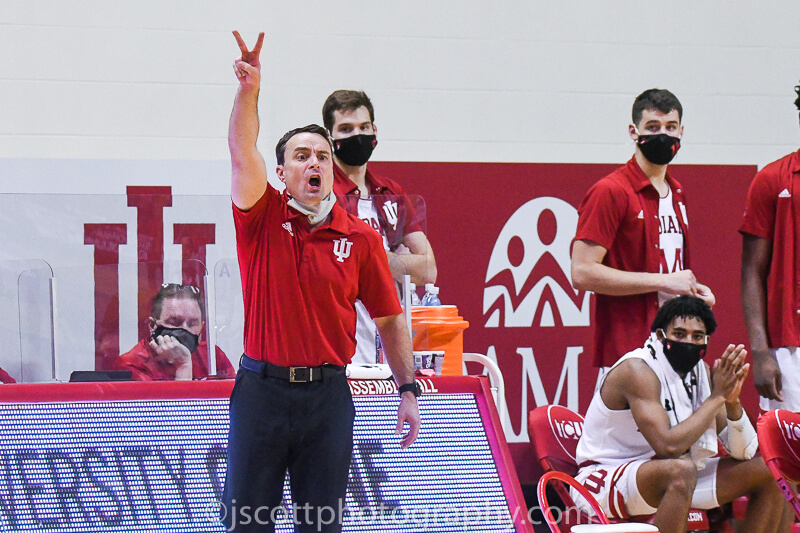 "Inside IU Basketball with Archie Miller" returned Monday night with play-by-play announcer Don Fischer. On the final episode of the season, Miller recapped Indiana's loss to rival Purdue and previewed this week's Big Ten Tournament.
• Miller opens by saying that the games against Purdue and Michigan State were both "hard-fought." He said he felt like his team played "as tough as we could" and was "organized" on defense.
• Miller said he feels like the team has lost all confidence offensively. "We're shooting the ball hoping we can get a couple to go in," Miller said. He emphasized how many really "good looks" Indiana had against Purdue, especially in the first half.
• Miller said he hopes to build his team's confidence over the next four days. He said he knows Indiana will have to make shots against Rutgers because of their physicality in the paint.
• Miller was content with the number of turnovers against Purdue, but said the Hoosiers weren't "flawless." There weren't any turnovers, Miller said, that "broke the game open." On defense, Miller said Indiana didn't breakdown like they had a few weeks ago.
• In the first matchup against Purdue, Miller said he felt like Indiana's defense was easily spread out. On Saturday, though, he felt like the team's defense was "good enough to win the game. We did a much better job on Trevion Williams," Miller said, but "Zach Edey is a problem. He got us pretty good."
• Miller said he was happy with how Indiana came out of the gate in the second half. He said everyone had a good "attitude " and "spirit" in the huddles.
• Regarding the technical foul on Indiana's bench in the second half, Miller said it was "completely uncalled for" and can "really mess up the rhythm of the game." He said he wishes there was a warning given first. "You have to control what you can control, so we have to do a better job on our end," Miller said.
• Overall this season, Miller called it "a lot of trial and error" in dealing with the COVID protocols. Throughout the season, Miller said Indiana did a great job of bouncing back after losses. In the last couple of weeks, though, Miller felt his team lost confidence and "doesn't believe in itself as it much earlier in the year."
• Miller said that the coaches didn't really look at tournament projections and were solely focused on helping the team improve. Throughout the five-game losing streak, Miller said there have been "zero attitude problems." He said all eight guys that practiced today came with a great attitude.
• Miller said it's been difficult to see his team have such a resilient attitude but fail to have a breakthrough in the win column. "You want your team to see those rewards," Miller said. He added that Indiana hasn't been able to "grab opportunities."
• Miller said that Armaan Franklin's injury "changed the dynamic of our depth" and called Franklin one of the most valuable players on both sides of the floor. Franklin has been getting shots up in practice but not been going full-speed. It's still uncertain whether he will play Thursday against Rutgers.
• On Race Thompson, Miller said: "he's snake-bitten these last two weeks" and "hasn't been the same." Miller confirmed that Thompson rolled his ankle in the second half of the Purdue game and tried to play, but couldn't jump. He said Thompson was "day-to-day" going into Thursday.
• Miller emphasized how good the league has been this season. He said the difference between this season and last is that the teams at the top of the Big Ten are even better. He named the likes of Michigan, Illinois, Ohio State and Iowa.
• Miller called the Big Ten Tournament "an unbelievable opportunity," saying that he "could see anyone beating anyone on a given night… It couldn't set up any better for a team that has to do a little bit of work."
• Talking about Lucas Oil Stadium, Miller said he could see some teams struggle to shoot the ball. "Playing in Indianapolis gives us an advantage with the travel," Miller said. He reminisced about the first college games played at Lucas Oil Stadium back in 2008. Indiana played Gonzaga and Ohio State played Notre Dame. Miller was an assistant coach at Ohio State that season. He called being in Lucas Oil a "unique" feeling and one of the "nicest sporting facilities" in the world.
• Miller emphasized the importance of getting the offense rolling against Rutgers. In the last two matchups, he said Indiana struggled to score and handle Rutgers' pressure. On defense, he said the key will be staying in front of Rutgers' guards. Lastly, he said he feels like Indiana is at its best when they have a few days to "absorb" the gameplan, as they heading into Thursday.
Filed to: Archie Miller