Five takeaways from Indiana's loss at Purdue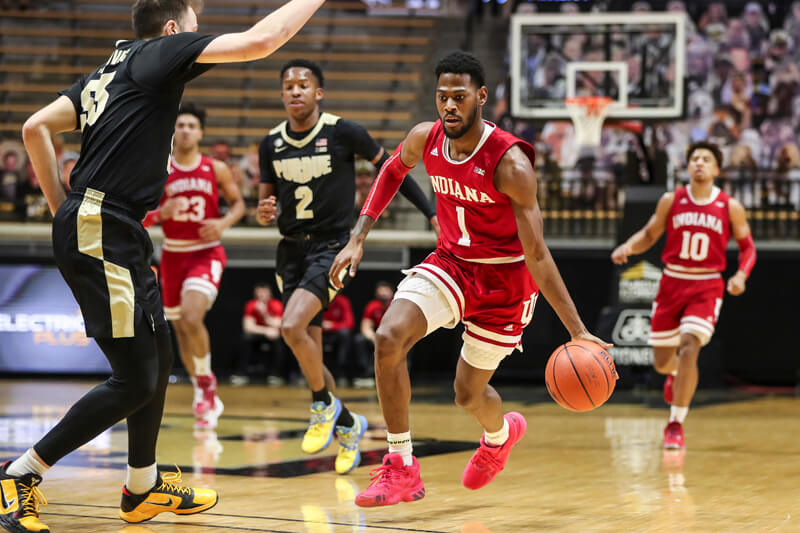 Indiana's losing streak extended to five games as it fell 67-58 on Saturday afternoon to Purdue at Mackey Arena. The loss dropped the Hoosiers to 12-14 overall and 7-12 in conference play to conclude the regular season.
Here are five takeaways from the loss to the Boilermakers:
• Indiana loses to Purdue again: Indiana's struggles against Purdue unsurprisingly continued on Saturday in West Lafayette.
The word unsurprisingly is applicable here because Indiana hasn't beaten Purdue in men's basketball in 1,842 days. The Hoosiers now have lost nine straight to the Boilermakers overall and seven straight under Archie Miller. The expectation now is that Indiana will lose to Purdue.
Indiana has mostly been beaten soundly by Purdue in recent history. In IU's seven losses to Purdue under Miller, the average margin of defeat is 9.3 points.
On Saturday a Purdue freshman who was ranked as the No. 437 recruit nationally by the 247Composite, Zach Edey, came off the bench and dropped 20 points on the Hoosiers. This wasn't Purdue's best effort. It was far from it. But it didn't matter because Purdue has been a couple of tiers above Indiana since Yogi Ferrell left Bloomington. The Boilermakers locked up a double-bye in next week's Big Ten tournament with Saturday's win while Indiana locked up the No. 10 seed.
• Indiana's shooting continues its late-season regression: Shooting has been a consistent issue for Indiana under Miller and on Saturday, the Hoosiers once again put forth a performance from the perimeter that won't win many games.
Indiana was 5-of-23 on 3s in Saturday's loss and over the past three games, is 11-of-58 on 3s (18.9 percent). The Hoosiers concluded Big Ten regular season play with a 32.9 percent mark from behind the 3-point line, the fourth straight season in which they've shot 34.3 percent or worse on 3s in conference play.
"We're just struggling shooting the ball," Miller said postgame. "At the end of the day, if you look at the first half and you go 1-for-13 from three. Probably about 11 of them were good looks, and you make two or three of them it's a different game in the first half. But all in all, in our last two games, two-and-a-half games, we're not shooting the ball well from the perimeter. And you're not going to be able to win in this league without shooting the ball a little bit."
Indiana's lack of consistent perimeter shooting has been an issue for the duration of Miller's tenure. And it is an issue that, unless addressed in a significant way moving forward, will continue to produce middling results.
• Indiana's defense this season in Big Ten play is the worst of the Miller era: While the Hoosiers did a solid job defensively in Saturday's loss by only surrendering 1.02 points per possession, the final numbers for the Hoosiers in Big Ten play show signs of regression.
In Miller's first season, Indiana ranked fourth in Big Ten play in points per possession allowed. Indiana fell to ninth in his second season and were eighth last season.
This season, Indiana is currently 12th in conference play in points per possession allowed. That final ranking could move depending on results today, but as of Sunday morning, only Northwestern and Minnesota have been worse than Indiana defensively in Big Ten games.
For a program that Miller pledged would be built on defense, that vision has not materialized.
• Purdue has molded its freshman class into significant pieces on its roster and Indiana has not: Indiana's 2020 recruiting class ranked second in the Big Ten, according to the 247Composite. Purdue's ranked sixth.
On Saturday, two of Purdue's freshmen – Jaden Ivey and Edey – combined for 37 points. Their other true freshman, Ethan Morton, was not at the game due to a death in the family.
Indiana's four freshmen – Khristian Lander, Trey Galloway, Jordan Geronimo and Anthony Leal – combined for six points.
Even on a roster devoid of consistent backcourt play, Indiana has not prioritized getting Lander and Leal more minutes. Lander is the most capable distributor and facilitator of the freshman class and Leal is the most capable shooter.
Leal has not played more than 10 minutes since a win at Northwestern. And Lander, coming off one of his strongest performances of the season against Michigan State, only played eight minutes on Saturday.
• Indiana's season is headed for another unspectacular finish: Barring a miracle run in Indianapolis, Indiana will likely finish its season late next week in the Big Ten tournament.
The Hoosiers are nowhere close to the NCAA tournament bubble and seem unlikely to make the NIT if they can't win a few games at Lucas Oil Stadium.
When Fred Glass decided to move on from Tom Crean in the spring of 2017, he stated that the expectations for the program are to "perennially contend for and win multiple Big Ten championships, regularly go deep in the NCAA tournament, and win our next national championship—and more after that."
The reality, as season four of Miller's tenure comes to a close, is that Indiana is nowhere close to reaching any of those expectations.
Filed to: Purdue Boilermakers