News and notes from Archie Miller's radio show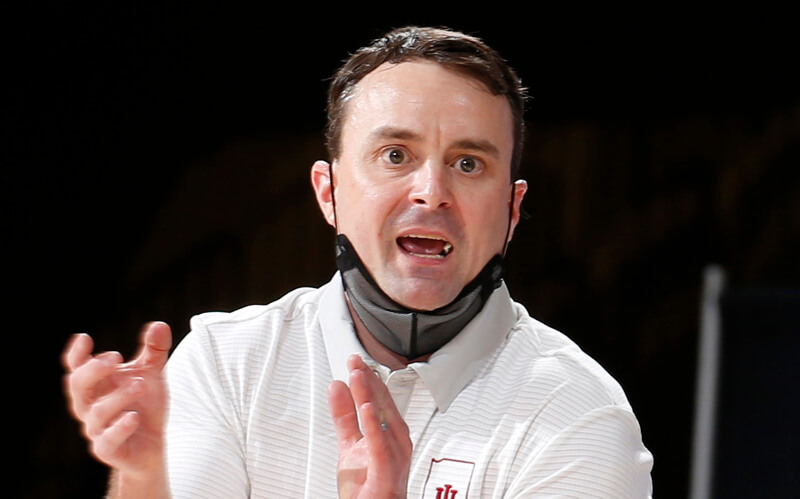 "Inside IU Basketball with Archie Miller" returned Thursday night with play-by-play announcer Don Fischer. Miller recapped Indiana's losses to Michigan and Michigan State and previewed the regular-season finale against Purdue.
• Miller opens by giving injury updates, saying "we're really banged up right now." Miller said that Race Thompson underwent a small procedure after taking a hit to the face during the Michigan State game. He said Thompson will be a "game-time decision" Saturday against Purdue.
• Miller said that Armaan Franklin will also be a game-time decision, although he doesn't expect him to play. Miller said Franklin has been doing some stationary shooting stationary during practice.
• Miller said he felt the turning point of the season was the second half of the first matchup against Michigan State, calling it "a real deflating moment." He said he felt like the team kept working hard and then started well in the Rutgers game. During the second half, though, he said they knew they "were in some trouble."
• Miller said the defensive effort against Michigan was better and Indiana played hard. "Michigan is a very difficult," he said, also noting that they couldn't get Trayce Jackson-Davis in rhythm on offense.
• In the second matchup against Michigan State, Miller was again happy with Indiana's defensive effort, despite dealing with a choppy game due to fouls. "Our effort was good, our attitude was good," Miller said.
• "It's all about Saturday right now," Miller said about the season finale against Purdue. "One win can really change the course of things." He called a win on Saturday the "perfect recipe" heading into the Big Ten tournament next week. Miller also said he "can't say a bad word" about his team's attitude.
• In the game against Michigan State, Miller said that players were very vocal during the timeouts. "The guys are about the right things," Miller said.
• Miller said the younger players often look to the veteran guys as sources of energy. He praised Rob Phinisee for coming out aggressively, saying it instilled confidence in Khristian Lander and Trey Galloway. Miller also added: "Race is our rock," praising his toughness to play through injuries.
• Due to the injuries, Miller said they've been playing 4-on-4 and 3-on-3 during practice because they don't have enough players go 5-on-5. He said all of the guys that are available are playing hard.
• Regarding Purdue, Miller said the Boilermakers are the "toughest low post team to play in America." He praised Trevion Williams and Zach Edey. He said the perimeter guys "contribute by committee" and that Jaden Ivey has "blossomed" recently. Miller said the game will be determined by turnovers and rebounding.
• After watching film from the last game against Purdue, Miller said that the Boilermakers aren't running as much "true motion" and instead just throwing it in the paint. It then allows them to play inside-out.
• Speaking about Khristian Lander, Miller said "he's come a long way." Miller said early in the season, Lander was trying to show what he could do to stay in the game. Now, Miller said, he's more "composed," calling him the best "ball screen passer" on the team. He also noted he's being much more aggressive driving the ball in the paint. "He's going to be needed in this one" against Purdue.
Filed to: Archie Miller