Big Ten Power Rankings: March 1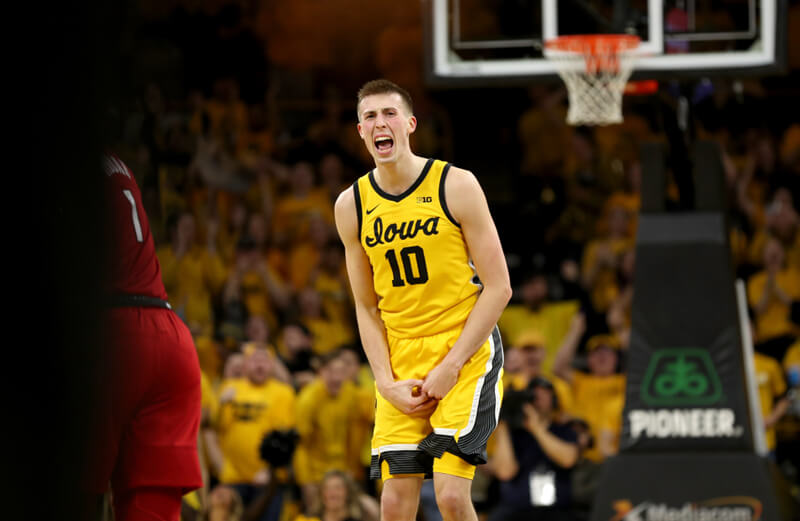 The final week of the Big Ten regular season is here and Michigan is in the driver's seat for the conference crown. However, there's still plenty to be determined in terms of seeding for the Big Ten tournament, which will tip off one week from Wednesday at Lucas Oil Stadium.
Here are our final set of Big Ten power rankings for this season:
14. Nebraska (2-14, .897 PPP, 1.049 PPP allowed): The Huskers picked up their second Big Ten win over the weekend, beating Minnesota 78-74 at Pinnacle Bank Arena. It might not look like it now, but brighter days are ahead for Nebraska under Fred Hoiberg. Nebraska will welcome a 5-star prospect to its roster next season and while it may be a slower than expected build, the Huskers should finally be able to escape the cellar next season.
13. Northwestern (4-13, .961 PPP, 1.076 PPP allowed): Northwestern's 13-game losing streak was snapped on Thursday when it went to the Barn and beat Minnesota 67-59. This will be a fourth straight season in which the Wildcats miss the postseason and in eight seasons, Chris Collins has taken this program to the NCAA tournament just once. This season's Northwestern team has the Big Ten's worst defense and if the talent level isn't upgraded significantly, it's hard to see this program as anything better than the bottom four in an ultra-competitive Big Ten.
12. Penn State (5-12, .999 PPP, 1.062 PPP allowed): The Nittany Lions have dropped five of their last six games, but beat Nebraska 86-83 on Tuesday in Lincoln. Given the timing of the dismissal of Pat Chambers last fall, it was hard to foresee much success for Penn State this season. But interim coach Jim Ferry has kept the program competitive and the Nittany Lions are in the top 40 of the KenPom ratings as of Monday morning. Ferry won't be around after this season and a new era of Penn State hoops will begin next winter.
11. Minnesota (6-12, .997 PPP, 1.073 PPP allowed): The bottom has fallen out in Minneapolis as Richard Pitino and the Gophers have lost five straight games. At one point, Minnesota looked like a solid bet to make the NCAA tournament. Now the discussion has turned to the status of Pitino, who may be coaching his final stretch of games in Minneapolis. Marcus Carr has been terrific for Minnesota and plays more minutes than any player in the conference, but it's clear this team has run out of gas in the season's most critical stretch.
10. Indiana (7-10, 1.021 PPP, 1.065 PPP allowed): Indiana's defense has been a letdown in conference play after acting as its backbone in non-conference play. The Hoosiers now rank 12th in points per possession allowed in Big Ten games. At 12-12 overall and 7-10 in conference play, Indiana needs to win games this week at Michigan State and Purdue to get back on the right side of the NCAA tournament bubble. If that doesn't happen, it will be another missed opportunity to turn a corner for Archie Miller in Bloomington.
9. Michigan State (7-10, .967 PPP, 1.052 PPP allowed): Michigan State's 3-game winning streak was snapped as the Spartans were crushed on Sunday afternoon by Maryland in College Park. It was still a successful week for Michigan State overall as it beat Illinois and Ohio State in East Lansing. However, the loss at Maryland is damaging because the Spartans probably need two more regular season wins to feel good about their tournament chances. Two of Michigan State's final three games are against Michigan.
8. Maryland (9-9, .997 PPP, 1.010 PPP allowed): Credit Mark Turgeon for the job he's done this season in College Park. He lost Jalen Smith and Anthony Cowan in the offseason and the Terps looked like a bottom four Big Ten team entering the season. But Maryland's guards have displayed grit all season and Donta Scott is easily one of the league's most improved players. Maryland is headed back to the NCAA tournament and has now reeled off five straight wins.
7. Rutgers (9-9, 1.015 PPP, 1.013 PPP allowed): Rutgers played just once last week and easily dispatched Indiana 74-63 at the RAC. With road games at Nebraska and Minnesota to close out the regular season this week, Rutgers has a great chance to finish above .500 in Big Ten play for the second straight season. For a program that was a laughing stock when it entered the conference in 2014, the upward trajectory and progress made by Steve Pikiell is notable.
6. Wisconsin (10-8, 1.001 PPP, .983 PPP allowed): The Badgers are still a solid team, but their inconsistencies offensively have held them back from being considered elite. No team is more experienced in the Big Ten, but many of Wisconsin's pieces have already hit their ceiling and as a result, have shown little to no improvement over the season. Wisconsin has a difficult close to the season with road games at Purdue and Iowa this week.
5. Ohio State (12-7, 1.121 PPP, 1.046 PPP allowed): Ohio State has lost three straight games and two of those losses have come at Value City Arena. On Sunday, Iowa delivered Ohio State a thorough 73-57 beating in Columbus. The Buckeyes now have a week to regroup before Illinois comes to Columbus on Saturday to finish out the regular season. Ohio State was once considered a potential No. 1 seed for the NCAA tournament, but its recent slide has taken that potential off the table.
4. Purdue (11-6, 1.035 PPP, .985 PPP allowed): In a normal year where Michigan wasn't running away with the conference, Matt Painter would likely be named the Big Ten's coach of the year. Painter has taken a group of solid upperclassmen and has mixed in newcomers that have bought into his system. Purdue has steadily improved all season and with no seniors, is set up well to make a run at the Big Ten title next winter.
3. Iowa (12-6, 1.147 PPP, 1.045 PPP allowed): Iowa has been much better defensively in recent weeks, which is a major reason the Hawkeyes are now solidly third in Big Ten efficiency margin. The Hawkeyes have now won five of their last six games, which is uncommon for Fran McCaffery teams in February. Luka Garza continues to put up monster numbers, but the key for Iowa is getting consistent production from Joe Wieskamp and Jordan Bohannon. When that happens, Iowa can beat any team in the country.
2. Illinois (14-4, 1.098 PPP, .969 PPP allowed): Illinois won a pair of games last week against Nebraska and Wisconsin without Ayo Dosunmu, who suffered a broken nose in a loss to Michigan State last week. Da'Monte Williams came up big in the win in Madison as he scored 12 points in 28 minutes and Kofi Cockburn led the way with 19 points in 25 minutes. Dosunmu is likely out until the Big Ten tournament, which means the Illini face an uphill battle this week with road games at Michigan and Ohio State.
1. Michigan (13-1, 1.129 PPP, .945 PPP allowed): The Wolverines keep rolling and will play three more times this week to close out the regular season. Hunter Dickinson is the clearcut favorite for Big Ten freshman of the year and he deserves consideration for all-Big Ten team first team honors. Juwan Howard is making it look easy in his second season at the helm in Ann Arbor and Michigan's experience and balance makes this group a legitimate national championship contender.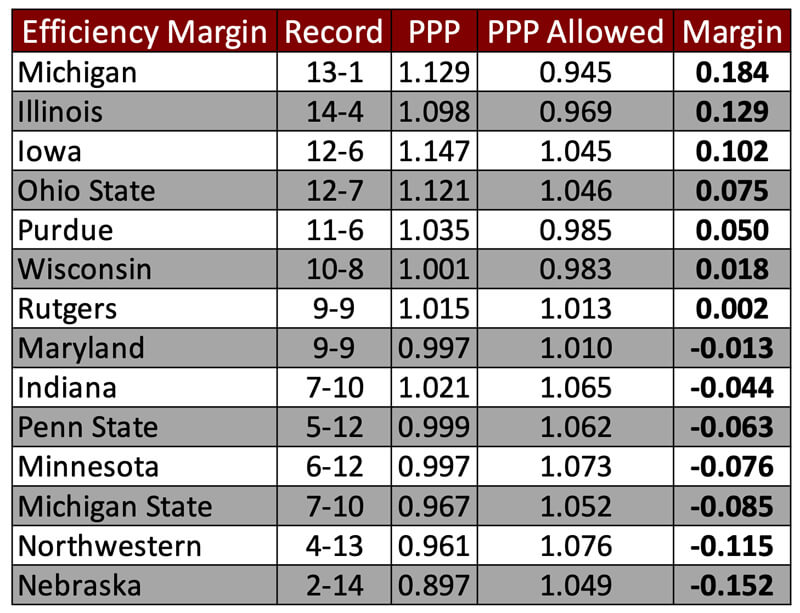 Filed to: Big Ten Power Rankings