Five takeaways from Indiana's loss to Michigan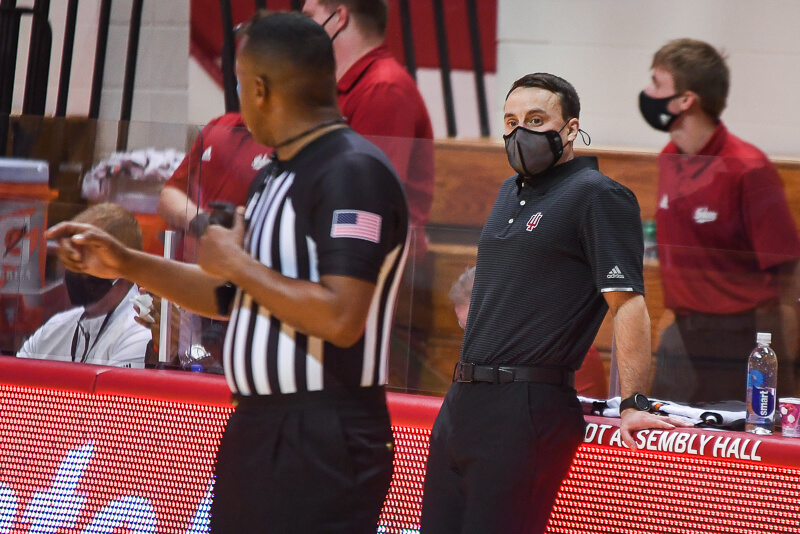 Indiana dropped its third straight game and suffered its sixth home loss this season in Big Ten play on Saturday afternoon. The Hoosiers fell 73-57 to Michigan at Simon Skjodt Assembly Hall and clinched a losing record in conference play for the third straight season.
Here are five takeaways from the loss to the Wolverines:
• As March nears, Indiana is bottoming out: Successful college basketball programs use the regular season to steadily improve as the schedule advances with a goal of peaking in time for postseason play.
That is not happening in Bloomington.
The Hoosiers have not won more than two straight games all season and Saturday's loss to Michigan handed the program its first three-game losing streak of the season. As other teams in the Big Ten hit their stride and prepare for the NCAA tournament, Indiana is bottoming out.
Injuries have not helped this season, but neither has a defense that now is 12th-best in the conference. Indiana is allowing 1.065 points per possession against Big Ten opponents. The Hoosiers have now allowed more than 1.054 points per possession in five straight games. Indiana has also struggled with offensive inconsistencies and has typically been unable to put together a solid 40-minute performance.
Just 11 days ago, Indiana was 12-9 overall, 7-7 in league play and had a realistic shot to make the NCAA tournament for the first time since 2016. Since then, Indiana has dropped games to Michigan State, Rutgers and Michigan, clinching a third straight season below .500 under Miller in Big Ten play.
• Indiana never seriously challenged Michigan: The Wolverines are one of the best stories in all of college basketball.
Under second-year head coach Juwan Howard, Michigan entered Saturday's game in Bloomington with a 17-1 overall record and a 12-1 mark in conference play. Despite a lengthy 23-day COVID-19 pause that was unrelated to its program, Michigan didn't miss a beat and has been dominant since returning to play.
It was going to take a herculean effort for Indiana to pull off the upset, but the Hoosiers never made Michigan uncomfortable on Branch McCracken Court. It was another sign of just how far the program has to go to even be mentioned in the same breath as the teams in the upper tier of the conference, Michigan delivered a thorough beatdown of Indiana for the second straight time.
The two programs met just once last season and Michigan cruised to an 89-65 win at the Crisler Center. This season's meeting was more of the same as the Wolverines cruised to a 73-57 victory on Saturday afternoon.
• Al Durham keeps fighting: Even with his final chance to play in the NCAA tournament at Indiana hanging by a thread, senior Al Durham Jr. continues to scrap and fight.
Durham scored a team-high 15 points in Saturday's loss and was 6-of-9 from the field in 29 minutes. In his postgame comments, Durham declined to answer when asked if he would consider coming back for another season.
But Durham did take the time to reflect on his time in Bloomington and what he'll take from his experience playing for the Hoosiers despite a lack of on-court success for the program.
"I feel like there are too many things I've been blessed with," Durham said. "I would say just seeing the hard work come to fruition (is rewarding). I feel like I've been working my behind off since freshman year and listening and learning a lot. There are a lot of things I've taken from Indiana in terms of relationships, basketball, friendships, anything. It's all been living, learning, and a blessing. It has been a great experience all the way around."
• Jackson-Davis continues to struggle against size and physicality: Trayce Jackson-Davis has been one of the nation's premier frontcourt players in his sophomore season.
But Jackson-Davis has also continuously struggled to finish at the rim against bigger and more physical defenders. It happened in the first Illinois game and both contests against Rutgers.
It was again the case on Saturday afternoon as the Center Grove product scored just 10 points on 3-of-12 shooting against Michigan freshman Hunter Dickinson.
"I thought today they mixed up their defenses, tried to take us out of rhythm in sets," Miller said. "I think when we got Trayce on the run and he's able to get some pick-and-roll game, he's able to get some more face-up opportunities, he was better at attacking the basket. But tough to score with low post back-to-the-basket moves consistently against that type of size inside."
• Armaan Franklin sits and is done for the remainder of the regular season: Armaan Franklin didn't play in the second half of Wednesday's loss at Rutgers after suffering an injury to his right foot. According to Miller, Franklin is dealing with a bone bruise as a result of landing awkwardly in the first half against the Scarlet Knights.
That's not, however, the same foot where Franklin battled an ankle sprain that has slowed him down since IU's win over Maryland in early January.
The new injury forced Franklin to miss Saturday's loss to Michigan and in his postgame comments, Miller revealed that IU's second-leading scorer will not play for the remainder of the regular season.
"Uncomfortable, sore to touch, nothing structurally wrong," Miller said. "Really at this point, it's a pain tolerance thing. There wasn't even a question that he wouldn't go today. I don't believe he'll go the rest of the regular season in my mind with how he's operating right now in the boot, and we have to find a way to collectively be a little bit better now that we know he's not going to play."
Filed to: Michigan Wolverines