What To Expect: Michigan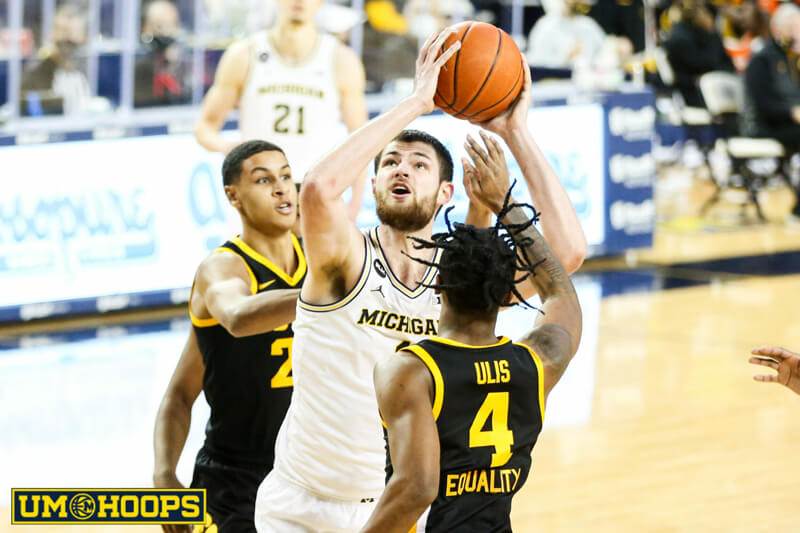 Indiana will close out its home schedule on Saturday afternoon with Big Ten leader Michigan. The Wolverines are cruising towards the conference title and a No. 1 seed in next month's NCAA tournament. Michigan is 17-1 overall and 12-1 in league play.
Saturday's game will tip at Noon ET on FOX with Gus Johnson and Bill Raftery on the call:
The morning of Feb. 18, Indiana was 12-9 overall, 7-7 in the Big Ten and its path to an NCAA tournament berth for the first time since 2016 looked manageable. The Hoosiers had just decisively taken care of Minnesota the night before, 82-72, and had Michigan State up next a few days later in Simon Skjodt Assembly Hall.
Fast forward the calendar just one week later and Indiana's chances to save a season that once appeared promising are bleak. Following a 78-71 home loss to the Spartans last week – a game in which it led by 13 in the first half – Indiana collapsed once again on Wednesday night in Piscataway. The Hoosiers led the Scarlet Knights 23-8 in the first half and ended up losing 74-63 in a game that wasn't as close as the final score might have you believe.
Now Indiana firmly has its back against the wall as it closes the season with a brutal stretch of games: Michigan, at Michigan State and at Purdue. Without a win or two in this stretch, Indiana will need a deep run in the Big Ten tournament just to get back into the tournament conversation. The toughest of those final three games is up first when Michigan comes to Bloomington on Saturday. Led by second-year head coach Juwan Howard, the Wolverines have a chance to challenge Gonzaga and Baylor for the No. 1 overall seed in next month's tournament.
MEET THE WOLVERINES
Michigan was picked to finish sixth in the conference in the preseason, but is clearly the best team in the conference with less than three weeks remaining until Selection Sunday. The Wolverines are balanced and own the Big Ten's best defense and third-best offense that isn't reliant on one player to carry the load like the Hoosiers.
In the frontcourt, Michigan is led by Big Ten freshman of the year favorite Hunter Dickinson, sophomore Franz Wagner and senior Isaiah Livers, who might be one of the most underappreciated players in the country.
Dickinson, a top 50 recruit out of DeMatha Catholic, chose Michigan over Duke in what is proving to be a critical recruiting win for Howard. Dickinson sits third in KenPom's national player of the year standings and averages team-highs of 14.9 points and 7.8 rebounds per game. The 7-foot-1 center isn't going to be a lottery pick, but he's a highly effective post scorer who is fundamentally sound with his post moves and footwork. At 255 pounds, Dickinson is a load to handle when he gets the ball deep in the post good and he's finishing 64.1 percent of his 2s this season.
Wagner started the season slow but is a two-way player with an NBA future. He's third on the team in scoring at 12.9 points per game and has been ultra-efficient offensively. In Big Ten play, Wagner is making 39.6 percent of his 3s and 61.5 percent of his 2s. At 6-foot-9 and 220 pounds with some guard skills, it's not hard to see a bright future at the next level for Wagner as early as next season.
Livers, who was recruited by John Beilein, considered an early departure for the NBA. But the versatile wing came back to Ann Arbor for his senior campaign and now has a legitimate shot to win a national championship. Livers is a 44.8 percent 3-point shooter this season and has the seventh-best offensive rating of any Big Ten player in league play. At 6-foot-7, Livers is a tough cover because he can draw bigger players out to the perimeter and can easily finish over smaller defenders in the paint and at the rim.
Michigan's backcourt is anchored by Columbia grad transfer Mike Smith and senior Eli Brooks, one of the best perimeter defenders in the country. Smith is fifth in the Big Ten in assist rate (28 percent) and lead the Wolverines with 5.3 assists per game. He's shooting 46.5 percent on 3s. Brooks is connecting at a 36.8 percent clip from distance in league play and is fourth on the team in scoring at 8.9 points per game.
The Michigan rotation only features three regulars off the bench in Wake Forest transfer Chaundee Brown, redshirt senior Austin Davis and junior Brandon Johns Jr. Brown, a 6-foot-5 guard, is the main name to know from the trio. He's a gritty defender who is physical and provides a major lift of energy off the bench. Brown is also a capable shooter who is knocking down 3s at a 41.9 percent clip.
TEMPO-FREE PREVIEW AND KEYS TO THE GAME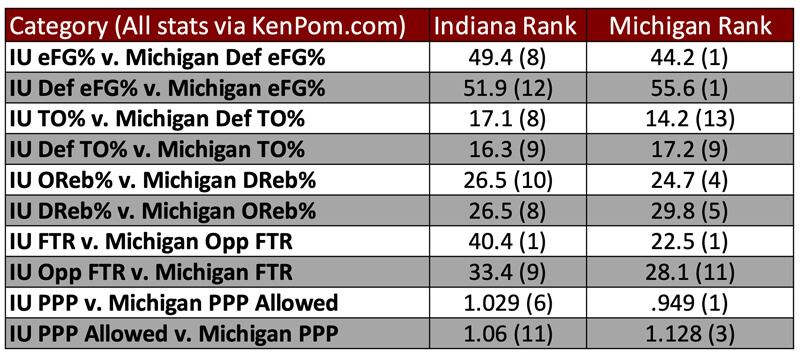 • Can Indiana defend at a reasonable level? The Hoosiers have not defended well for a majority of the Big Ten season and fell apart in their last two games against Michigan State and Rutgers. Michigan is experienced, balanced and will make teams pay for mistakes defensively. If Indiana is not much sharper than it has been in recent games, the Hoosiers have little shot to stick with one of the nation's best teams.
• How will Michigan attack Indiana? Last season's game in Ann Arbor featured Zavier Simpson putting on a clinic against the Hoosiers out of ball screen offense. Michigan can still go that route with Smith leading the attack, but also love to go into the post to Dickinson. Indiana will have to be prepared for both scenarios and be ready to adjust on the fly.
• Will the Hoosiers be able to get to the free throw line? Indiana's primary strength offensively is getting to the foul line and Michigan is the Big Ten's best team at keeping its opponents off the line. Something will have to give in that matchup and if the Hoosiers can't find a way to get to the line, points could be difficult to come by against the Big Ten's stingiest defense.
WHAT IT COMES DOWN TO
The KenPom projection is Michigan by eight with just a 25 percent for an Indiana victory. That might feel a little high based on how both teams are playing entering Saturday's game. The Wolverines have beaten Wisconsin, Rutgers, Ohio State and Iowa since coming off of a COVID-19 pause that covered the entire Michigan athletic department. Michigan has won six straight games overall.
Indiana, meanwhile, has dropped two straight games and appears to be cratering rather than peaking as the regular season nears its end. The Hoosiers aren't out of the NCAA tournament picture just yet, but that could quickly become the reality if they can't win two of their final three games.
(Photo credit: UMHoops.com)
Filed to: Michigan Wolverines