Big Ten Power Rankings: February 22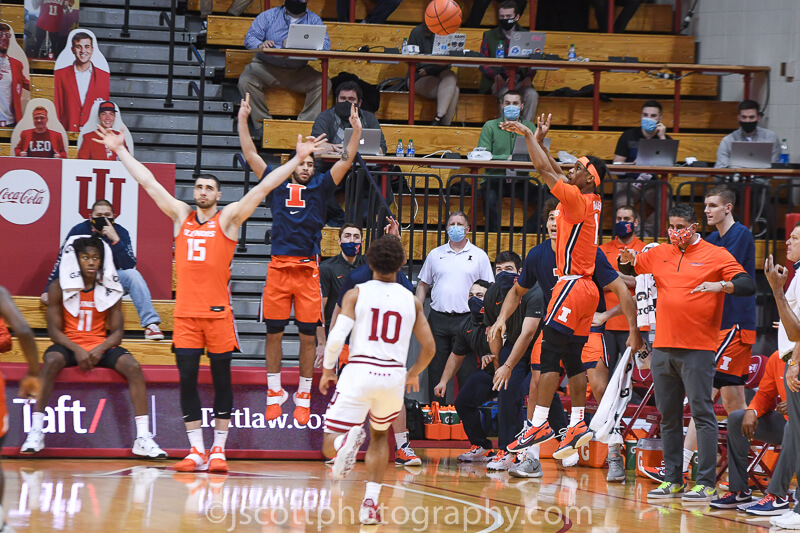 Only two weeks remain in the regular season, but Michigan remains atop the conference standings with only one loss. The rest of the race is less settled as several teams are still vying for double byes in next month's Big Ten tournament at Lucas Oil Stadium.
Here's a look at how the league currently shapes up with less than three weeks to go until Selection Sunday:
14. Nebraska (1-12, .873 PPP, 1.046 PPP allowed): The Cornhuskers followed their win over Penn State last Sunday with a pair of losses at Maryland last week and then a home loss to Purdue on Saturday. Nebraska's long COVID-19 pause has put the Cornhuskers in a position to cram in as many games as possible and this week, they'll play three more games. It's an unforgiving schedule and it won't be surprising to see Nebraska finish 1-18 in conference play.
13. Northwestern (3-13, .961 PPP, 1.09 PPP allowed): Chris Collins has squandered all of the momentum generated by his 3-0 start in Big Ten play by dropping 13 straight games. Last week, Northwestern fell by seven at Illinois before being blown out by Wisconsin at Welsh-Ryan Arena. The Wildcats play just once this week, but it's a game with NCAA tournament implications for their opponent as they travel to Minneapolis to take on Minnesota.
12. Minnesota (6-10, 1.006 PPP, 1.08 PPP allowed): With losses in six of its last eight games, Minnesota's NCAA tournament chances are down to 39 percent, according to Bart Torvik's TourneyCast. Gabe Kalscheur's absence has certainly been a detriment, Minnesota's four remaining Big Ten games give them a chance to close out the season strong (Northwestern, at Nebraska, at Penn State, Rutgers).
11. Penn State (4-11, 1.008 PPP, 1.063 PPP allowed): The computer rankings still like Penn State, but at 7-12 overall with four straight losses, the Nittany Lions are in free-fall mode. Penn State ranks last in the Big Ten in 2-point field goal percentage and with no viable bigs on the roster, scoring in the paint against the Nittany Lions has never been easier.
10. Michigan State (5-9, .949 PPP, 1.047 PPP allowed): Michigan State rebounded from a 13-point first-half deficit to score 52 second-half points in a 78-71 win at Indiana over the weekend. The Spartans remain a long shot to make the NCAA tournament, but give them credit for not packing it in and calling it a season. Aaron Henry was terrific in the win over Indiana with 27 points.
9. Indiana (7-8, 1.038 PPP, 1.061 PPP allowed): The Hoosiers split a pair of critical games last week in Bloomington, beating Minnesota on Wednesday before falling to Michigan State on Saturday. Indiana is only as good as its guard play and unfortunately for Archie Miller, the inconsistencies of Al Durham Jr. and Rob Phinisee have plagued the program all season.
8. Rutgers (8-9, 1.012 PPP, 1.02 PPP allowed): Rutgers revived its season with a four-game winning streak, but has since dropped three of its last four. Its latest setback, which came at home to Maryland, dropped the Scarlet Knights back below .500 in conference play. Rutgers plays just once this week as it hosts Indiana on Wednesday.
7. Maryland (8-9, .984 PPP allowed, 1.014 PPP allowed): Aided by back-to-back home games against Nebraska, the Terps have now won four straight and look to be on their way to another NCAA tournament appearance. Maryland's schedule is favorable the rest of the way with home games against Michigan State and Penn State along with a road trip to Northwestern.
6. Wisconsin (10-7, 1.005 PPP, .981 PPP allowed): The Badgers are one of the Big Ten's disappointing teams after entering the season as one of the favorites to capture the league crown. Wisconsin's offense ranks just 10th in conference play and the Badgers haven't beaten a team projected to make the NCAA tournament since Jan. 27 (Maryland).
5. Purdue (10-6, 1.033 PPP, 1 PPP allowed): In a normal year, Matt Painter would be in the running for Big Ten coach of the year for the job he's done in West Lafayette. The Boilermakers have a solid mix of experience and youth and continue to improve as the season rolls along. With no seniors on the roster, Purdue will likely enter next season as one of the favorites to win the league. In the present, this is a group that looks like a tough out in March.
4. Ohio State (12-5, 1.144 PPP, 1.043 PPP allowed): Ohio State is another team that has overachieved this season as Chris Holtmann continues to maximize the talent he has in Columbus. The Buckeyes played with Michigan for most of the afternoon on Sunday at Value City Arena, but ultimately couldn't get enough stops to win. EJ Liddell was terrific in the loss as he went for 23 points and 10 rebounds.
3. Iowa (11-5, 1.167 PPP, 1.048 PPP allowed): Iowa has reeled off four straight wins since its loss at Indiana on Feb. 7. The Hawkeyes got a much-needed boost to their guard rotation when CJ Fredrick finally played well in Sunday's win over Penn State. Fredrick, who has been battling a leg injury, scored 18 points in a 74-68 victory over the Nittany Lions.
2. Illinois (12-3, 1.109 PPP, .965 PPP allowed): The Illini are the only team that can challenge Michigan for the regular season Big Ten title. Illinois, winners of seven straight, will play four of its final five games on the road and will need help to the crown. Assuming the league determines a champion with winning percentage, Illinois will need to win out and have Michigan lose two games to win the Big Ten title.
1. Michigan (11-1, 1.124 PPP, .957 PPP allowed): The Wolverines appear to be on their way to the Big Ten regular season crown and have shown no signs of rust from their lengthy COVID-19 pause. Michigan's latest triumph was a 92-87 win over Ohio State on Sunday in Columbus. The Wolverines are only going to play 17 league games, so they'll only need to go 4-1 the rest of the way to win the Big Ten title.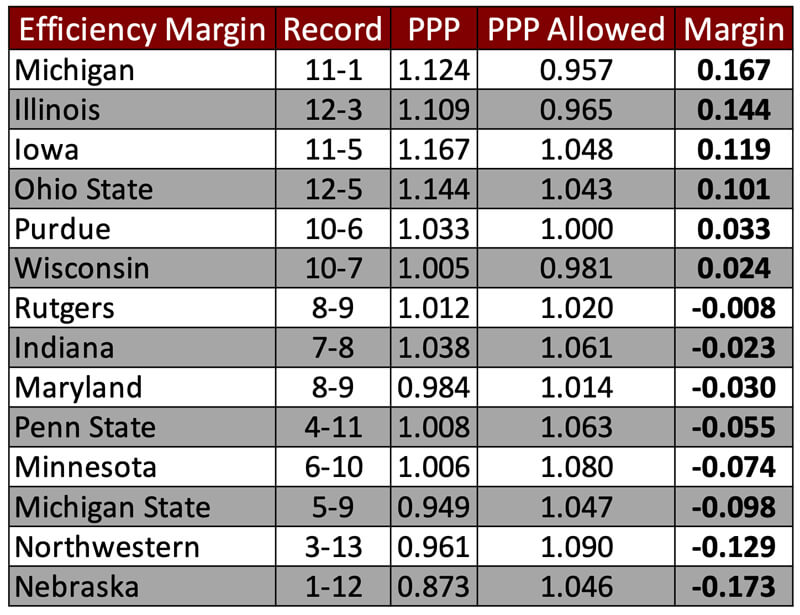 Filed to: Big Ten Power Rankings