What to expect: Minnesota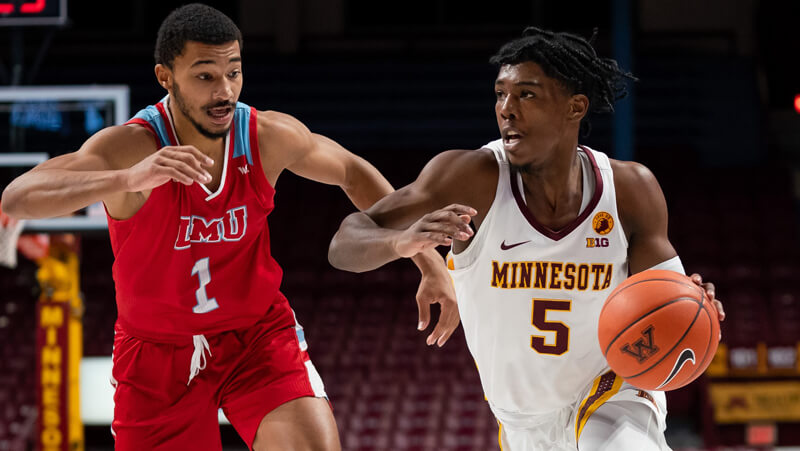 After splitting a two-game road trip, Indiana returns to Bloomington this week for a pair of critical games. First up is Minnesota on Wednesday night at 9 p.m. ET. The Golden Gophers are 13-8 overall and 6-8 in Big Ten play but haven't won a road game all season.
Wednesday's game will be broadcast on BTN with Brandon Gaudin and Stephen Bardo on the call:
Tonight's game in Bloomington has major NCAA tournament bubble indications. Bracketologist Andy Bottoms has Minnesota as a No. 9 seed in his latest projections and Indiana as a No. 11. Of the nine Big Ten teams Bottoms currently projects to be in the field, the Gophers and the Hoosiers are the least safe.
The bubble, of course, has been no stranger to Indiana in the last couple of seasons. In Archie Miller's second season in Bloomington, the Hoosiers were squarely on the cut line and ultimately had their bubble burst with a Big Ten tournament loss to Ohio State in Chicago. Last season, Indiana was likely going to end up on the right side of the cut line, but the season was cut short due to the COVID-19 pandemic.
This season has brought more of the same for the IU program as the Bracket Matrix projections currently have Indiana as a No. 11 seed. Bart Torvik's TourneyCast projections give Indiana a 38.3 percent chance of securing an at-large bid. This week's schedule with home games against Minnesota and Michigan State will go a long way in determining if Indiana will return to the NCAA tournament for the first time since 2016.
MEET THE GOPHERS
Minnesota is led by redshirt junior point guard Marcus Carr, one of the nation's best point guards. Carr's 19.4 points per game lead the Gophers as do his 5.2 assists per contest. In Big Ten play, Carr is third in the conference in assist rate at 30.4 percent, but his shooting numbers haven't been great. Carr is connecting on just 30.7 percent of his 3s against Big Ten opponents and 41.9 percent of his 2s.
As his shot chart shows, Carr does like to take a lot of 2-point jump shots and he's shooting just 38.5 percent overall on those, according to Hoop-Math. Most of Carr's time offensively (66.8 percent) is spent in ball screen situations. According to Synergy Sports, Carr is scoring .822 points per possession in such situations, which ranks in the 66th percentile nationally.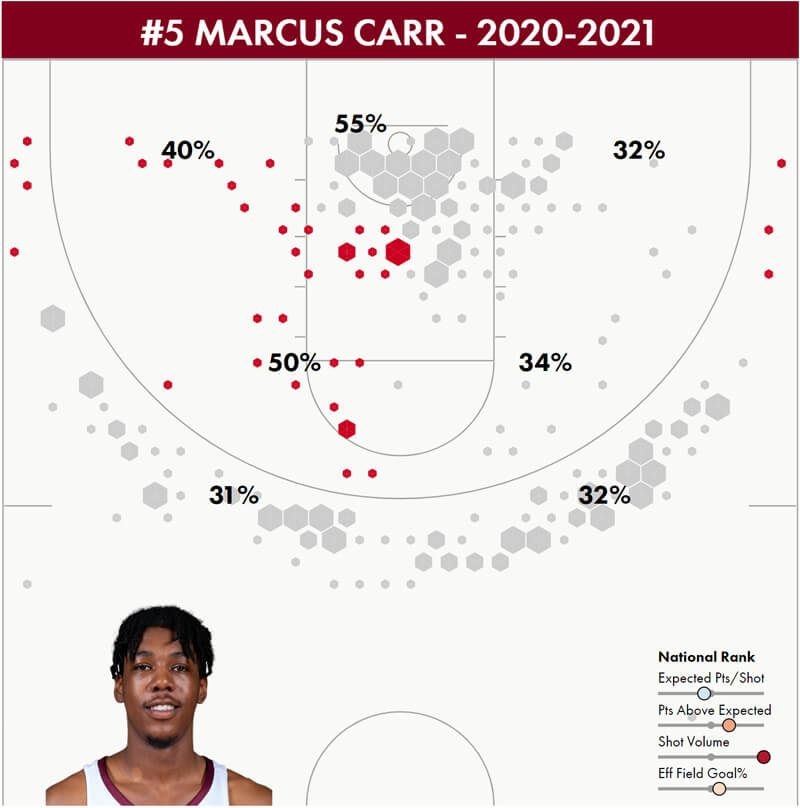 Through 16 games, Utah transfer Both Gach was in the starting lineup alongside Carr and Gabe Kalscheur, but Richard Pitino replaced him with Tre' Williams prior to the Purdue game in West Lafayette. Gach is averaging 24.2 minutes per game this season but logged just four minutes in a loss at Maryland over the weekend.
Kalscheur has never regained the shooting touch he displayed as a freshman. He knocked down 41 percent of his attempts back in the 2018-19 season and followed that up with a 34.1 percent mark last season. This season as a junior, he's down to a dismal 24.5 percent on 110 attempts. Kalscheur did make four of his seven 3-point attempts recently in a home win over Purdue.
Williams, a 6-foot-5 sophomore, provides size and length at the guard position. He's a 36.1 percent 3-point shooter but is a dreadful 33.3 percent free throw shooter. Gach, like most of the Minnesota team, has struggled from the perimeter and is only knocking down 27.9 percent of his attempts. Freshman point guard Jamal Mashburn Jr. provides backcourt depth and averages 6.1 points in 17.7 minutes per game.
The Minnesota frontcourt is anchored by Drake transfer Liam Robbins, who is battling an ankle injury and is questionable for Wednesday's game, according to Pitino.
"I know he wants to play," Pitino said Tuesday. "We're going to do what's best for him and what's best for the team."
Having Robbins available is crucial for Minnesota as he's one of the better frontcourt players in the league. He was clearly hobbled in the loss at Maryland but is averaging 12.6 points and 7.1 rebounds in 25.1 minutes per game. The 7-foot center has knocked down 34 percent of his 3s and shoots 56.5 percent at the rim, per Hoop-Math.
His shot blocking is also pivotal for Minnesota's frontcourt defense as Robbins currently leads the Big Ten in block percentage at 10.6. He also ranks 10th in the conference in free throw rate and is a threat to get opposing frontcourts into foul trouble.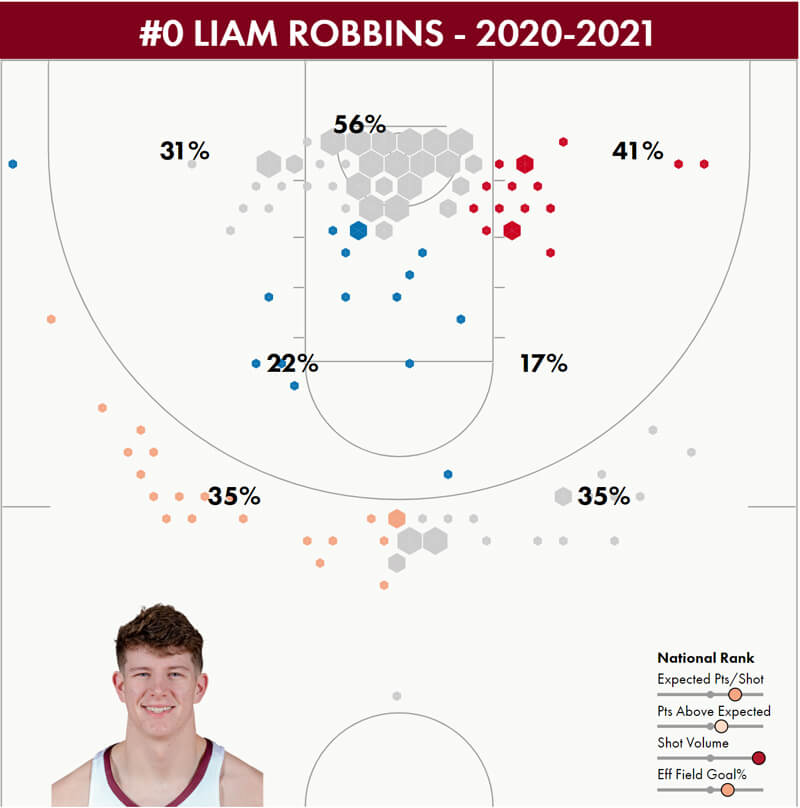 Western Michigan transfer Brandon Johnson is a productive four-man who averages 8.7 points and 6.4 rebounds in 25.4 minutes per game. Johnson, who is 6-foot-8, ranks 15th in the Big Ten in offensive rebounding percentage and 17th in defensive rebounding percentage.
If Robbins can't play or his minutes are limited, that would mean more opportunity for Eric Curry and Isaiah Ihnen. Curry has been plagued by injury throughout his career but has played in all 21 games this season as a senior. He's averaging 3.7 points in 13 minutes per game. The 6-foot-9 Ihnen takes a lot of 3-pointers and is shooting just 20 percent from deep this season after connecting on 37.8 percent last season as a freshman.
TEMPO-FREE PREVIEW AND KEYS TO THE GAME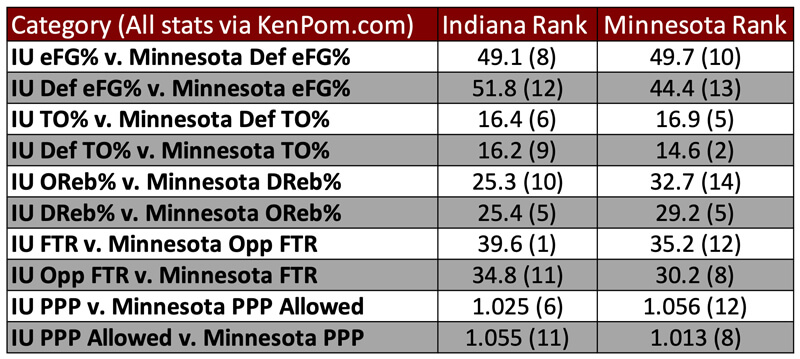 • Keep Minnesota uncomfortable on the perimeter: If Minnesota is going to win its first road game of the season, the Gophers are going to need to make 3s. Minnesota is taking 44 percent of its field goal attempts from 3 in Big Ten play, which is the highest percentage of the conference. The caveat to that, however, is the fact that Minnesota is the worst 3-point shooting team in the Big Ten at 28.8 percent.
• Avoid another slow start: Slow starts have been a reoccurring theme for the Hoosiers and were one of the primary things Archie Miller was asked about in his press conference on Tuesday. Indiana needs to get Trayce Jackson-Davis off to better starts as the sophomore All-America candidate has routinely struggled to get going early in games. With how important both games this week are, Indiana can't afford to keep playing from behind and expect to win.
• Hit the offensive glass: Defensive rebounding is a glaring weakness on Minnesota's KenPom profile as the Gophers rank last in the conference in that metric. Minnesota opponents are grabbing 32.7 percent of their missed shots against the Gophers. Indiana hasn't been a strong offensive rebounding team this season, but Wednesday would be a good time to pursue second-chance points with more fervor.
WHAT IT COMES DOWN TO
Wednesday's game is important for both teams. Minnesota hasn't won a game away from home and Indiana has already dropped four home games in Big Ten play. The status of Robbins is a question mark, but is a potential game-changer for both teams. Robbins was only able to go 18 minutes at Maryland and the Gophers were beaten soundly, 72-59.
The KenPom projection is Indiana by 3 with 62-percent chance of an IU victory. The Sagarin numbers also like IU by three and the Vegas line is Indiana by 5 as of Wednesday morning.
(Photo credit: Minnesota Athletics)
Filed to: Minnesota Golden Gophers