News and notes from Archie Miller's radio show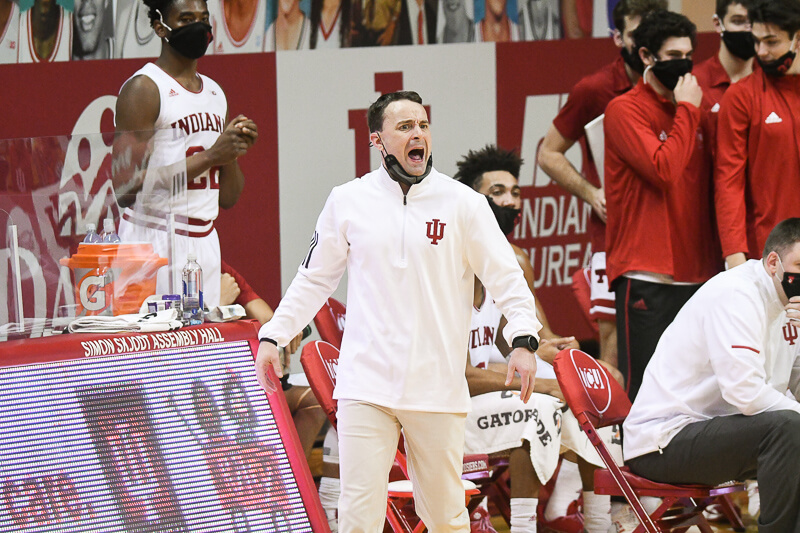 "Inside IU Basketball with Archie Miller" returned Monday night with play-by-play announcer Don Fischer. Miller recapped IU's win over Northwestern and loss at Ohio State. He also looked ahead to Indiana's home games this week against Minnesota and Michigan State.
– Miller said that any Big Ten win is worth a "celebration" given how difficult the league is this season. The win at Northwestern was "big" for the Hoosiers and Indiana was able to "cash in" on a couple of opportunities. Miller reiterated how physical Ohio State was and cited rebounding and turnovers as two key areas in the loss on Saturday in Columbus.
– Miller said there is "no question" that Indiana is struggling with slow starts. "We're not able to capitalize on our opportunities around the basket." Miller said he isn't sure if its "a nerve thing" or a "feeling-out thing," but said the team is not a "confident starter" on offense. Miller said that getting down early is not a good trend to have success in the Big Ten. However, Miller said it's not as easy as just saying to the team, "you've got to start faster."
– Miller said that Tracye Jackson-Davis "feels his way through" games and that he "thinks a little too much" early in games. As the game goes on, according to Miller, Jackson-Davis gets "better and better." Miller said Jackson-Davis had a great workout prior to the Ohio State and had one of his best practices of the season on Monday. Miller said that the IU staff is trying to work with Jackson-Davis to get him to start games on a better note.
– Turnovers have been an issue in some recent games and those mishaps were particularly costly in the Ohio State. "We are turning it over a little too much." Miller said second-half turnovers were also an issue in the Rutgers and Illinois games. "That's a huge point for our team going into the Minnesota game on Wednesday." Miller said Indiana doesn't have the room for error to have high turnovers.
– Indiana's guard play against Ohio State – the guards were 5-of-19 combined – wasn't good enough and Miller said "confidence level" is a big part of it. Miller said in the win over Northwestern, Al Durham Jr. and Armaan Franklin made all the plays. But in the Ohio State, Indiana's guards got some early looks and missed them. "I think our guys get down a little bit when they miss a shot. We didn't get good guard play against Ohio State."
– This week is important for the Hoosiers and Indiana needs to take advantage of opportunities at home, according to Miller. "They've been very consistent in terms of showing up with a good attitude," Miller said. Miller admitted there's some pressure going into this week, beginning with Minnesota on Wednesday.
– Miller said Jerome Hunter had a good week and played with a "chip on his shoulder." Hunter's attitude, according to Miller was good and added that he's giving Indiana a "little bit of toughness." The Hoosiers also need Hunter's ability to shoot from the perimeter. "This is a big week for him, we're going to need him," Miller said of Hunter.
– Miller said that Khristian Lander has shown that he's the "one guard on this team that can see the floor." Although Lander had too many turnovers in the Ohio State game, Miller said that the freshman guard is "playing with more confidence." Miller said he also believes that Lander can "shoot the ball" and that he's "in a good place right now." Miller said Lander will continue to see more minutes.
– Ohio State made it tough on Armaan Franklin, according to Miller. "He plays really hard. We need his defense. We need his rebounding." Miller said if Indiana is able to breakthrough in the next few weeks, Franklin will be a major reason why. He said there's never any question about Franklin's attitude or how hard he plays.
– Miller said Kenya Hunter being at Indiana was one of the biggest reasons that Parker Stewart chose Indiana. Miller said Stewart has been helping out in practice, doing weight lifting and skill workout. "Just watching him in practice, he's going to be a big part of what we're doing," Miller said. Miller also said he loves that shooting is his "biggest strength." Miller said Stewart has two years of eligibility remaining.
– "This is a big week in the standings for a lot of teams and for us in particular," Miller said. Minnesota has had, in Miller's opinion, some of the most impressive wins in the Big Ten. Miller also said that Minnesota has struggled on the road. "They're led by maybe the best point guard in the league in Marcus Carr." Miller also mentioned Liam Robbins, Gabe Kalscheur, Jamal Mashburn Jr. and Brandon Johnson as guys who can make an impact for the Gophers. Miller said Indiana is going to have to keep Minnesota out of transition and make Carr work in the halfcourt. Miller said priority one is rebounding and that Minnesota can also turn Indiana over. "It's going to be a heckuva game," Miller said.
– Miller said Rob Phinisee was really big last season against Carr and limiting his shot attempts. "You've got to make somebody else beat you," Miller said of Carr. Miller also said Minnesota shoots as many 3s as any team in the league. "To me, the X-Factor in the game is the 3-point line. If Minnesota is making 3s, they're going to be difficult to beat."
– Miller says the Big Ten shouldn't "force teams to play games." When asked about Michigan, Miller said he doesn't see how the Wolverines are going to play 10 games in 20 days. "There's going to have to be some give and take that you're not going to be able to get them all in," Miller said.
Filed to: Archie Miller