Big Ten Power Rankings: February 15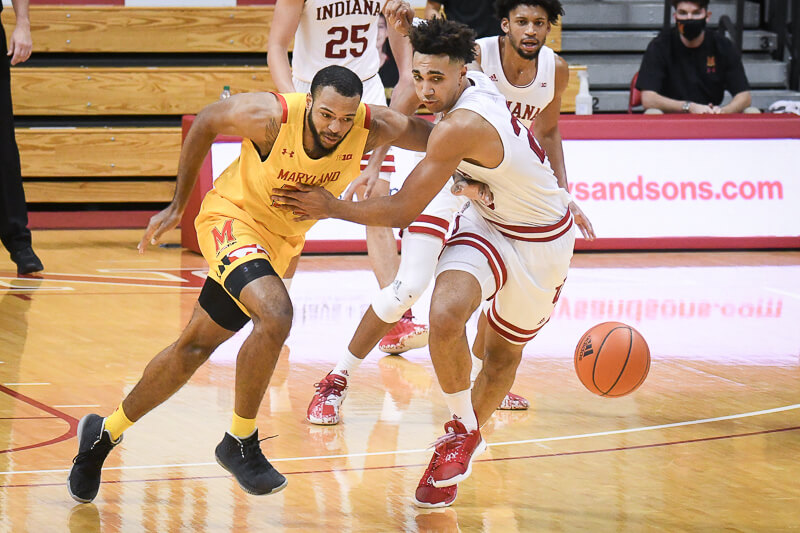 Only three weeks remain in the regular season and Michigan returned to action over the weekend after a three-week hiatus to solidify its spot at the top of the Big Ten standings.
The middle of the pack in the league, however, remains a logjam as seven teams have between six and eight losses. Here's a look at how the league currently stands with less than four weeks until Selection Sunday:
14. Nebraska (1-9, .874 PPP, 1.042 PPP allowed)
The Cornhuskers picked up their first Big Ten win on Sunday afternoon as Teddy Allen's shot with 12 seconds to go knocked off Penn State in State College. The win snapped a 26-game losing streak in conference play for Nebraska. Due to its long COVID-19 pause earlier this season, Nebraska will play Maryland twice in College Park this week as it attempts to play as many league games as possible.
13. Northwestern (3-11, .972 PPP, 1.095 PPP allowed)
Northwestern had a prime opportunity to snap its nine-game losing streak last week, but couldn't finish off Indiana at Welsh-Ryan Arena. The Wildcats then went to Piscataway over the weekend and fell by 14 to Rutgers at the RAC. Things don't get any easier for Northwestern, either, as the Wildcats travel to Illinois on Tuesday. The last time those two teams met, Illinois outscored Northwestern by 40 in the second half.
12. Penn State (4-9, 1.001 PPP, 1.047 PPP allowed)
It was a catastrophic week for Penn State's slim NCAA tournament chances as the Nittany Lions fell at Michigan State and then lost at home to Nebraska. Penn State still has relatively strong computer numbers, but at 7-10 overall and 4-9 in conference play, it will need a long winning streak to close out the season to get back on the bubble.
11. Michigan State (4-8, .932 PPP, 1.041 PPP allowed)
After sneaking by Penn State 60-58 on Tuesday, Michigan State was throttled by 30 at home by Iowa on Saturday. Despite not having CJ Fredrick and only getting eight points from Luka Garza, Michigan State had no chance against the Hawkeyes, who scored 1.29 points per possession. As the losses continue to pile up, the likelihood that Michigan State misses the NCAA tournament for the first time in 21 seasons continues to increase.
10. Minnesota (6-8, 1.013 PPP, 1.056 PPP allowed)
Minnesota beat Nebraska and Purdue at home last week before falling by 13 at Maryland on Sunday night to close out the week. The Gophers still have not won a game away from Williams Arena this season. As terrific of a player as Marcus Carr is, his efficiency numbers in Big Ten play have taken a dip. Against Big Ten opponents, Carr is shooting just 41.9 percent on 2s and 30.7 percent on 3s.
9. Maryland (5-9, .97 PPP, 1.04 PPP allowed)
At 11-10 overall, Maryland could end up being an interesting case for the NCAA tournament selection committee. The Terps have several good road wings in conference play, but are four games below .500 in Big Ten games. And one of their wins is against a non-Division I opponent. With three games left against Nebraska and Northwestern, however, Maryland has a prime opportunity to get close to or just below .500 in league play.
8. Indiana (6-7, 1.025 PPP, 1.055 PPP allowed)
The Hoosiers recorded a key road win on Wednesday at Northwestern before falling by 19 at Ohio State on Saturday to close out the week. Slow starts continue to hamper the Hoosiers as does inconsistent guard play. This week is arguably the most critical yet of the Archie Miller era as IU has two opportunities for home wins this week as it hosts Minnesota and Michigan State. Losing either of those games would not be advisable for the Hoosiers, who are very much on the NCAA tournament bubble.
7. Rutgers (8-7, 1.023, 1.016 PPP allowed)
Rutgers has now won five of its last six games and is nearing lock status to reach the NCAA tournament for the first time since 1991. The close to the regular-season schedule, however, could be tricky. In its last five games, Rutgers will play Michigan (away), Maryland (home), Indiana (home), Nebraska (away) and Minnesota (away).
6. Purdue (8-6, 1.026 PPP, 1.017 PPP allowed)
Purdue's overall record isn't gaudy at 13-8, but the Boilermakers own a season sweep over Ohio State which will carry a lot of weight when it comes to NCAA tournament seeding. Junior big man Trevion Williams remains in the top 10 of the KenPom national player of year standings, a position he's been in for most of the regular season.
5. Wisconsin (9-6, 1.002 PPP, .977 PPP allowed)
Wisconsin is just 3-4 over its last seven games and hasn't come close to reaching its preseason expectations to this point. The Badgers, however, are the best of the second-tier teams in the conference with less than three weeks to go in the regular season. Senior big man Nate Reuvers continues to struggle as he's just 5-of-30 on 3s in Big Ten play. Reuvers was on the preseason all-Big Ten team, but has taken a significant step back after a very productive junior season.
4. Iowa (9-5, 1.176 PPP, 1.062 PPP allowed)
The Hawkeyes rebounded from a disappointing loss at Indiana with a home win over Rutgers and a blowout win at Michigan State to close out the week. Luka Garza is in a bit of a rut by his standards as he's failed to reach his season scoring average now for four straight games.
3. Ohio State (11-4, 1.122 PPP, 1.012 PPP allowed)
Ohio State was a No. 1 seed on the NCAA tournament selection committee's top 16 seeds reveal over the weekend. That announcement was made at the same time the Buckeyes were in the midst of a 78-59 win over Indiana at Value City Arena. The Buckeyes have now won nine of their last 10 games after being picked to finish seventh in the conference in the preseason.
2. Illinois (10-3, 1.102 PPP, .976 PPP allowed)
The Fighting Illini retain their No. 2 spot in this week's power rankings because they remain above Ohio State in efficiency margin and winning percentage in conference play. Illinois will host Northwestern on Tuesday before traveling to Minnesota on Saturday. That game could be tricky given how good the Golden Gophers have been at Williams Arena this season.
1. Michigan (9-1, 1.103 PPP, .921 PPP allowed)
The Wolverines returned from a length COVID-19 pause on Sunday and beat Wisconsin 67-59 at the Kohl Center. Outside of Gonzaga and Baylor, no team in college basketball has been more impressive this season than Michigan, which is the most balanced team in the conference. With Hunter Dickinson manning the post, Franz Wagner and Isaiah Livers on the wings and Mike Smith and Eli Brooks in the backcourt, Michigan doesn't have a weakness in its starting lineup. Like Ohio State, Michigan was a No. 1 seed in the selection committee's top 16 seeds reveal over the weekend.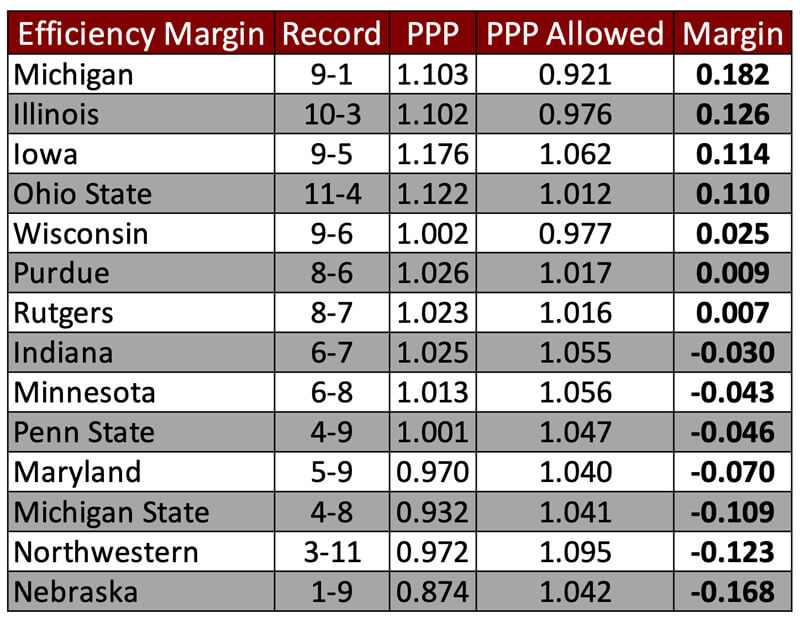 Filed to: Big Ten Power Rankings