What to expect: Ohio State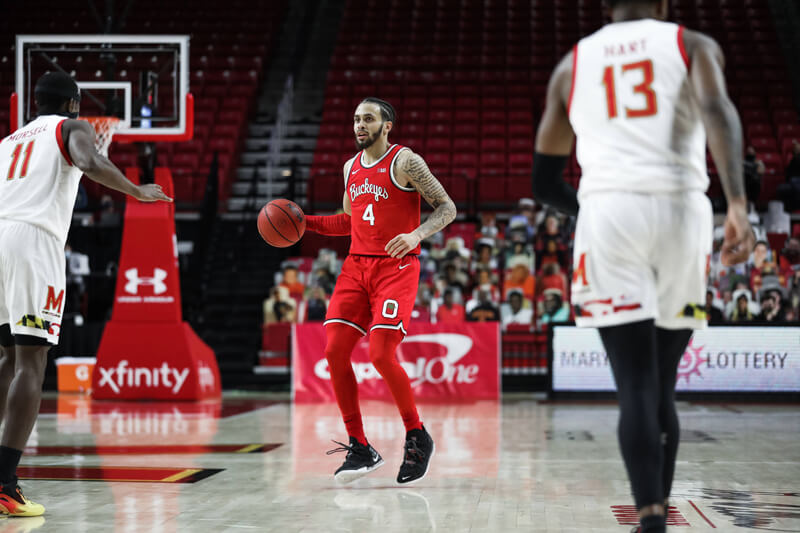 Indiana will look for its fourth Big Ten road win on Saturday when it travels to Value City Arena to take on No. 4 Ohio State. The Buckeyes have won five straight and eight of their last nine games.
Saturday's game will tip at 12 p.m. ET on ESPN with Dan Shulman and Jay Bilas on the call:
Indiana's struggles against Ohio State under Archie Miller are well documented. The Hoosiers are just 1-5 against the Buckeyes over the last three seasons, including an 0-2 mark in Columbus.
Miller and Chris Holtmann, of course, will always be compared because they were both hired in the same offseason and tasked with rebuilding storied Big Ten programs that had fallen on hard times.
Ohio State, picked to finish seventh in the league in the preseason, is in contention for a No. 1 seed in the NCAA tournament. The Buckeyes are a stellar 16-4 overall and 10-4 in Big Ten play. Ohio State owns eight quad 1 wins and looks like it could challenge Michigan for the league's regular-season crown.
Indiana rebounded from a heartbreaking home overtime loss to Illinois with back-t0-back wins against Iowa and Northwestern. It now has a chance to further state its case for an NCAA tournament bid with a win in Columbus.
MEET THE BUCKEYES
Based on its roster turnover, Ohio State looked like a clear middle of the pack Big Ten team entering the season. The Buckeyes graduated Andre Wesson, lost Kaleb Wesson as an early entrant NBA draft candidate and also had Luther Muhammad and DJ Carton transfer out of the program.
Ohio State, the theory was, would have difficulty in the Big Ten without Wesson manning the post as a viable scoring threat. The Buckeyes didn't replace Wesson, but they are better at finishing 2s this season while still shooting 3s and free throws at very efficient rates.
Through 14 Big Ten games, Ohio State is second in free throw percentage, third in 2-point field goal percentage and fourth in 3-point shooting percentage. When you combine that with a free throw rate (FTA/FGA) that ranks third in the conference and an offense that does a stellar job taking care of the ball, it translates to the Big Ten's second-best offense thus far in league play.
Ohio State's two leading scorers are sophomore forward E.J. Liddell and junior guard Duane Washington Jr.
Liddell might not find his way onto the All-Big Ten first team, but he certainly belongs in the conversation. He's averaging a team-best 15.2 points in Big Ten play and also leads Ohio State in rebounding at 6.9 rebounds per game. Overall, Liddell is shooting 49.7 percent from the field and has taken 102 free throws in 18 games. He's fifth in the Big Ten in free throw rate and excels at finishing in the paint and from the midrange. Liddell's 18 blocks also lead the team in conference games.
Washington is making 36 percent of his 3s in Big Ten play, averages 14.8 points per game, and is an excellent free throw shooter (87.5 percent). Washington has the eighth-highest usage rate in the Big Ten. As his shot chart below shows, he's lethal from the left side of the floor: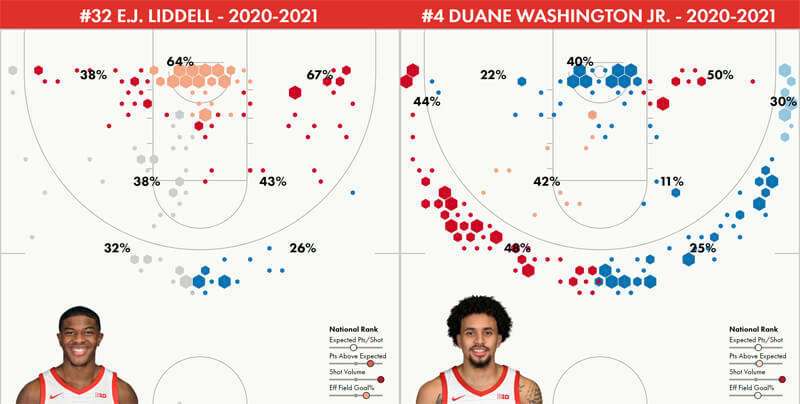 Cal transfer Justice Sueing has provided Holtmann with a stellar finisher on the wing. He's making 57.2 percent of his 2s and is shooting 70.2 percent at the rim, according to Hoop-Math. Sueing isn't much of a 3-point shooter (28.6 percent on 42 attempts), but his overall efficiency numbers are solid because he finishes his opportunities or draws fouls and converts there (75 percent). Sueing's 22 steals lead the team.
Senior Kyle Young has always been solid and is once again filling the role of glue guy for the Buckeyes. Young averages 8.9 points and 5.9 rebounds in 26.1 minutes per game. He's also an excellent free throw shooter (81.8 percent) who is shooting 62.1 percent at the rim, per Hoop-Math.
Junior guard Justin Ahrens is a major 3-point threat who helps the Buckeyes space the floor in the halfcourt. Ahrens is shooting 47.9 percent on 3s overall and 45.2 percent in Big Ten play. Senior guard CJ Walker missed some time with a hand injury and is now coming off the bench. Walker has never really gotten things going this season as he's shooting a dismal 27 percent from the field.
Senior Seth Towns, a grad transfer from Harvard, and Bloomington native Musa Jallow are two other names to know on the Ohio State roster. Both players have battled injuries throughout their career. Towns is playing close to 11 minutes per game off the bench and is shooting 49 percent from the field while averaging 4.8 points per game. Jallow isn't a scoring threat, but is a very good defensive player.
Freshman Zed Key is a 6-foot-8 center who provides frontcourt depth. Key is shooting 65.8 percent from the field and averages 6.3 points and 3.7 rebounds in 12.8 minutes per game.
TEMPO-FREE PREVIEW AND KEYS TO THE GAME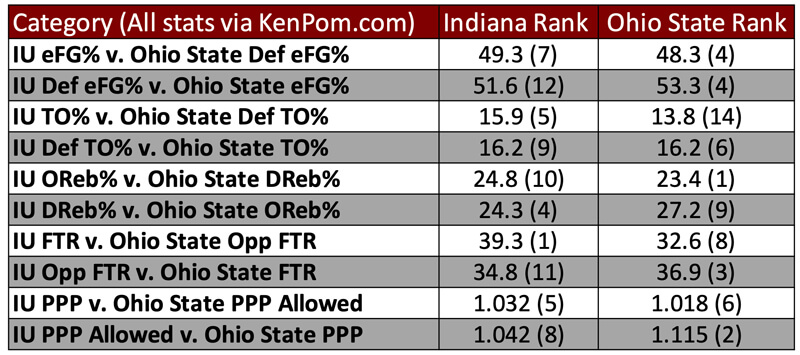 • Free throws, free throws, free throws: Getting to the line hasn't been a problem for Indiana for most of the season. Converting, however, has been a different story. The Hoosiers made their free throws late in Wednesday's win at Northwestern, but have lost several close games in which they shot it poorly from the stripe. Both teams excel at getting to the line, but Ohio State is shooting 76.5 percent from the line in Big Ten play compared to just 66.8 percent for the Hoosiers.
• Take care of the ball: Indiana had too many turnovers on Wednesday, but survived because Northwestern wasn't good enough to close the game out on two occasions. Ohio State doesn't force many turnovers, so Indiana must run its halfcourt offense without unnecessary mistakes. There will be little margin for error here.
• Get Trayce going early: The Hoosiers have struggled to get Trayce Jackson-Davis going early in games, but are going to need a big performance out of their All-America candidate on Saturday. Ohio State doesn't have much size in the post, but did a good job recently in holding Luka Garza to just 16 points in a win against the Hawkeyes in Iowa City. As good as Jackson-Davis has been all season, he does go through lulls in games where he struggles to finish at the rim and can appear disengaged.
WHAT IT COMES DOWN TO
Ohio State is one of the hottest teams in the country and depending on how the Big Ten chooses to determine the regular-season title given that every team may not play a full schedule, the Buckeyes are in the hunt. They are 9-1 at home this season.
The KenPom projection is Ohio State by six with a 28-percent chance of an IU victory. The Sagarin numbers also like Ohio State by six.
(Photo credit: Ohio State Athletics)
Filed to: Ohio State Buckeyes