At the buzzer: Indiana 79, Northwestern 76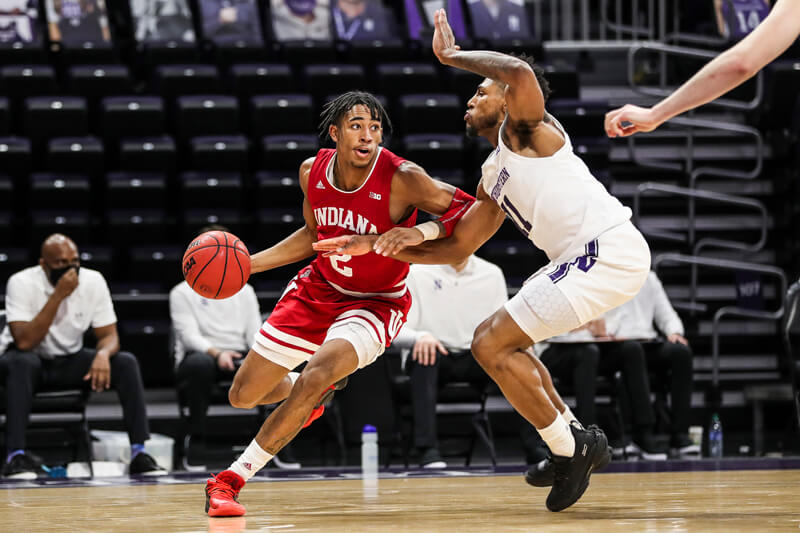 Quick thoughts on a 79-76 double-overtime win at Northwestern:
How it happened: Indiana had another one of its patented slow starts offensively at Welsh-Ryan Arena. The Hoosiers didn't score a point in the game's first 5:35 and trailed Northwestern by 14 at the 7:41 mark of the first half. But even with the dreadful offensive start, the Wildcats couldn't pull away. And as Northwestern produced a lengthy scoring drought of its own, Indiana climbed right back into the game. By the 2:32 mark, Indiana was within three and a late Trayce Jackson-Davis bucket – his first and only field goal of the half – sent IU into half trailing 23-20. Indiana shot just 24.1 percent from the field and committed seven turnovers. The Hoosiers were fortunate to trail by just three.
The turnover woes extended into the second half. The Hoosiers committed five in less than 10 minutes to begin the frame and that fifth mishap turned into a Robbie Beran 3-pointer to stretch the Northwestern lead to six at 39-33. The Wildcats stretched the lead to seven on a Ryan Greer 3-pointer with 7:41 to play, but Indiana answered right back with an Armaan Franklin 3-pointer just nine seconds later. Northwestern responded with a 3 from Robbie Beran and a basket from Greer to stretch the lead out to nine with 6:22 to play.
Out of the under four media timeout, Indiana scored on a Jackson-Davis dunk out of set play to cut it to three, but Northwestern answered with a bucket from Greer to stretch the lead back to the five. After a Rob Phinisee turnover, Northwestern got a bucket from Ryan Young to push the lead back to seven. Indiana split a pair of free throws from Al Durham Jr. on the next possession. The Hoosiers then got a steal that led to two Durham free throws and picked up another steal from Franklin that led to two more Durham free throws to cut the lead to two. The Hoosiers then got a stop and a bucket from Durham with 25.8 seconds to play to tie the game at 54. IU had two fouls to give and used them both as Northwestern didn't get a shot off its final inbounds attempt with 3.9 seconds to play.
Indiana trailed by five in overtime with 2:57 to play, but Franklin answered with a 3 to bring the Hoosiers back within two. After it looked like Northwestern might pull away, Indiana turned a six-point deficit with 1:05 to play to a two-point deficit with 13.4 seconds to play. Al Durham then hit a deep 2 with 1.4 seconds to play to force a second overtime.
In double overtime, Jerome Hunter hit a 3-pointer with 16.2 seconds to play to give IU a four-point lead, but Chase Audige answered with a 3-pointer of his own with 7.4 seconds left to bring Northwestern within one at 75-74. Northwestern fouled Durham, who made both free throws with 5.7 seconds to go. Indiana then fouled Boo Buie, who made two free throws to make it 77-76 Indiana. Northwestern then fouled Durham, who made a pair of free throws to give IU a 3-point lead. A shot from Buie at the buzzer missed and Indiana completed its 11th win.
Standout performers: Armaan Franklin still turns it over too much, but he remains a consistent scorer for the Hoosiers despite not being at 100 percent healthy. Franklin scored 23 points on 6-of-15 shooting. Durham had a team-high 24 points and made 11-of-12 free throws.
Statistics that stands out: Indiana started 0-of-6 from the free throw line, but then made 27 of its last 32 to finish 27-of-38 (71.1 percent) from the line.
Final IU individual stats:

Final tempo-free stats: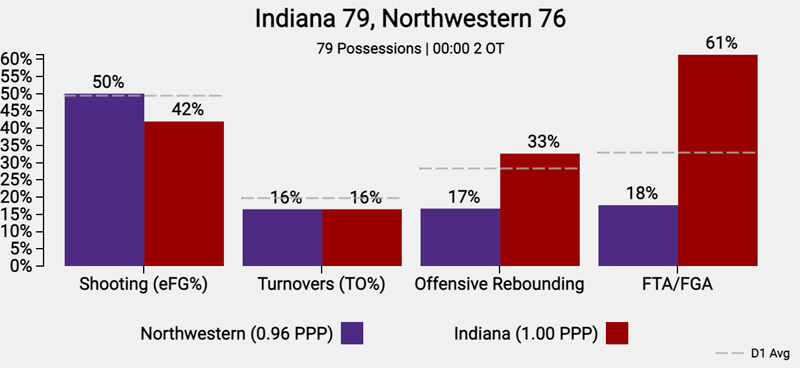 (Photo credit: IU Athletics)
Filed to: Northwestern Wildcats