Big Ten Power Rankings: February 8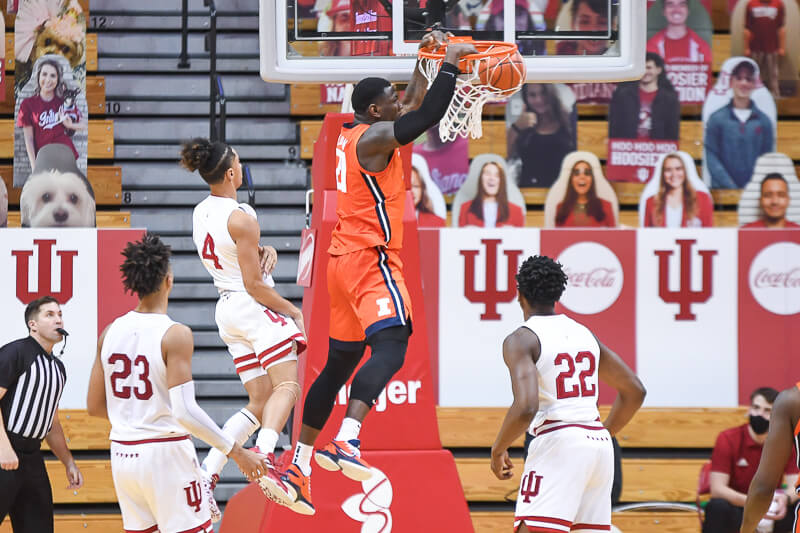 Less than five weeks remain until Selection Sunday, but game postponements in the Big Ten have complicated the league's regular season title race.
Michigan has not played since Jan. 22 and the Wolverines will not play until Sunday at Wisconsin. The lengthy COVID-19 pause for the Wolverines postponed five of their games and the only way Michigan can play the full 20-game schedule is to play 11 regular season games in 24 days.
Nonetheless, the season moves along with 11 Big Ten teams in contention to make the NCAA tournament. Here are our latest power rankings with less than four weeks to go in the regular season:
14. Nebraska (0-6, .891 PPP, 1.09 PPP allowed)
The Cornhuskers haven't won a game since beating non-D1 opponent Doane back on Dec. 17 and there aren't many signs that Fred Hoiberg has made progress in year two in Lincoln. Nebraska has no shot at making the postseason and at No. 123 in the KenPom ratings, is easily the worst team in the conference.
13. Northwestern (3-9, .989 PPP, 1.113 PPP allowed)
Northwestern started 3-0 in Big Ten play and was ranked 19th in the AP Top 25 poll on Dec. 28. Since then, the Wildcats haven't won a game and are currently on a nine-game losing streak. Northwestern will look for a season sweep of Indiana this week when the Hoosiers visit Welsh-Ryan Arena on Wednesday evening.
12. Michigan State (3-7, .937 PPP, 1.027 PPP allowed)
Michigan State's three Big Ten wins are over Nebraska (twice) and Rutgers in East Lansing. In the non-conference, the Spartans beat Notre Dame and Duke, neither of which is currently projected to make the NCAA tournament. At just 9-7 overall, Michigan State is in serious jeopardy of missing the NCAA tournament for the first time since 1997.
11. Minnesota (4-7, 1.008 PPP, 1.072 PPP allowed)
Minnesota is currently in a free fall having dropped five of its last six games. The Gophers have three wins that fall into quad 1 in the NCAA's NET ratings, but seven of their 11 wins fall into quad 3 or 4. Minnesota has a somewhat favorable schedule the rest of the way, but needs to start winning soon to remain on the right side of the bubble.
10. Maryland (4-8, .955 PPP, 1.043 PPP allowed)
The Terrapins won at home for the first time in conference play last week over Purdue, but couldn't turn that victory into any lasting momentum over the weekend in State College. Maryland scored just 50 points in a 55-50 loss to Penn State on Friday night. That makes tonight's game against Ohio State at the Xfinity Center crucial for Mark Turgeon, who will find himself firmly on the hot seat next season if Maryland fails to make the NCAA tournament.
9. Penn State (4-7, 1.018 PPP, 1.068 PPP allowed)
Penn State is No. 28 in the NET ratings despite a 7-8 overall record. The Nittany Lions have won four of their six games since returning from a COVID-19 pause and have a great opportunity for their second road win of the season on Tuesday night in East Lansing.
8. Indiana (5-6, 1.036 PPP, 1.05 PPP allowed)
Indiana's struggles in closing out close games reared its ugly head again on Tuesday as it fell 75-71 in overtime to Illinois at Assembly Hall. But give the Hoosiers credit for showing resiliency and bouncing back with a 67-65 win over Iowa on Sunday afternoon in Bloomington. Indiana remains firmly on the NCAA tournament bubble, but could give itself some breathing room with a win on Wednesday night over Northwestern in Evanston.
7. Rutgers (7-6, 1.026 PPP, 1.02 PPP allowed)
After dropping five straight games, Rutgers has come roaring back with four straight victories. Most recently, Rutgers knocked off Minnesota 76-72 at the RAC behind 14 points, 12 rebounds and three blocked shots from Myles Johnson. The Scarlet Knights look to be well on their way to making the NCAA tournament for the first time since 1991.
6. Purdue (8-5, 1.024 PPP, 1.011 PPP allowed)
The Boilermakers have won six of their last eight games and were able to bounce back from a disappointing one-point loss at Maryland with a 75-70 triumph over Northwestern on Saturday. While Trevion Williams is the most important player for the Boilermakers, a strong nucleus of underclassmen should keep Purdue in the top half of the league standings for the foreseeable future.
5. Iowa (7-5, 1.165 PPP, 1.084 PPP allowed)
In a development that is surprising to no one, Iowa appears to be free-falling in February. The Hawkeyes have now dropped four of their last five games and are basically out of the Big Ten title picture. The latest debacle for Iowa came on Sunday when it led by 13 at Indiana in the first half and lost 67-65 to the Hoosiers, who completed a season sweep. Luka Garza is still the frontrunner for national player of the year, but Iowa no longer looks like a threat for a deep NCAA tournament run.
4. Wisconsin (8-5, 1.013 PPP, .99 PPP allowed)
Overall, it's fair to label Wisconsin as a disappointment so far this season given they returned every player from a team that won a share of the Big Ten regular season title last season. The Badgers have a brutal schedule remaining with four of their last seven games against Michigan, Iowa (twice) and Illinois. Three of those games are at the Kohl Center, where the Badgers have already lost twice this season.
3. Ohio State (9-4, 1.119 PPP, 1.024 PPP allowed)
Give Chris Holtmann credit for the job he's doing in his fourth season in Columbus. The Buckeyes are 15-4 overall and have won seven of their last eight games. Sophomore EJ Liddell has been terrific in conference play and could challenge for a first team All-Big Ten spot.
2. Illinois (9-3, 1.107 PPP, .976 PPP allowed)
The Illini appear to be the primary contender to challenge Michigan for the Big Ten regular season title and won two crucial games last week over Indiana and Wisconsin. The win in Bloomington was impressive because Ayo Dosunmu fouled out with less than four minutes to go in regulation and the Illini found a way to win in overtime without him. Illinois followed that up with a 75-60 dismantling of Wisconsin in Champaign as Dosunmu recorded a triple-double with 21 points, 12 rebounds and 12 assists.
1. Michigan (8-1, 1.106 PPP, .918 PPP allowed)
Michigan will return to action on Sunday, Feb. 14 against Wisconsin in Madison after a lengthy department wide pause for COVID-19. The Wolverines will attempt to squeeze in as many games as possible over the final few weeks of the regular season, but it will be an uphill battle to play 20.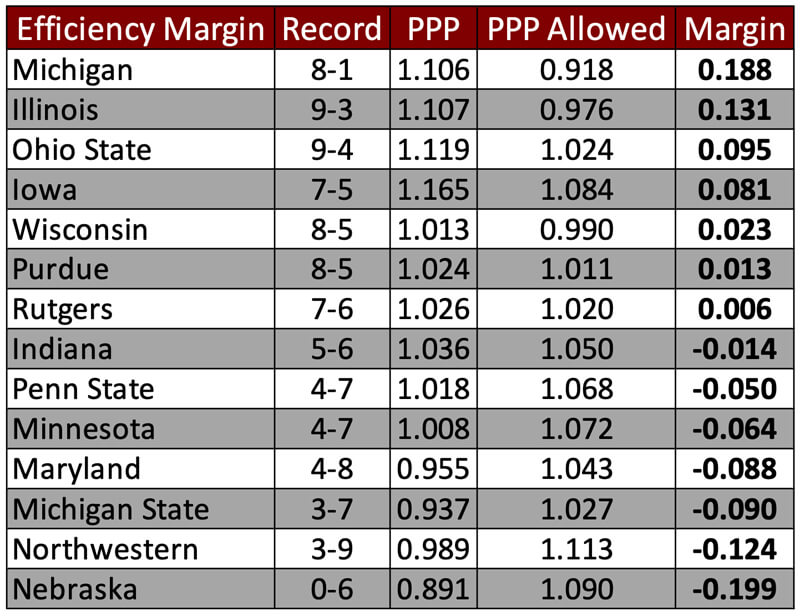 Filed to: Big Ten Power Rankings