Big Ten Power Rankings: February 1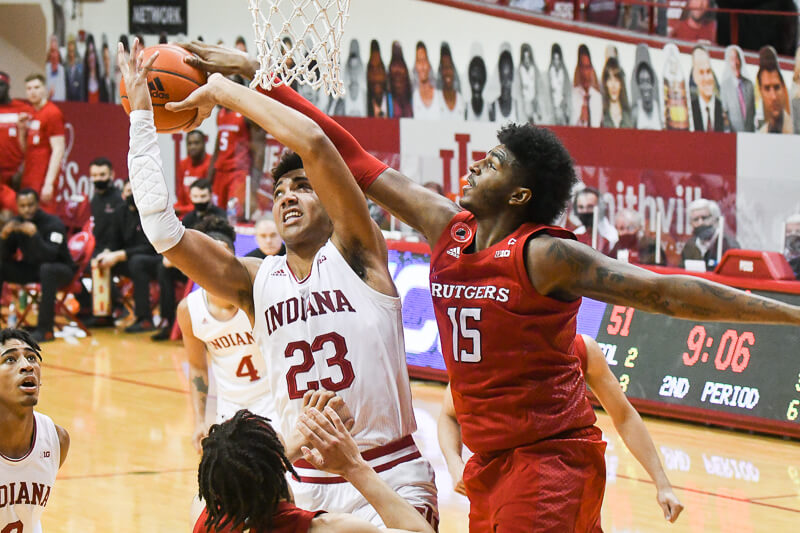 Three Big Ten teams didn't play a game last week and opportunities to make up postponed regular season games continue to dwindle. In terms of both record and efficiency margin, Michigan remains in a class of its own at the top of the league, but spots two through six in the league standings look up for grabs.
Here's a look at where things stand in the conference in our power rankings, which appear each Monday through the end of the regular season.
14. Nebraska (0-5, .925 PPP, 1.138 PPP allowed)
No program in the Big Ten has been hit harder by COVID-19 than Nebraska, which hasn't played since Sunday, Jan. 10. The Cornhuskers are scheduled to resume Big Ten play this Saturday in East Lansing against Michigan State.
13. Northwestern (3-8, .989 PPP, 1.117 PPP allowed)
A 3-0 start in Big Ten play is now a distant memory for Northwestern, which has dropped eight straight games. It took longer than expected to come to this conclusion because of the hot start, but the Wildcats are again one of the worst teams in the conference.
12. Michigan State (2-6, .916 PPP, 1.037 PPP allowed)
The Spartans returned from a COVID-19 pause last week and dropped a pair of road games to Rutgers and Ohio State. At just 8-6 overall with few quality wins, Michigan State's streak of 22 straight seasons with an NCAA tournament appearance is in serious jeopardy.
11. Maryland (3-7, .971 PPP, 1.069 PPP allowed)
At 9-8 overall, Maryland remains in the mix for an at-large NCAA tournament bid because of the road wins it holds in conference. The Terps have wins at Wisconsin, Illinois and Minnesota on the resume, which is going to be better than most teams on the bubble.
10. Penn State (3-6, 1.047 PPP, 1.092 PPP allowed)
The Nittany Lions have won three of their last four games and all three of the victories have come at home (Rutgers, Northwestern and Wisconsin). At 6-7 overall, Penn State has five wins against teams currently in the top 75 of the KenPom ratings and could work its way into the tournament conversation with a strong February.
9. Minnesota (4-6, .999 PPP, 1.063 PPP allowed)
Minnesota has fallen on hard times in recent weeks with losses in four of its last five games. The Golden Gophers have several wins over teams that will be in the NCAA tournament, but haven't won a game away from Williams Arena all season. Minnesota is still in good shape to make the tournament if it takes care of business at home the rest of the way.
8. Indiana (4-5, 1.048 PPP, 1.062 PPP allowed)
Indiana hasn't played since falling to Rutgers at home on Jan. 24 and the Hoosiers have an enormous week coming with home games against Illinois and Iowa at Assembly Hall. The health of Armaan Franklin, who has been slowed down with an ankle injury, is important to Indiana's chances to pick up a win (or two) this week.
7. Rutgers (6-6, 1.016 PPP, 1.013 PPP allowed)
Rutgers looked like its season was headed off the rails, but the Scarlet Knights have now won three straight games and look poised to end their 30-year NCAA tournament drought. Rutgers has been much better in recent weeks defensively as the Scarlet Knights now own the Big Ten's fifth-best defense in league play at 1.013 points per possession allowed.
6. Purdue (7-4, 1.024 PPP, 1.014 PPP allowed)
The Boilermakers returned to the Associated Press top 25 poll this week and have won five of their last six games. Three of those five wins have come away from Mackey Arena. With no seniors on the roster and a heralded recruiting class on the way, Purdue looks like it will be a contender in next season's Big Ten title race.
5. Wisconsin (7-4, 1.019 PPP, .993 PPP allowed)
Wisconsin's loss on Saturday at Penn State was disappointing, but at 13-5 overall and 7-4 in Big Ten play, the Badgers are a lock for the NCAA tournament. Greg Gard needs to figure out a way to get more production from Nate Reuvers, who has been a major disappointment after earning preseason all-Big Ten team honors.
4. Ohio State (8-4, 1.106 PPP, 1.008 PPP allowed)
Chris Holtmann doesn't have a star on his roster, but the Buckeyes rose to No. 7 in the latest Associated Press top 25 poll. Ohio State has now won six of its last seven games and sophomore EJ Liddell is proving himself to be one of the best players in the Big Ten.
3. Iowa (6-3, 1.168 PPP, 1.061 PPP allowed)
Iowa has now dropped two straight games as it followed a home loss to Indiana with a loss to Illinois in Champaign. The Hawkeyes have a packed schedule this week with home games against Michigan State and Ohio State before closing out the week with a trip to Bloomington to take on Indiana.
2. Illinois (7-3, 1.122 PPP, .991 PPP allowed)
Illinois still has the highest ceiling of any Big Ten team because it has the best duo in the league with Ayo Dosunmu and Kofi Cockburn. The Illini have a challenging stretch coming up with a road game at Indiana on Tuesday followed by a home game against Wisconsin this weekend. Next week, the Illini are scheduled to travel to Michigan for their only scheduled contest against the Wolverines.
1. Michigan (8-1, 1.106 PPP, .918 PPP allowed)
Michigan hasn't played since winning at Purdue over a week ago and remains paused due to COVID-19 issues within the athletic department. It remains unclear when the Wolverines will return to action and they haven't even been able to practice during the shutdown that has affected all of the department's programs.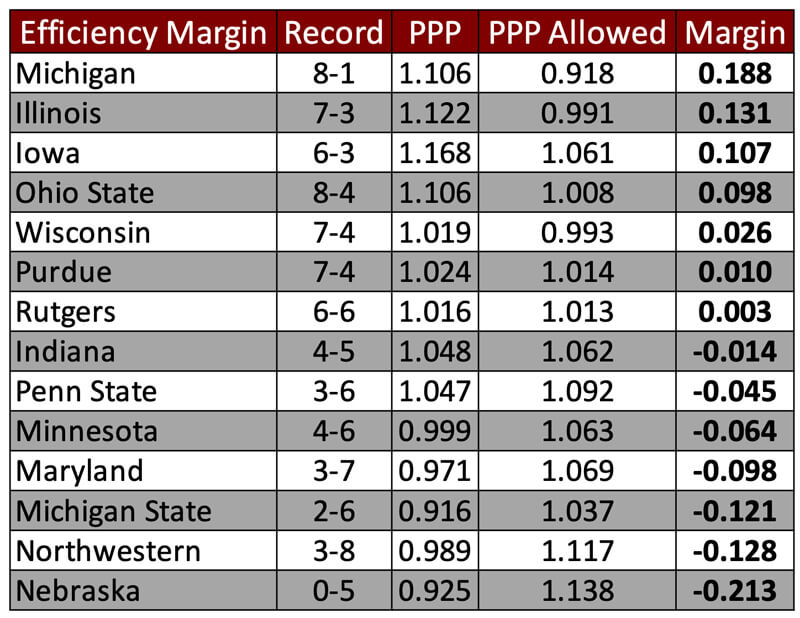 Filed to: Big Ten Power Rankings